Every girl dreams of draping themselves in beautiful jewelry on their wedding day. When a friend of mine was debating a £800 pair of earrings for her special day, I went straight in with, "Are you f'ing kidding me!?" Most of us don't have the budget to hire a band, let alone bling out ourselves in actual diamonds.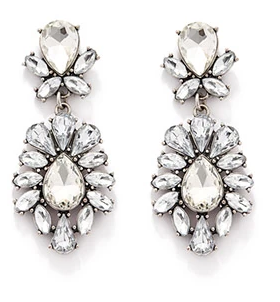 If you don't have someone you can borrow from, and just want to add a little sparkle beside the twinkle in your eye, have no fear! My sneaky ways of finding sweet jewelry once had the Head of Sales for Bank of America fooled.
Forever 21
My 'go to' shop for all things costume bling is Forever 21. Why? It looks real. And! It's super-budget friendly. The thing is–it won't last forever. Their name is a bit deceiving, so don't be disappointed if you get something in a gold setting and it turns in a few months. However, when it comes to cheap bling–this is the shop to check out:
 Thrift shop-vintage pieces
Being thrifty is always a good choice. Plus, it's a fun day out! Check out local thrift stores, car boot sales, flea markets, charity shops, and yard sales. These are great places to pick up pieces for a steal that compliment vintage, country chic, or rustic romance style weddings.
Accessorize
My favourite place to bling out in the UK is definitely Accessorize. They sell costume jewelry at a very reasonable price, and they have some higher end pieces that are quite, classic and delicate, but mostly they make a massive statement: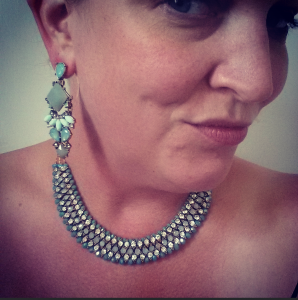 The best part about Accessorize, is you can hook your bridesmaids up with their 70% off wall! I got this for my friend's royal wedding for less than £8, and nobody knew the wiser!
Etsy
Looking for a little something blue? Try Etsy. Etsy shops are the best way to hunt online for just about any kind of budget friendly bling you can imagine these days:
With all the money you'll save on jewellry and trinkets you might be able to hire a DJ. Okay, if you're on a budget–find a friend who has a sound board & speakers, hook your laptop to it, pay for Spotify, and make your own custom playlist. It amazes me how full of ideas I am…Happy Bling Hunting!