by Brittany McComas
Some of us would love Chipotle to cater our wedding. Unfortunately, catering just isn't always in the budget. Have no fear! My DIY Taco Wedding Bar ideas will have your mouth watering for spicy build-your-own tacos, burritos and all things Mexican. Taco bars are fabulous for a wedding that has a little spicy sass with a whole lot of class! This post contains affiliate links for your convenience. Click here to read our full disclosure policy.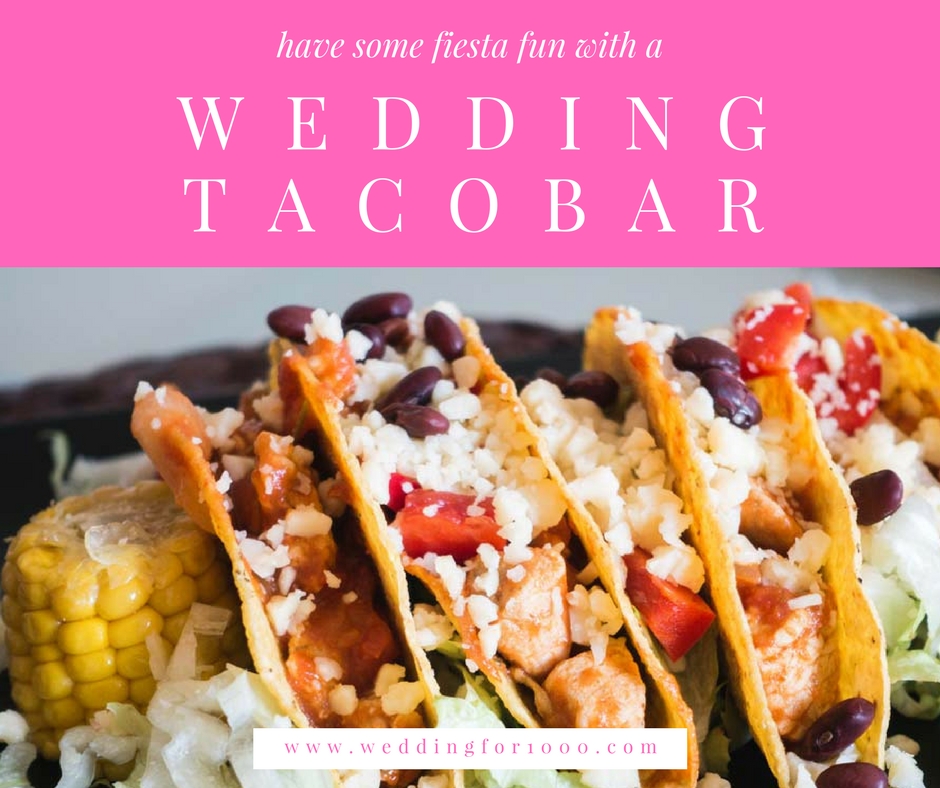 Mexican Bellini
Greet your guests with a little Mexican Bellini for a twist on the traditional champagne meet and greet.
This simple cocktail is 25 ml of tequila in the bottom of a champagne flute, a spoonful of peach puree, topped with champagne or prosecco–whatever you can get at cost. Voila! Lush, fruity and classy cocktails.
Salsa Bar
Forget one kind of salsa: Do it all! From chipotle smoked, black bean and corn salsa to fiery guacamole, you can top your tacos and burritos with anything.
Simply buy a few salsas, or make a simple pico de gallo and add black beans, corn, black-eyed peas, or chipotle peppers – anything that you enjoy in a salsa. Put simple serving bowls of shredded cheese, lettuce, tomato, jalapenos, black olives, hot sauce, and sour cream on the table. Of course, no salsa bar is complete without my no fail, amazing, budget-friendly guacamole.
Best. Guacamole. Ever.
Your taco wedding bar needs the best toppings, even on a budget! Grab a mixing bowl. Throw in two avocados (peeled and mashed), squeeze in the juice of half a lime, fold in ½  cup fresh salsa (any will do as long as it comes from the grocer's cold section or you can make your own pico de gallo), ½ tsp. Splenda. Mix and serve. You can double or triple this recipe easily!
Taco and burrito fillings
This is the best part about a taco wedding bar, and the most budget-friendly way to feed guests a variety of food in a non-traditional way. Think traditional: pulled chicken, beef, steak, beans, rice, refried beans, and carnitas.
Think outside the box: barbecue pork & watermelon salsa (it's delicious), duck & plum sauce, sea bass, cajun catfish, grilled trout, roast ham & pineapple relish, fried cod, fried green tomatoes, curried anything, sweet potato hash, Korean BBQ, tuna, brisket, anything tempura, or salmon.
For the shells just set out soft shells, taco boats, hard shells, corn tortillas, whole wheat tortillas, anything you love to use. Guests will normally appreciate a variety, but it's your day so you can do what you want! You don't need to serve food in anything too complicated, either – keep it simple with disposable plates that look like your real dishes or even bring in a rustic vibe with planet-friendly compostable palm plates.
Mexican Wedding Cake
For a little family fun, get the ladies involved. Whether it's your Mother, Grandmother or Best Friends, this is a great way to get everyone together for a little wedding bonding.
Yes, that's a real family recipe above and one that will have your sweet tooth going back for more! Mexican wedding cakes are traditional cookies that are just too sweet and adorable not to have alongside – or in place of – your wedding cake. That way, you won't have to go for some behemoth-sized, expensive cake, and still get all your guests in on the dessert.
Pin this!