Is your wedding set for Cinco de Mayo? Are you haveing a backyard wedding in the heat of summer? Set sail for a party like no other with a build your own margarita bar. A definite way to keep everyone merry during your wedding reception, you can teach anyone to be their own bartender in five easy steps. header image
Check out our ideas below on how to provide your guests the ultimate DIY margarita experience that will have everyone dancing on the bar singing– "tequila!" source
What You Need On The Bar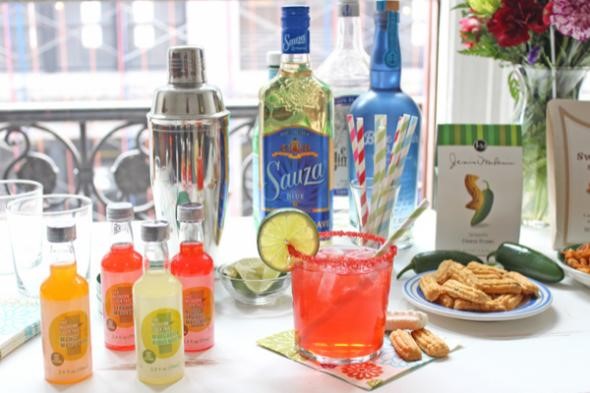 The Booze:
Tequila (think white, jalapeno-infused, mezcal–if you're brave, or coffee-infused for fun)
Cointreau or Grand Marnier
Baileys for a coffee treat
The Mixers:
Sparkling water or soda water
fresh squeezed juices like lime and orange
strawberry, peach or mango puree
milk for coffee treats
simple syrup. Dissolve 2 cups white sugar in 3 cups hot water. Let cool to room temperature. Pour into a used, clean wine bottle and put a liquor pour spout in for your budget-friendly bar.
The Garnish:
lime and orange slices
fresh strawberries or raspberries
jalapenos
kosher salt, sea salt or sugar on a plate for rimming glasses
and don't forget lots of ice!
Bar Tools:
Margarita glasses
Jigger or Shot glasses for measuring
Blender (for those frozen concoctions that help you hang on)
Muddler (to smash fruit in the glass for a sweet concoction)
Drink stirrers
This bar kit has everything you need to get the party started!
Recipes
All of these recipes can be typed or written out on a chalkboard for your guests, and each can be served on the rocks or frozen!
Traditional Margarita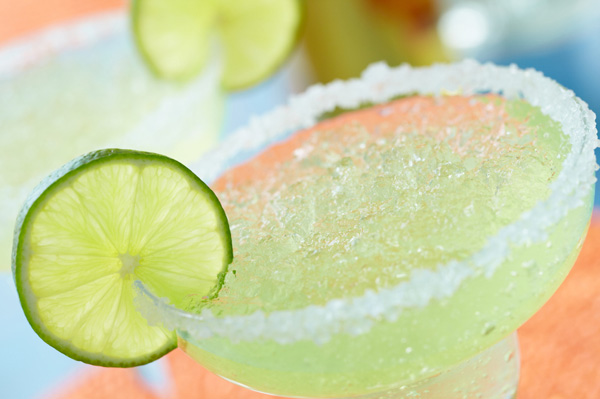 Shake 2 ounce Tequila, 1 ounce Cointreau, 3 ounce lime juice, and 1 ounce simple syrup over ice. Rim a glass with salt. Strain into the margarita glass with ice, and serve. You can also place this mix in a blender with ice for a frozen treat. source
Margarita with a Tropical Twist
Make a traditional margarita. Use Grand Marnier instead of Cointreau, and add 2 ounces of fresh squeezed orange juice.
Mango, Strawberry & Peach Ritas
Shake 2 ounce Tequila, 1 ounce Cointreau, 1 ounce Lime Juice, 3 ounce Mango, Strawberry or Peach puree on ice in a shaker. Rim the glass with sugar. Pour and serve.
Hot Tamale Rita
Muddle two slices of jalapeno in a glass, top with ice. Shake up a traditional margarita. Rim a glass with salt. Pour over the jalapeno ice, top with sparkling water, and enjoy!
Latte Rita
Shake 2 ounces Coffee Infused Tequila and 1 ounce Baileys over ice. Strain into a margarita glass rimmed with sugar, and top with milk.
Don't forget to check out all of our other DIY Wedding Bar ideas!