Think British Summertime! The ultimate Gin and Tonic bar will have your guests revelling in refreshment with the taste of Britain in their glasses! Just like the Sassy Sangria Bar and the Build Your Own Exotic Mojito Bar, we here at Wedding for $1000 feel like it's possible to have a wedding bar on a budget! Here's what you need to build a wonderful Gin and Tonic bar that's delicious and affordable!
A bar that will pack a sweet punch with delicious recipes to go along, we've made it 'oh, so simple' for you to assemble one amazing gin and tonic spread. Plus, my recipes were inspired by sunny afternoons in the Italian gardens at Bath Spa University, with its rolling hills, castle, and lake–nothing beats an afternoon in the southwest of the U.K., and you can tell your guests you got the recipes straight out of England. (header image via witanddelight.com)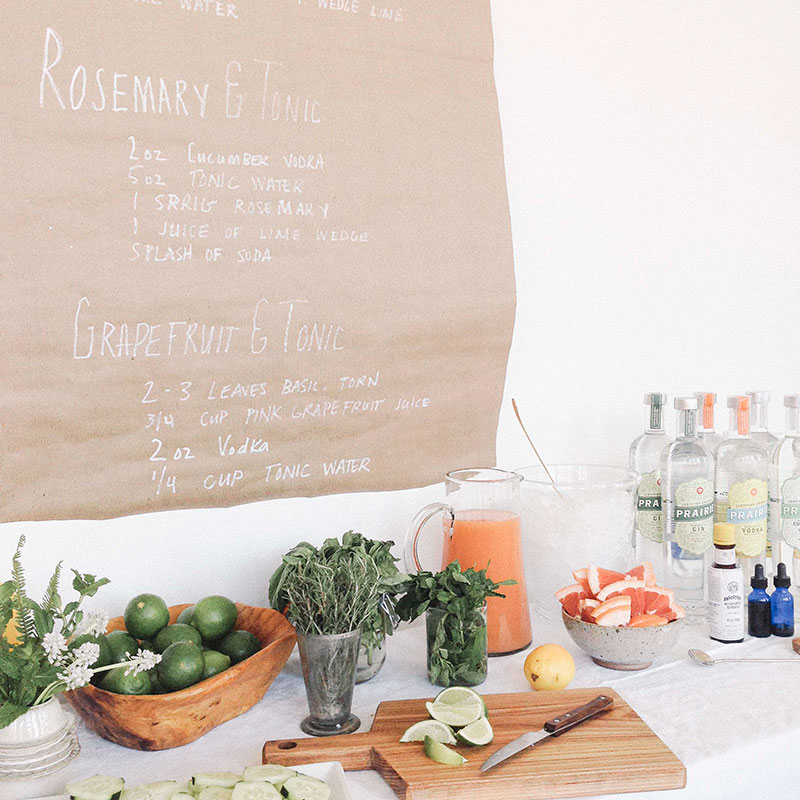 The Booze:
Gin, Pimm's, and St. Germain.
The Mixers:
Tonic, rose tonic, soda water, ginger beer, apple juice, and lemon-lime soda.
The Garnishes:
Cucumbers, limes, lemons, strawberries, and oranges (all sliced).
Mint, rosemary, basil, tarragon, and juniper berries.
Ice
The Bar Tools:
Tall cocktail glasses or tumblers
Jigger or shot glasses for measuring
Muddler
Hand-held juicer
Straws
Long mixing spoon
knife with cutting board
Recipes To Display
You can do this two ways: put everything on the bar and give people cute menus to make their own, or you can pre-mix the gin with the tonic in jugs with spouts. Maybe have one with lime and tonic, one with orange or cucumber slices and soda water. Instruct guests to pour and garnish their own drink. *this is a great way to make cocktails on a budget.
The Best G&T Ever
Muddle two slices of cucumber in the bottom of a glass. Add a squeeze of lime, and toss the wedge in glass. Fill with ice. Pour 2 ounces of gin over ice. Let it rest for one minute. Top slowly with tonic. Gently stir, garnish with a lime and straw.
English Garden
Fill a glass with ice. Pour in 2 ounces gin, 1 ounce St. Germain, ½ ounce lime juice (squeeze of two wedges), lightly stir. Top with apple juice. Garnish with a slice of cucumber. image source
Pimm's Cup
Place two slices of cucumber, a couple strawberries, a sprig of mint, and a slice of orange into a glass. Add 2 ounces of Pimm's. Add a few cubes of ice. Top with lemon lime soda.
Rosey G&T
My favourite G&T is delicious and beautiful, like a rose in a glass. It's absolutely perfect for the Bride's Recommended libation.
Place a few cubes of ice in a glass. Pour 2 ounces of your favourite gin over the ice. I love Sipsmith's V.J.O.P. Add three juniper berries. Top with rose tonic water, and garnish with a few rose petals. image source