by Brittany McComas
Since my article on How To Throw A Posh Potluck Reception Dinner debuted on Wedding for $1000, our Editor-in-Chief stumbled upon a fabulous comment feed on the art (or lack thereof) when it comes to throwing perfect potluck receptions.  So, how do you throw a fabulous potluck reception? Is it worth it or could it turn out to be a budget nightmare? And do you really trust what's going on with all this random food? These are some of the concerns a lot of brides, bridesmaids and guests introduced to us, so here's my honest answers on all things potluck reception! Photo credit
Why You Should NOT Do Potluck At All
You have 100 or more intended guests. This will be ridiculously non-budget friendly on your guests/cooks–hands down.
You don't have a place to store the food during the ceremony.
You have a lot of out of town guests.
You have a lot of guests with dietary needs.
A lot of guests live more than a 30-minute drive from the reception venue.
The Down Side To Potlucks
With all the crazy diets and eating habits of people these days, potluck might just not be your luck at all. If you have friends or relatives with celiac or gluten sensitivity, then you will have to cater more toward the clean eating side; which is okay, if that's the way you eat. If you're craving gooey cakes and fried chicken, then your guests are out of luck–and that's no way to throw a reception.
Some people are genuinely freaked out about other people they do not know preparing their food. I don't know if I want this guy serving me oysters, and were they kept on ice? Because bad oysters can kill you.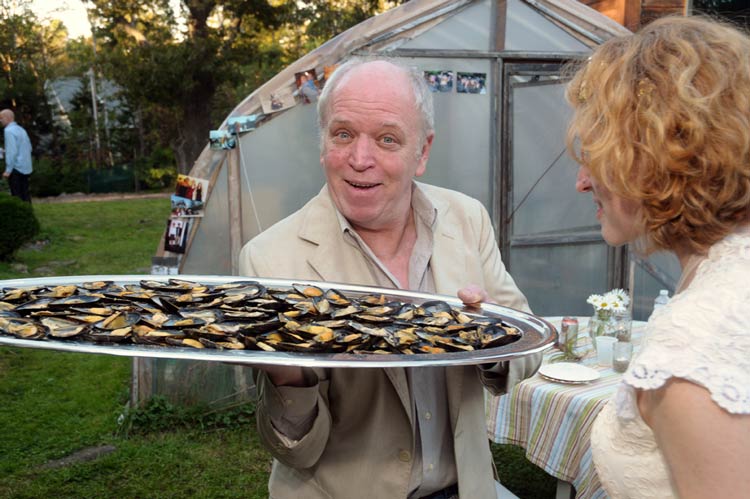 Also, some people may not consider the amount of food they need to make for your amazing potluck reception, so how do you keep people from skimping on servings?
How To Throw The Perfect Potluck
First, read my article above.
Do not try to have a perfect potluck reception for over 50 people. It's just that simple. This dinner is intimate and for immediate family/close friend style dinners of around 25 to 30 people. You can't expect your single cousin to spend enough money to cook for 100 guests. It's not nice or economical.
If you know one of your guests isn't all that clean or might not have the nicest kitchen, tell them to bring chips or drinks, or anything pre-packaged. Hopefully, you don't even have to think that way about your guests, but some people do.
If food safety is an issue, again: a potluck is an intimate dinner prepared by family and friends you are super close with…so if you don't personally know someone, don't include them in the list of people to cook. Give them another task like bringing booze.
If you are afraid your single cousin doesn't have the money to contribute, ask her/him to help out in the kitchen cleanup.
Make it well known to each cook how many guests the dish they bring should serve. The thing about a potluck reception is that there's always extra food. So don't freak out, there will be enough.
If you are an out of town guest, ask to use a relative's kitchen the night before the wedding. Alternatively, you can bake cookies or dessert bars that will keep for a long drive. If you're flying: bring booze. Everyone loves booze. Okay, I do. So I will love you.
When designing your menu: think in terms of backyard barbecues, family picnics, or a crazy spread of canapes with champagne. It doesn't have to be traditional potluck recipes or the posh ones I suggested above–especially if you're concerned about keeping food hot.
Use cute crock pots instead of formal chafing dishes to cut cost.
Choose foods that keep well when set out for an hour or two. I have been to two potluck receptions and they were absolutely fabulous. One friend did posh toast points with crock pots of dips like buffalo chicken and meatball with mozzarella garnish for mini meatball subs. Another went straight for hamburgers and hot dogs, and everyone brought a dish from pasta salad to fresh fruit and brownies. Both were super-fun and no one got food poisoning!
A Budget-Friendly Alternative
Hire a freaking fabulous food truck and call it a day! The thing about a potluck wedding reception  is it really is meant to be simple and intimate. If you have 150 guests, then your version of simple and intimate is going to be a food truck or a sit-down dinner – or something else entirely!