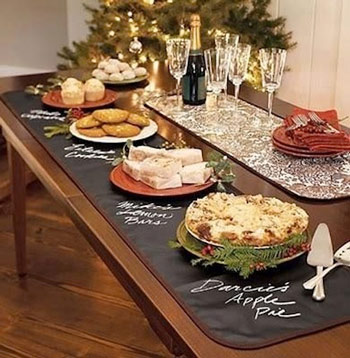 by Brittany McComas
When it comes to throwing an upscale dinner party without breaking the bank you don't really think "potluck", but I have been seeing some grand ideas when it comes to wedding receptions lately. You gotta think outside the box when it comes to saving money and creating a budget for your wedding. So why not throw one killer, family style dinner for a wedding reception to remember for a lifetime. source
Why a Potluck Reception?
Potluck dinners are all about 'gathering around a table' with family and friends. They can also be a great way to keep cost down and give guests a chance to do something sweet for you. Especially if you decide against a traditional gift registry because you don't really need anything.
How To Organize Your Dishes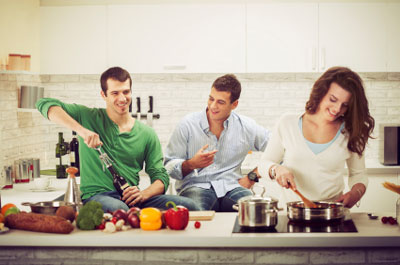 Let's face it. Some of your relatives and friends just are not savvy when it comes to culinary skills. Someone who couldn't cook their way out of a wet paper bag, so to speak. Don't worry. These are the ones you enlist to bring a simple appetizer, some wine, their mother's pie or extra plates and flatware. Or perhaps you can ask them to help set up or clean up. For everyone else, simply include a way for them to R.S.V.P their dish.  A cloud-based Google spreadsheet would be perfect for this. image courtesy vinobly.com.
Don't be afraid to assign dishes you love either! After all, it is your big day–you should have all your favorites, plus some new things you know your besties will nail in the kitchen. Also, be sure to ask people to bring a serving utensil or make sure your reception venue has enough to serve the amount of dishes brought along. Speaking of reception venues, this is a great wedding reception to host in a private home if you know someone with enough space and you aren't planning on having a lot of guests.
Some Posh Potluck Reception Ideas
Play on your loved one's strengths. Some can bake like Mary Berry while some spice it up like Emeril. Below are some great dishes to include on your Posh Potluck Reception Table.
Chopped Caesar Salad
Warm Potato Salad
Mashed Sweet Potatoes
Greek Green Beans (my Nanna called them Syrian, but either way, they are a potluck favourite!)
Broccoli Casserole (Use cream of chicken in lieu of mushroom soup, omit the crackers and replace it with cooked Stove Top Stuffing, then use Vermont White Cheddar Cheese in lieu of ordinary cheddar–talk about posh!)
Easy Chicken Kabobs (here are five recipes)
Roast Butternut Squash and Parsnips: Season with black pepper, salt and a dash of cinnamon. Too yummy!
Five Cheese Mac N Cheese with Rice Noodles and a Panko Crust, served with a sweet tomato chutney
Roast Brussel Sprouts with Chipotle Chili Pepper, Salt & Olive Oil (or bacon!)
Pickled cabbage
Purple Gnocchi (Picked this up in Italy: Gnocchi sauteed in purple cabbage with a teaspoon of bacon grease, dash of salt: heaven)
Ratatouille
Roast Fingerling Potatoes
Yorkshire Pudding
Roll your Posh Potluck out with a DIY Champagne Bar, a few bottles of wine on each table, cloth napkins, and my very Posh Easy To Make Canapes–and you'll be in posh wedding reception heaven!