There's nothing that says you have to have a dinner reception following your wedding. There are a lot of ideas out there, you should go with what works for your budget and your style. We are, however, particularly in love with the idea of a sweet and simple dessert reception. Perhaps there are cocktails, champagne or just coffee – it doesn't matter what you pair with it, these ideas are great for keeping the reception budget low and the love levels high! (Sugar high, that is!)
How to Plan a Dessert Reception
A dessert reception is one of the most budget-friendly reception ideas because it eliminates so many of the (expensive) moving parts. You can have an open-house style dessert reception, and invite everyone to stop by at any time during the time period – perhaps 6pm to 10pm? You can chat and mingle with people who want to wish you well without having to sort out tables, seating arrangements and well – anything else! Plan for lots of drinks on hand, and then keep a rotating dessert display filled for people to nibble on! You're done – wasn't that easy?
Mini Lemon Cream Pies
Starting off with something TRULY adorable is a must! These sweet little two-bite pies are perfect for a dessert reception, and with only 20 minutes prep time you can knock out a bunch of batches fast! Check out the Mini Lemon Cream Pies recipe over at Recipe Runner.
Bite-size Pumpkin Funnel Cake Crispies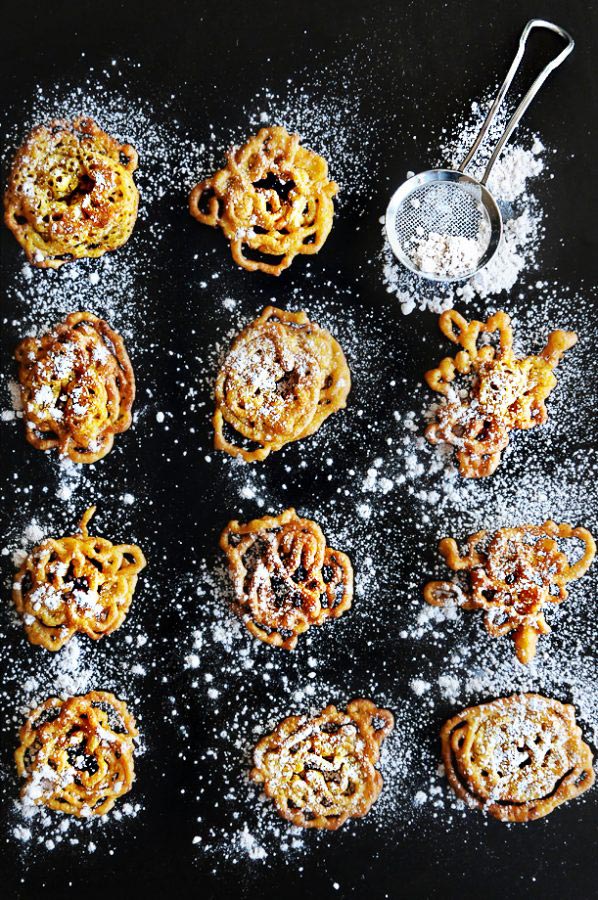 Who doesn't LOVE the smell of fried dough at a local fair? These are even better because of the addition of pumpkin spices, which makes them perfect for a fall wedding with some hot apple cider or mulled wine. Find the recipe at Dine and Dish.
Easy Cake Batter Truffles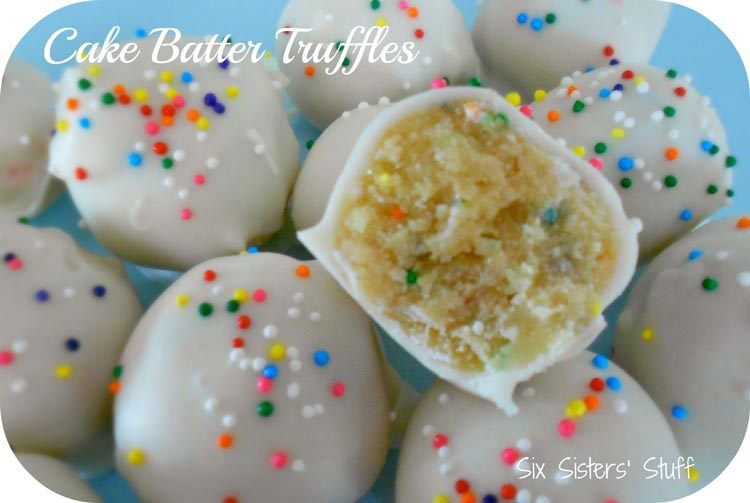 Gotta love it when the recipe says 'easy' in it – and this recipe really is easy. In fifteen minutes, you've got almost three dozen of these beauties to serve at your dessert reception with some dry prosecco! Check out Six Sisters Stuff for details.
Chocolate Dipped Biscotti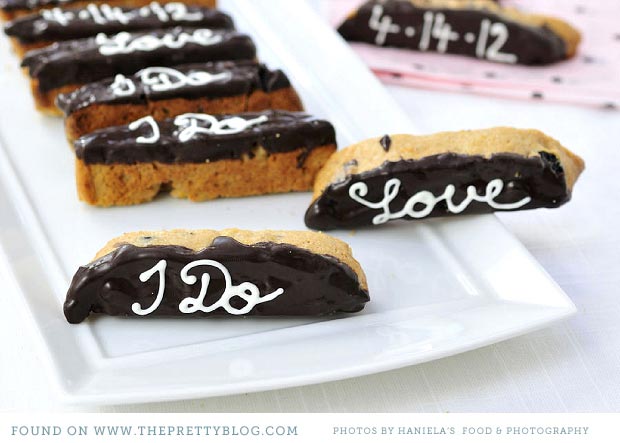 The Pretty Blog says these are for the bridal shower, but I think they'd be perfect alongside some coffee or Spanish coffee at an evening reception! Check out the recipe here, but if you're feeling a time crunch or just aren't in the mood to bake, you can dip store-bought biscotti for exactly the same result!
Roasted Grape Pavlova Bites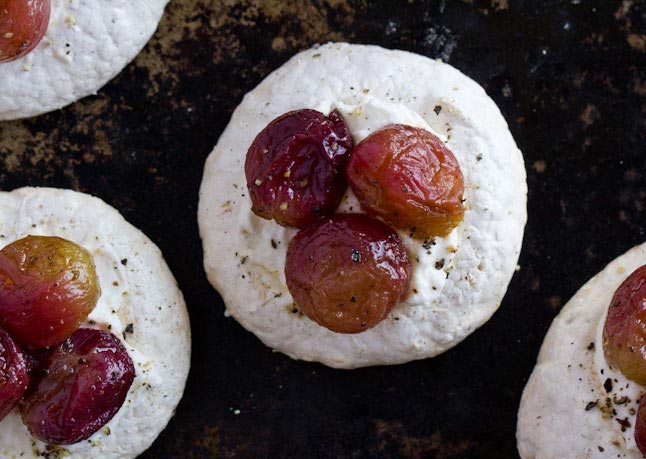 There's almost nothing more delicious in the world (in my humble opinion) than a perfect pavlova. This delectable, light dessert is enhanced by the roasted grapes – and is perfect alongside a fortified sipping wine like a port or Madeira. The recipe can be found on Bon Appetit.
Lemon Marshmallows Squares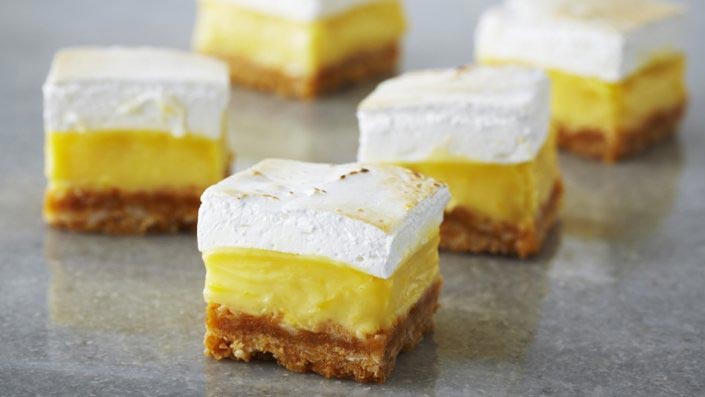 Mmm, it's like a lemon meringue pie in three sweet bites! These squares are perfect – they can be made up to three days ahead of time, leaving time to make things that won't keep as long later. Watch the video recipe here on Food Network.
Pink Heart Meringue Cookies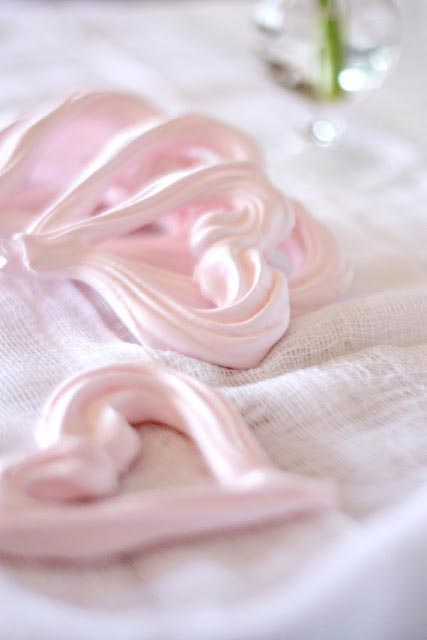 These delicate cookies only LOOK difficult to make – but they're actually super easy, and Yummy Mummy Kitchen explains how to make these cute cookies here.
Mini Frosted Doughnuts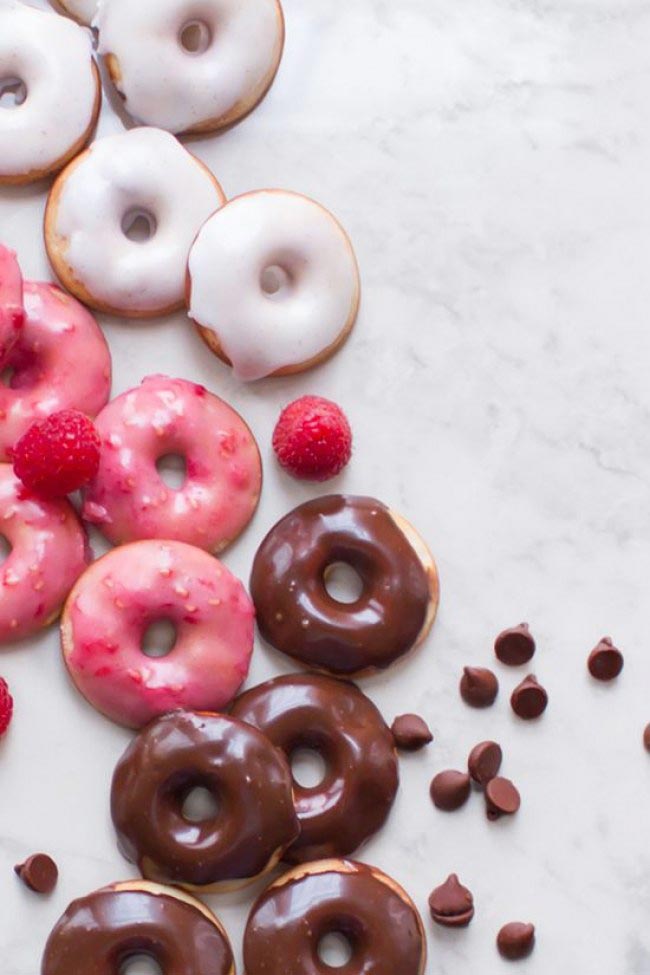 Aren't these absolutely gorgeous?! Lauren Conrad shared the image on her site, but no one seems to have the recipe for these anywhere. I found Sally's Baking Addiction, though, and I think her recipes for Strawberry Frosted Doughnuts and Chocolate Frosted Doughnuts look pretty darn close.
Mini Pineapple Upside-Down Cakes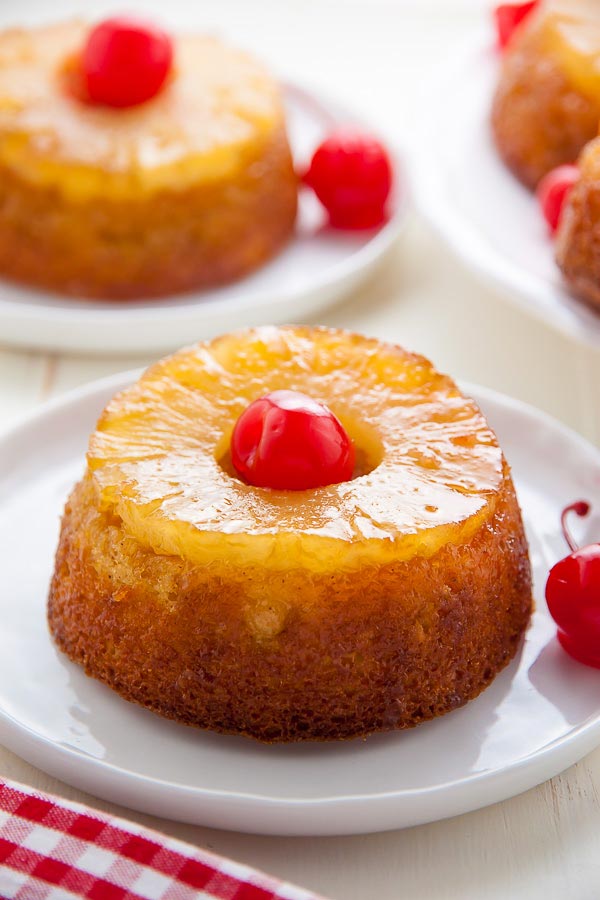 When's the last time you had this absolutely delectable dessert? It's probably been a while, but the moment you take a forkful of this caramelized goodness, you'll fall back in love. The recipe for these mini cakes are found on Baker by Nature.
Mini Key Lime Tartlets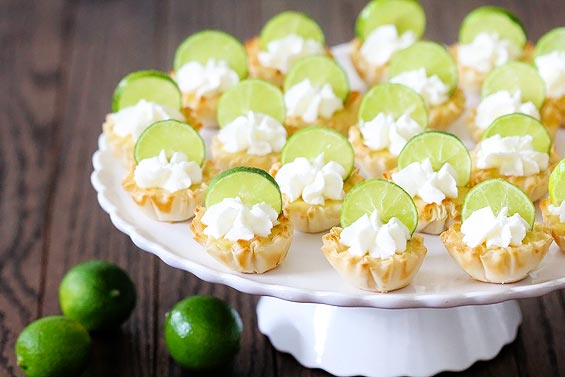 My spellcheck is telling me that 'tartlets' isn't a word, but clearly that is what these and that's why they're called that! Get with it, dictionary. These glorious mini key lime tarts are so precious and delicious, and you should totally make a practice batch soon. Recipe by Gimme Some Oven.
Tiramisu Cookie Cups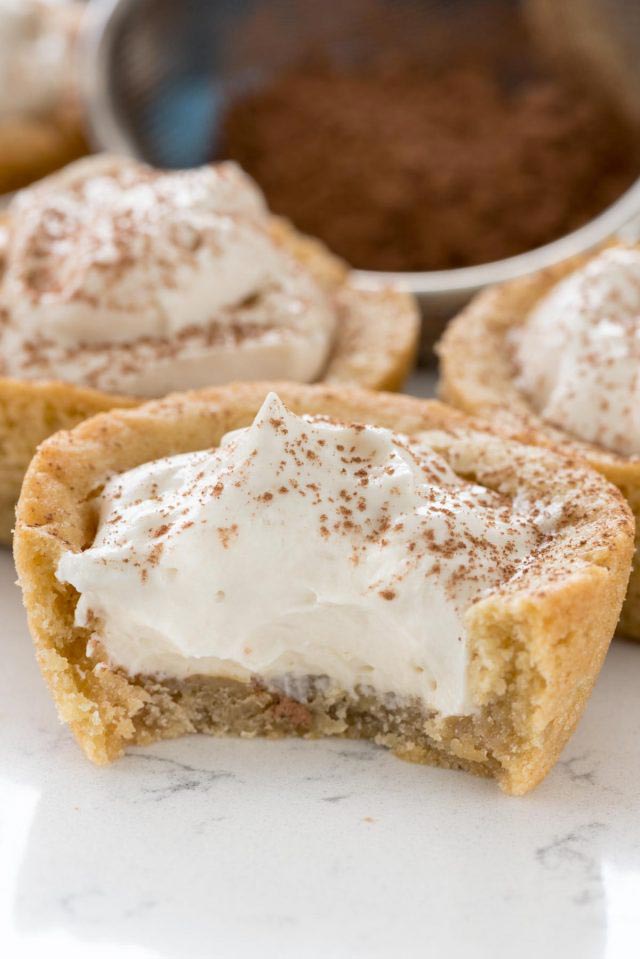 I bet you weren't prepared for how amazing these mini desserts are – they combine all of the best about Tiramisu and cookies into one sweet little treat that's perfect for an evening dessert reception with some decaf coffee. Mmm! Find the recipe here on Crazy for Crust!
Salted Caramel Cheesecake Bites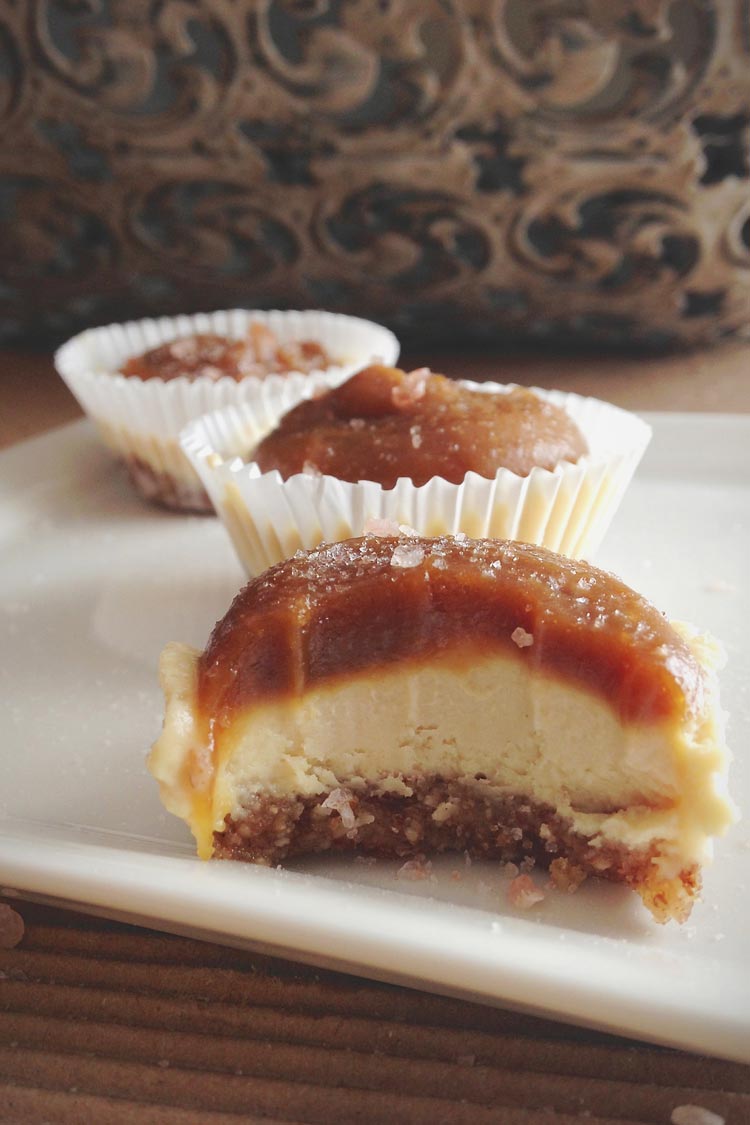 You can have your cheesecake and eat it too – even if you or any of your guests is currently practicing the Paleo lifestyle! These delicious mini desserts are some of the most amazing mouthfuls you'll ever taste (but won't regret)! Find them on Clean Eating With a Dirty Mind.
Classic Canadian Butter Tarts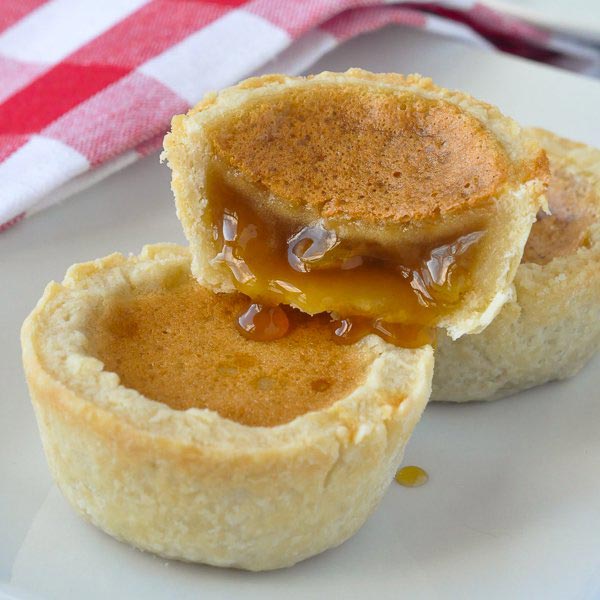 It wouldn't be a perfect Canada Day (July 1st!) without mentioning these delectable morsels! If you've never experienced a quintessential Canadian treat (and Montreal Smoked Meat and Poutine with Fries aren't quite the same thing), these are an easy and delicious way to taste a little bit of Canadian cheer with a recipe from Rock Recipes.
Banana Split Bites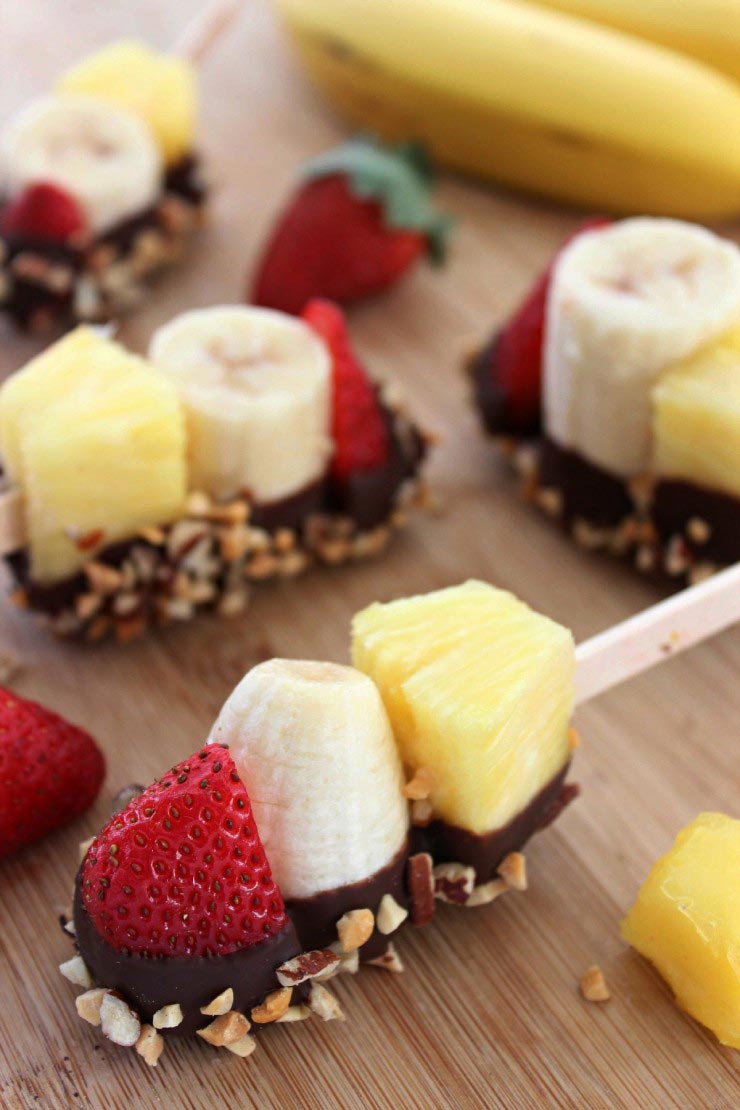 Are these the cutest things or what? They're so easy to make and perfect for a summer afternoon or evening. Who doesn't love a banana split? I don't know anyone who doesn't and these are the right size for nibbling. Life Love Liz has a fun recipe for them.
Coconut Lime Tarts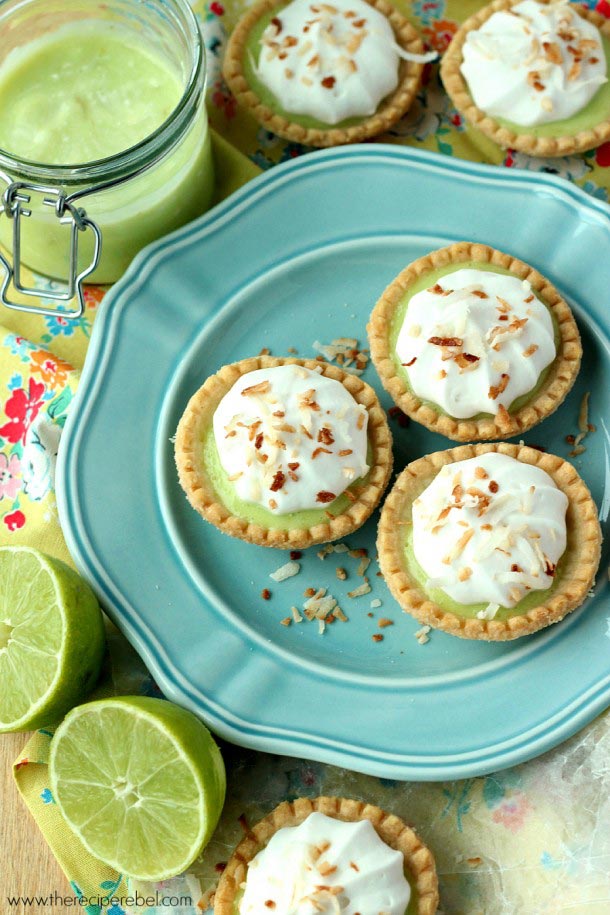 "You put the lime in the coconut…" I don't know the rest of the song, but I do know that these yummy tarts would be perfect for a dessert reception with some agua fresca or fruit punch (spiked? no? maybe. Rum? Up to you!) Find the recipe for these lovely bites at The Recipe Rebel.
Mini Strawberry Pies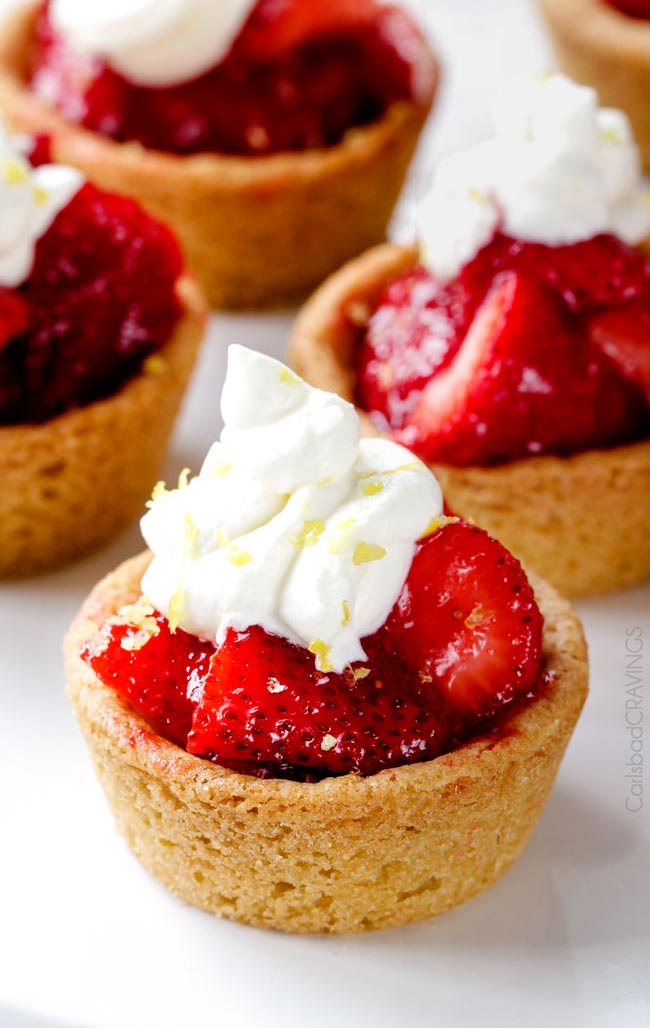 You might think 'again with the cookie cups?" but you gotta settle down until you try it. You'll be putting everything in cookie cups from now on. I mean, not a steak, but yeah… These mini strawberry pies from Carlsbad Cravings are beyond delicious in cookie cups!
Mini Turtle Cheesecakes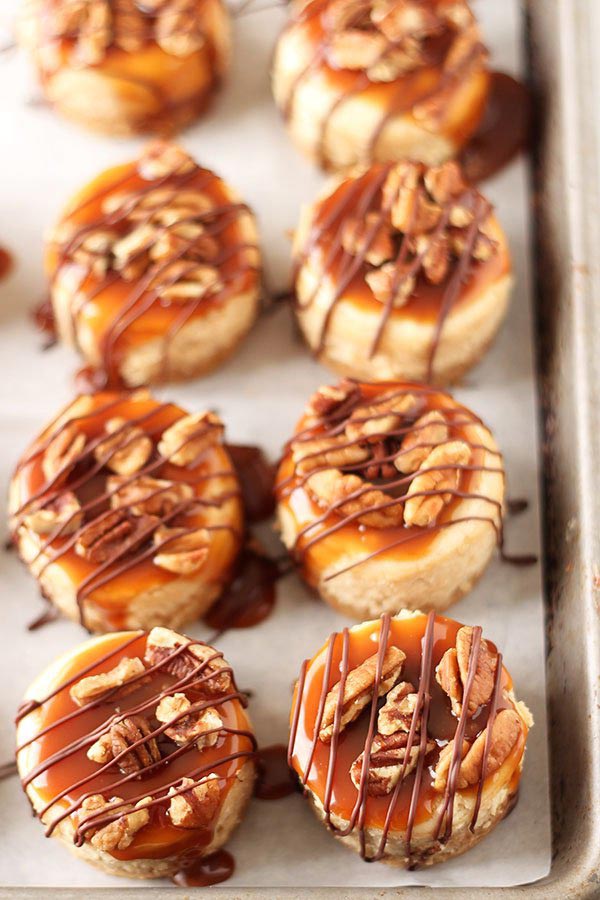 I gotta be honest, if I made these for *my* wedding dessert reception, they might not make it out onto the table because LOOK AT THEM. That is ridiculous, people. I am scared to make them, because I'm really trying to lose some…okay, just kidding, be right back – I'm making the recipe from Handle the Heat.
Apple Rose Tarts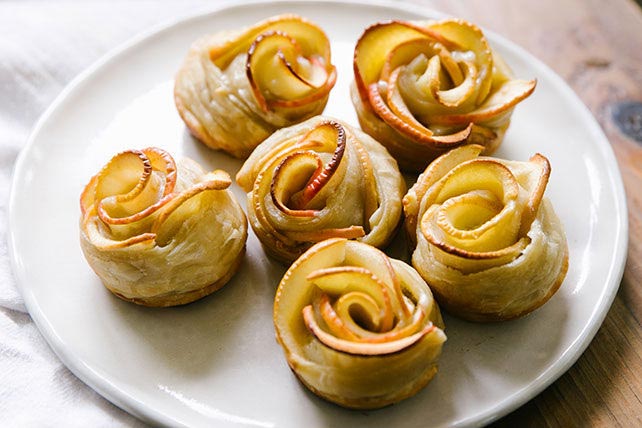 You couldn't ask for a more romantic or lovely dessert bite – and it doesn't hurt that they're delicious, too. As usual, the Kraft kitchen knows what they're doing (even if the website is horrible). #totallyjudging #suckyuserexperience #ugh
Banana Cream Pie Minis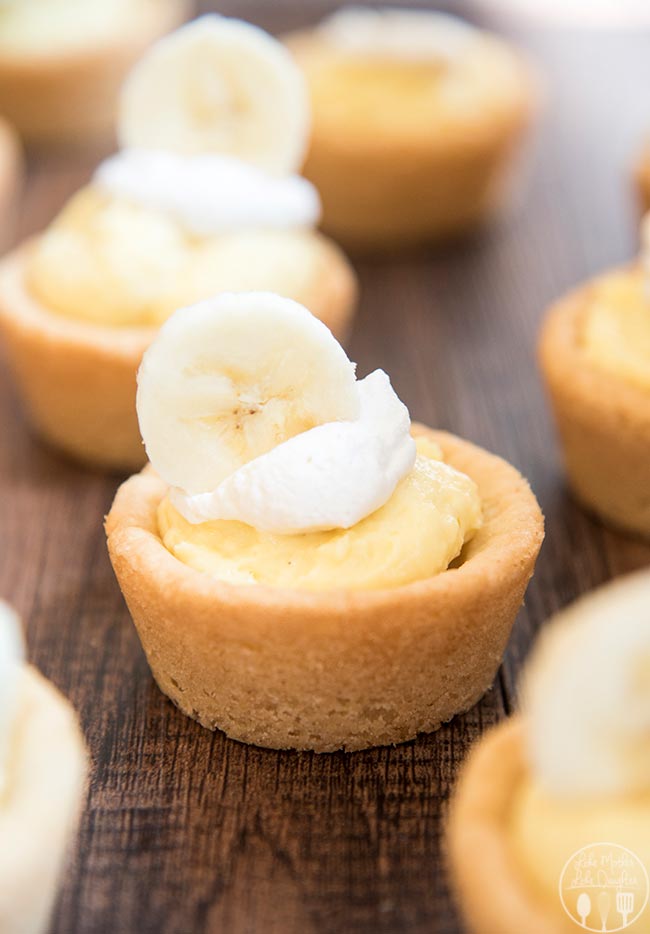 I haven't been a fan of banana cream pie since my Grandmommy stopped making it, but these cookie cups might just change my mind. Instead of Nilla Wafers IN the cookie, the cookie is the crust! The ladies at Like Mother Like Daughter have this on lock.
Lemon Madeleines with Lavender Glaze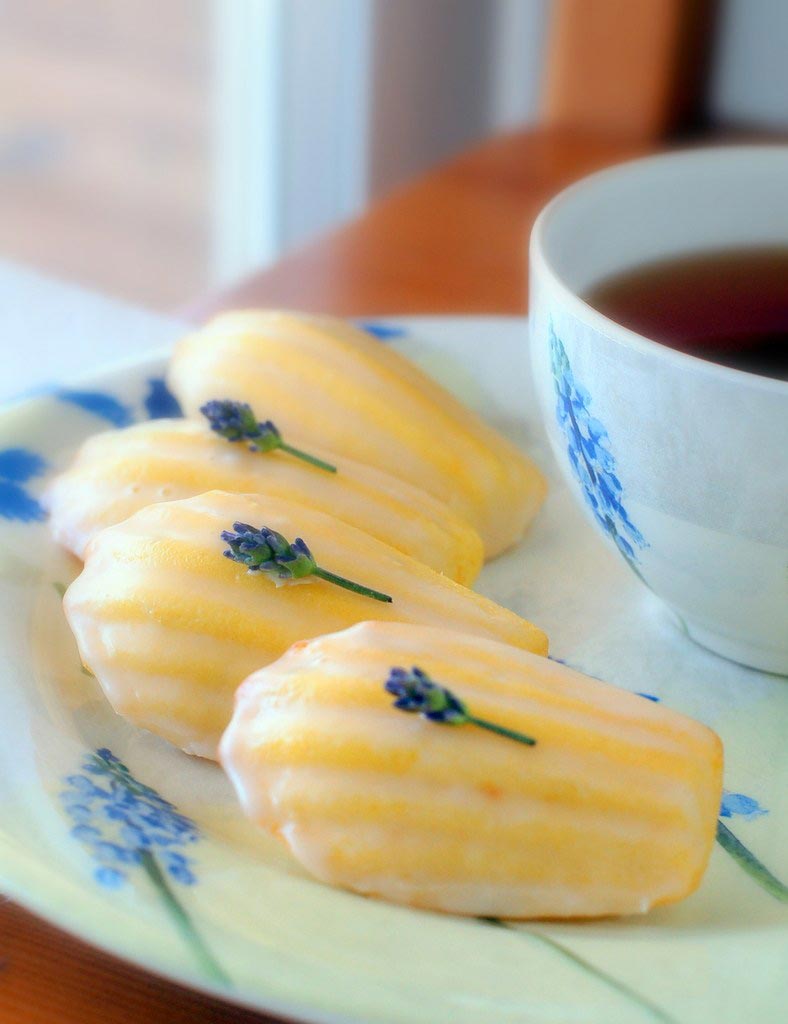 I cannot EVEN with these gorgeous cookies! I love madeleines by themselves, but add a dash of lemon and a sweet and heady lavender glaze – it's heaven. Bonus, this recipe from Free Eats is gluten-free, dairy-free, soy-free and corn-free. They certainly aren't taste-free, though!
Chocolate Raspberry Heart Cakes

This is a flavor combination that I don't care for, but someone special to me LOVES, so this is a recipe I'm including. Many people love the chocolate and raspberry thing, where I'm a yellow cake (from a BOX, no less) with chocolate frosting (from a plastic tub, I'm so classy) kind of girl. Either way, this heart-shaped chocolate cake from Cakes Cottage is a perfect way to round out your dessert table.
Lemon Tea Cookies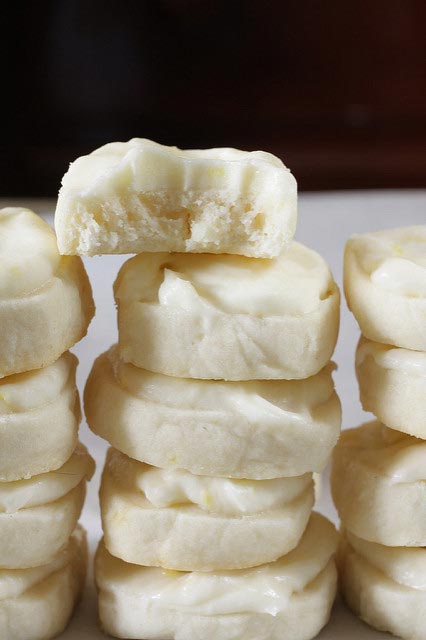 These delicate but flavorful cookies remind me of tea parties, both when I was young and as an adult. There's something so lovely and ladylike about a tiny, tasty tea cookie that just brightens your day. My Madison Bistro has the best I've tried in ages!
Heart-Shaped Petit Fours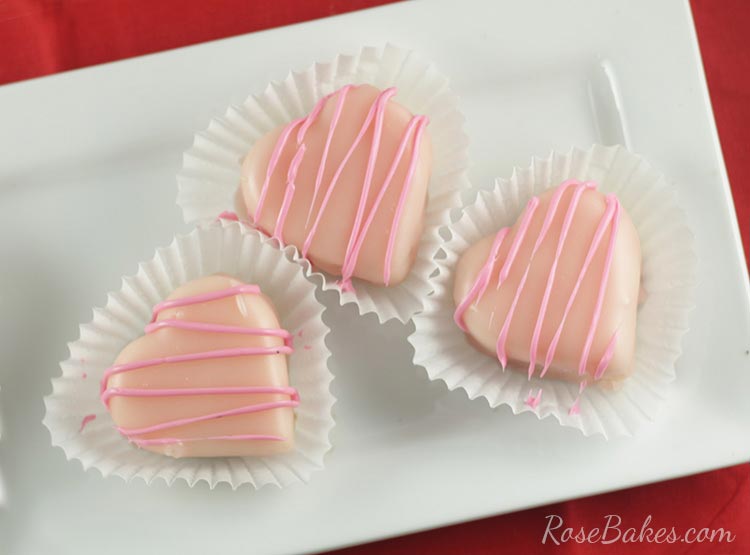 I wish I had known these were so easy to make a long time ago! I used to see these in the bakery counter behind glass and just wonder at how beautiful they were and how difficult it must be to so perfectly put icing on such small cakes. Turns out, I can make these any time I want. Rose Bakes has the easiest recipe (and the most delicious)!
Pumpkin Pie Mini Rounds
Finally, people, it literally doesn't get easier than this. Get some pumpkin pies. Use cookie cutters and cut them into as many circles as you can fit on a pie. Top with whipped cream. Done. Originally it was a Thanksgiving Hack from Sam's Club, but the same idea is perfect for your dessert reception! See here: