by Brittany McComas
When it comes to DIY wedding receptions we like to get a little posh. That doesn't mean you have to break the bank to feed your guests, either. You can pack the sweetest little lunch boxes or bags for the ultimate wedding in a park. Header image source
Perfect Park Lunch Set Up
If you have picnic tables–awesome! Leave the table cloths at home if you want, and put out some cute paper place settings. Votive holders with candles and flowers or herbs, like lavender or lilacs, make great daytime centerpieces and are both budget friendly all year long.
Wanna go super-budget friendly? Ditch the bug attracting flowers and drop a few drops of Wisteria & Lilac or Citronella fragranced oil on each votive candle. Then use cute picture frames or metallic painted forest animals as table decor.
If your park wedding doesn't include tables, have no fear–get the family in on the fun! Ask everyone to bring a giant, durable quilt or blanket. Or delegate someone to collect a box full before the big day. Be sure to include a few pillows or camping chairs for elderly guests, just in case they can't get low.
Sandwiches
Image source
Turkey and Brie (or Cream Cheese) on Wheat with Cranberry Sauce
Hummus and Cucumber on Sundried Tomato Bread
Chicken and Stuffing with Chipotle Mayo on Sourdough Bread
Ham or Pastrami with mustard and pickle
BBQ Pulled pork with slaw or tomatillo salsa on Hawaiian slider buns (two per guest).
Snacks
Image source
Grapes, strawberries, sliced apples, melon balls–any fruit that won't go mushy if pre-cut or set out for a bit.
Individual little white vermont cheddars from Kroger or Ralphs (no joke–so delicious). Or any kind of cheese that is slightly hard–things like brie, buffalo mozzarella, and goat cheese can get squishy and gross if it's warm out.
Grab boxes of specialty crackers and pack a few per guest, wrapped in cling film or a plastic baggie.
Little pre-bagged pretzels, bagel chips, pita chips or veggie crisps are cute, too.
Drinks
Image source
Set a few Box o' Wine out on each table so guests can fill their own Govino Glasses–they go anywhere you can't have stemware!
Give each guest a wine in a glass "to go" like Copa Di Vino.
Mini-champagne bottles in ice buckets are a cute centerpiece (especially if you're on blankets), as well as a killer drink! Just remember the Govino champagne flutes–yes, they have those too.
Pack It Up
Cute bags or boxes with little notes make all the romantic difference on your special day. source
Or doodle on them for even more fun. source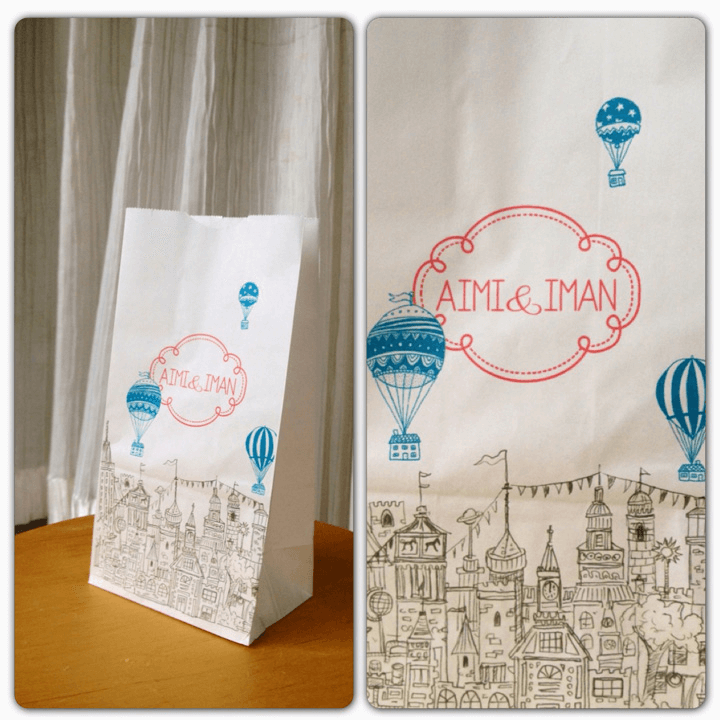 Or pack cute little color themed boxes. source