Some of you really might be wondering what in the world flagging tape is, well, it's dang awesome! You know the stuff they use in construction zones and to rope off crime scenes. Don't worry, you don't have to use bright yellow at your reception unless you really want to! This stuff comes in a plethora of colours and patterns like hot pink, all the blues you can imagine, polka dot, chevron, the list goes on. So what are the best ways to use this budget friendly amazing stuff…
Create a Beautiful Flagging Tape Backdrop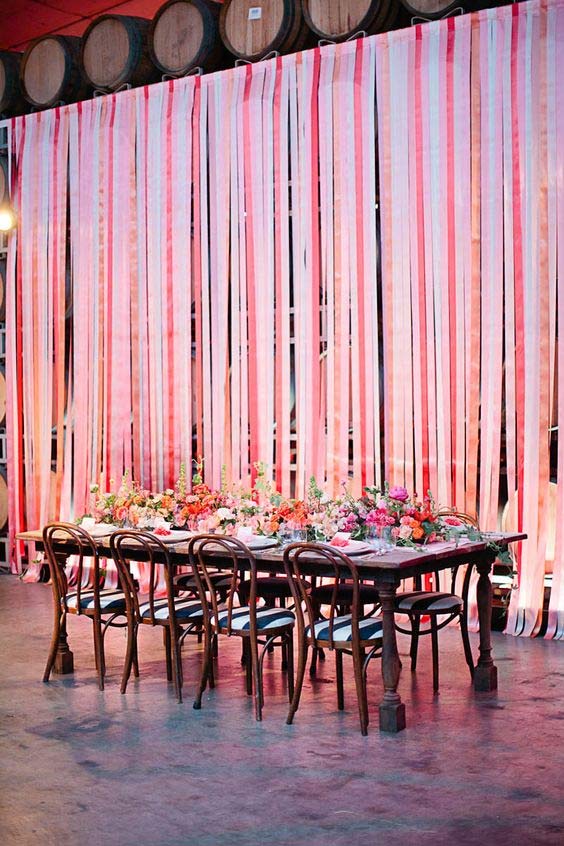 One of the most popular ways to use flagging tape is as a backdrop. From the main reception table to your ceremony marquis, there are tons of places you can use flagging tape in lieu of ribbon. Did I mention this stuff is super cheap? Try $2.66 per roll or $26.64 per 12 roll case from Tape Planet.
Killer Outdoor Decor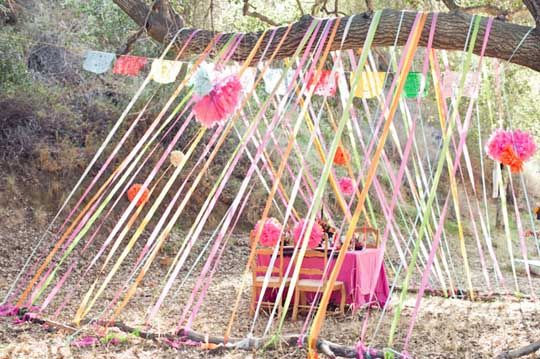 When you are at a loss of what to do outdoors, find the nearest tree and replicate a tent using the colorful tape. Stick a table underneath for an intimate reception and you've got one adorably sweet wedding venue at a fraction of the cost!
Beautiful Outdoor Lighting Accents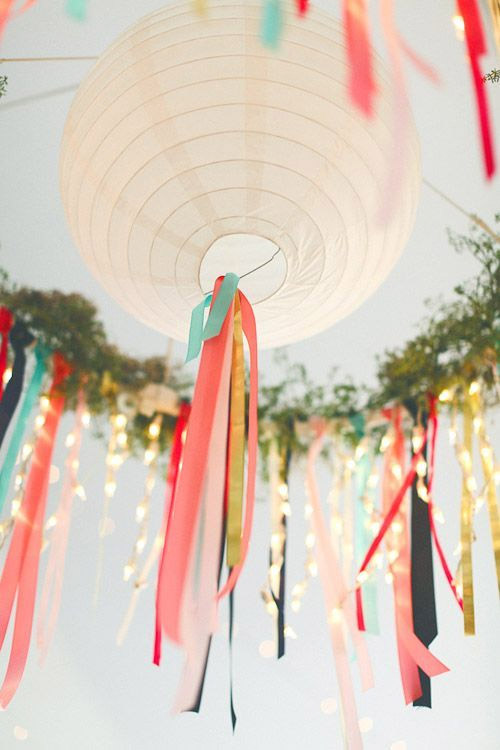 Grab your favorite color or pattern, cut off different sized pieces and tie it onto Chinese lanterns or vintage lanterns hanging in trees for the perfect, budget friendly accent to simple lighting.
Make a Grand Hall Entrance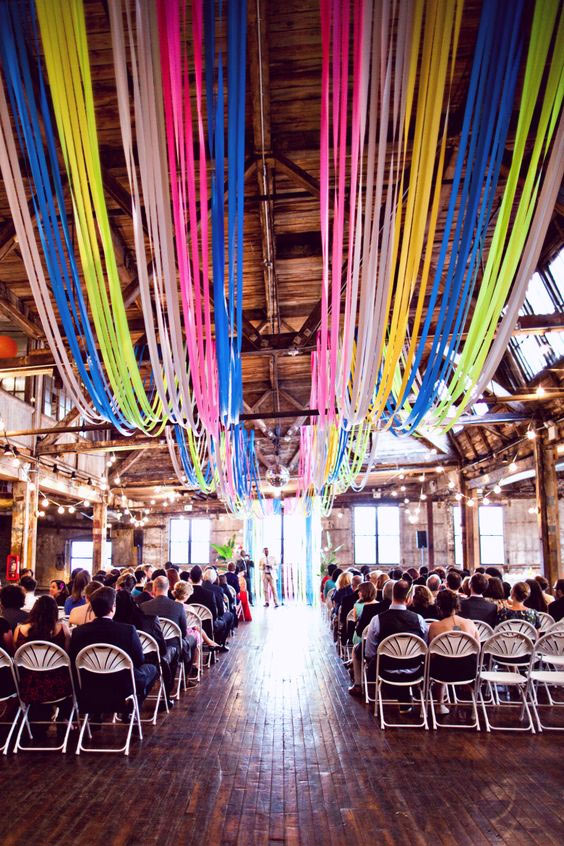 One of the coolest ways to use flagging tape is to add gorgeous color to your ceremony venue. This dramatic effect is so simple and easy, you just simply hang the tape loose and vertically along the venue ceiling.
Accent A Plain Wall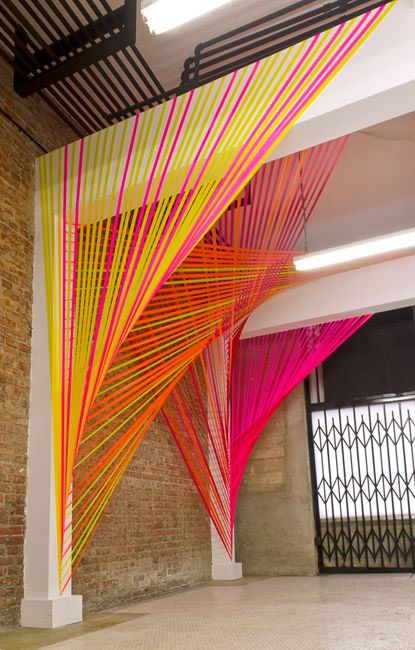 Venues can often be difficult to decorate if they contain high beams and lots of exposed brick that you can't hang anything on. Use the tape to make a killer design along a beam and anchor it to the bottom of the wall with a hook for some seriously stunning decor.
Romantic DIY Lighting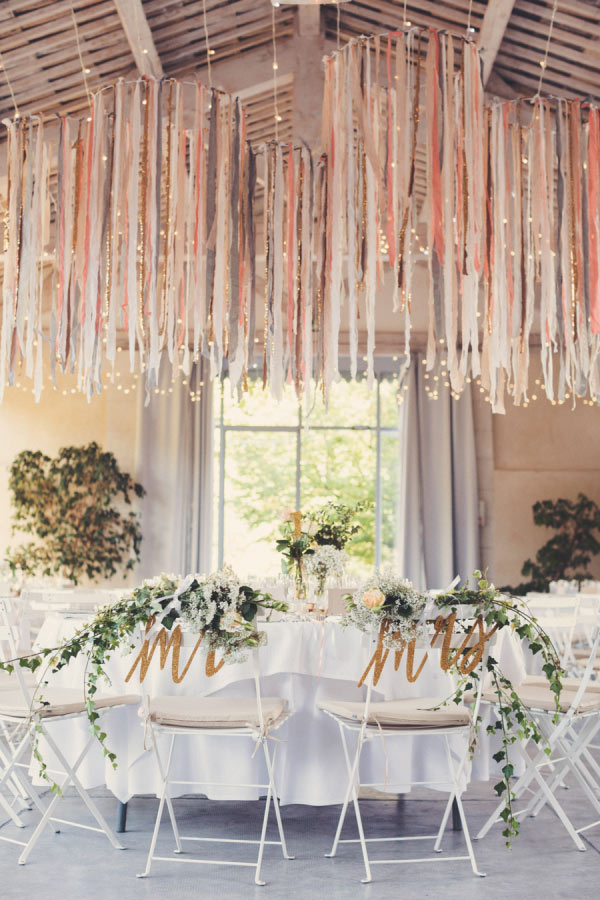 Recreate this gorgeous lighting on a budget with pastel flagging tape, fairy lights, clear line, and large metal or bamboo hoop rings at your local craft store. Tie the flagging tape around the hoops like below, affix each hoop to the ceiling of your venue with clear line, and run fairy lights through once the hoops are up.
Decorate Chair Backs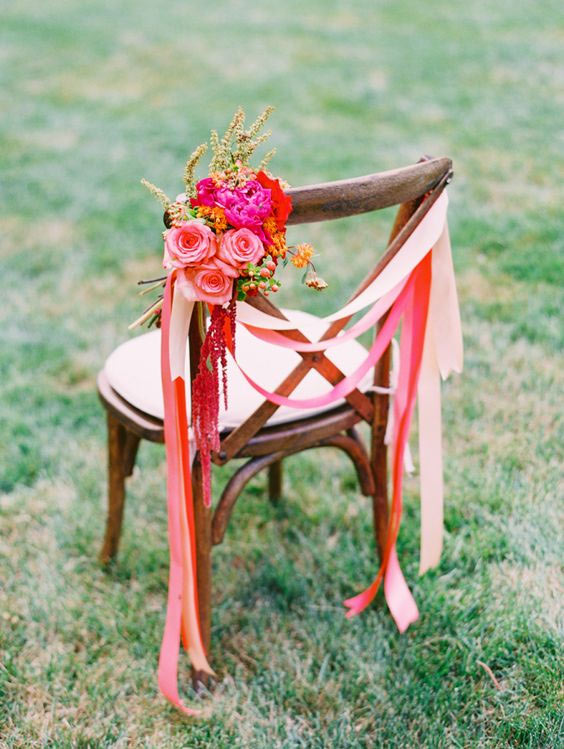 Recreate this gorgeous chair back decor using flagging tape and the same colour palette. Simply cut four to five strands various lengths. Attach them to the chair by tieing them around each side.  Affix a bouquet to each seat on the aisle, or every other seat along the aisle, to save on flower costs. Photos Courtesy Pinterest