by Brittany McComas 
Lots of brides have been there. The dreaded moment where your mother reveals that she has indeed chosen the most hideous dress on the planet, in the most "God awful" color pink, and your color palette is mint green and silver. All you keep thinking is how she's gonna look like a pink nightmare next to what now will appear to be an Easter egg motif and you have no clue how to tell her.
Have no fear. Check out my sweet ways to help Mom go more fashion forward and save your bridal sanity!
How To Deal With Mumsy
Take her shopping. No matter what your color palette, you can easily persuade your own mother with the aid of your Maid of Honor or a bridesmaid or two (that's what they are for) to get something that she is gonna look fabulous in. Help her find shapes that flatter. Don't just send her online photos of dresses. Our Mothers grew up shopping in stores, not online — plus, if they get the dress delivered and it doesn't fit they might get disappointed or discouraged. If online shopping is a must, use something like Rent the Runway.
How To Deal with Future Mother-In-Law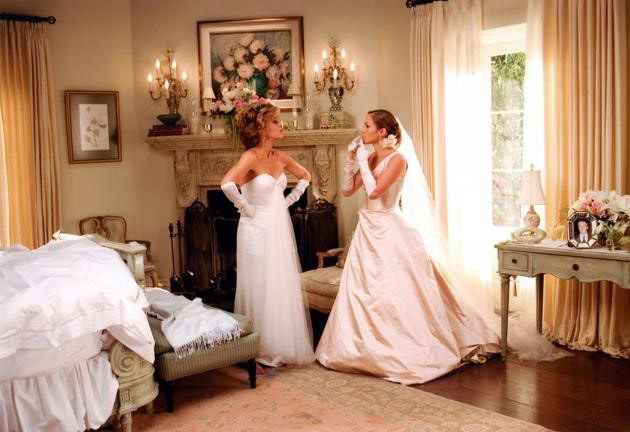 Take her shopping too! Separate from your mother. This will be some awesome one on one bonding time, and she will appreciate the effort. Get the girls involved too! If you are planning on surprising your future husband in a non-traditional color wedding dress, and your Future Mother-in-Law steals your thunder–you don't have to fold and just get a different color dress. Approach this delicately. Go find the dress you want in the exact color. Show FMIL said dress. Then tell her that her dress is going to be too matchy matchy. Send her to Rent The Runway and tell her she'd look better in designer anyhow!
When It's All Said And Done
Don't let them look horrid. They might be upset at first, but just be honest. It's your Mother and your future Mother-in-Law. They are going to be family, and you just have to suck it up and tell them the truth. That "their dress choices aren't the most flattering and you want them to look almost as fabulous as you do when they are escorted down the aisle". They might not like it at first, but when they realize how fabulous they look in every single photo–they will thank you for your honest help.