When it comes to boozy drinks and whipping up signature cocktails, you can do it on a budget with all those cute little mason jars. We absolutely love mason jar cocktails for weddings! Think it might blow the budget out the water? Have no fear. We'll break down the budget and help you find the most cost-friendly ways to do it with style on the cheap. So, how much does it cost to put together those mason jars of signature cocktails for a party of 80?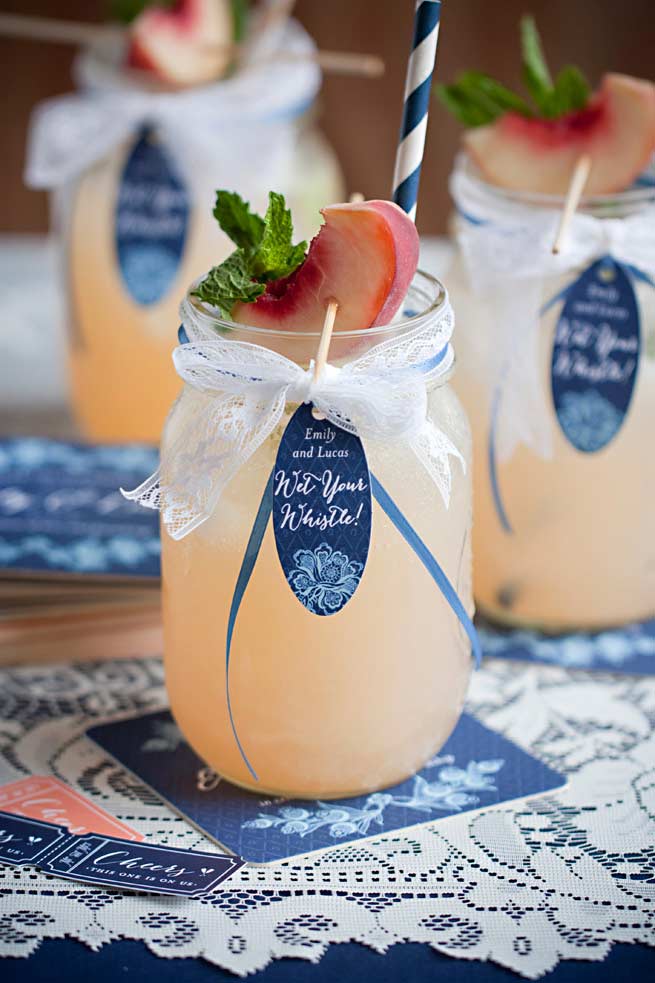 This post contains affiliate links for your convenience. Click here to read our full disclosure policy.
How Many Jars Do You Need?
The average wedding guest will have two drinks per champagne/cocktail hour. So be sure to budget just that. There will be people who don't drink at all, so just make sure you express that it's a signature cocktail hour – so guests don't think the drinks will flow all night. You will need 2 mason jars per person. 80 guests = 160 cute little mason jars.
You can find the jars in a lot of places for different prices.  If you have an Amazon Prime membership, you can find 24-packs of the jars there. you'll need 7 packs of 24 or 14 12-packs. On PaperMart, they are available in various sizes – here's a link to the 16oz page. Bulk purchasing is available, but the price is about the same.
How Much Booze Do You Buy?
Here's the mathematical breakdown for booze. You'll need to buy a few 750 ml bottles of your favorite liquor to mix up in your signature cocktails. You can usually get them at cost from a distributor if you explain they are for a party. So how many shots are in a 750 ml liquor bottle? Depends on how big your shots are. 1 oz. – 2 oz. is common per drink. If you go with 2-ounce shots per 16oz mason jar, you'll need about 14 bottles of your signature liquor to make 160 jars.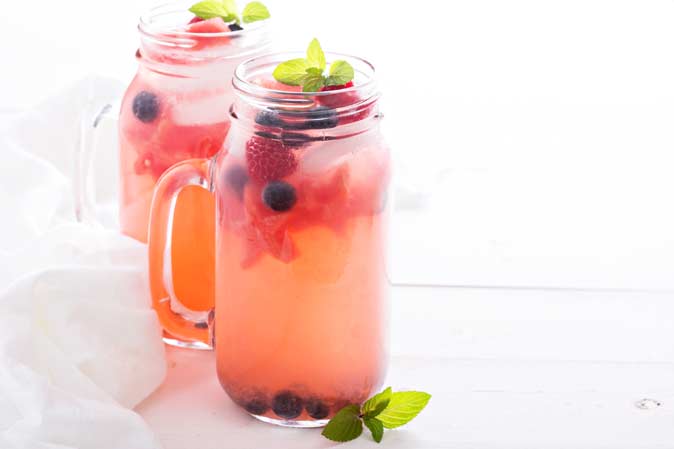 The average bottle of mixing-worthy liquor is $11 which makes your liquor cost about $154 without taxes.
What Amount of Mixers Will You Need?
Costco, Sam's Club or Aldi will be your best friend when it comes to DIY cocktails. These places often offer juice in bulk and at cost. To cut the cost of mixer use a juice and a super cheap sparkling water to mix up your signature mason jar cocktails. You'll need 4 ounces of mixer in each jar, followed by ice and sparkling water. If the average bottle of juice cost is $1 and soda water is $0.80 you're looking at a total mixer cost of about $60.
So in total those cute little mason jars of signature cocktails should cost you $215 for the drink itself. You can find mason jars for somewhere around $165. Add the expense of ice as well as colored straws or signs and you'll probably do an 80-person cocktail party for just around $380. That's about $2.40 per drink!