If you're worried about cost on your wedding, setting up a great cocktail bar is a great way to cut back! A friend of mine once literally asked all her college buddies who attended the wedding to take a 30 minute slot to serve behind the bar. They all agreed, and it helped her to keep from hiring a bartender. Not a bad swap for free drinks! Whether you've got friends volunteering, or you're gonna do a DIY set-up you'll want to make sure you have everything needed to mix up some killer drinks. This is one way to keep the party going and your wedding day worry free!
Wedding Reception Cocktail Bar Setup:
Glassware

There are three basic glasses to a bar: short, tall and stemware. If you're serving cocktails and wine opt for a stemless wine glass to cut cost. Otherwise, go with a theme like champagne cocktails that can be served in tall tumblers with straws, or in mason jars. If you're into mojitos and whiskey cocktails go for short glasses.
Barware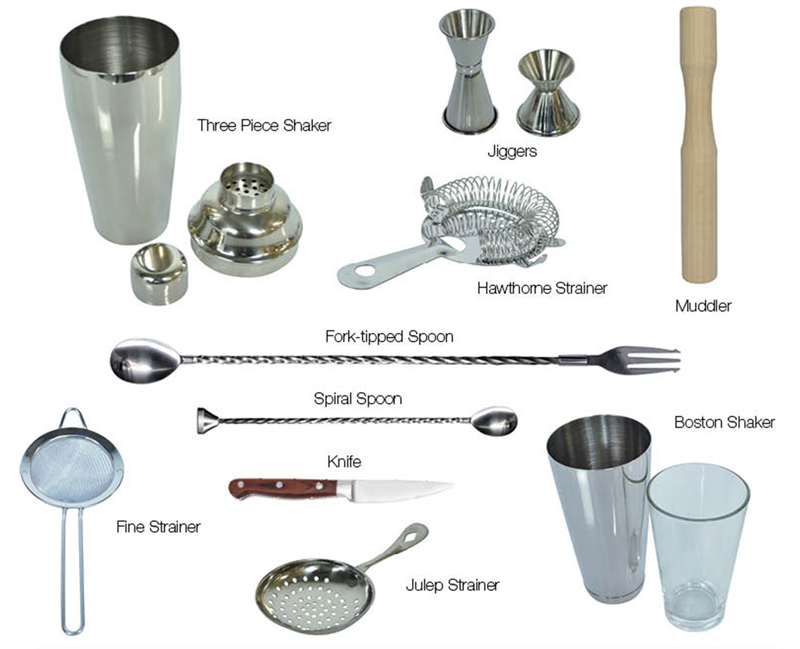 You'll need:
            Bar spoon   (for stirring martinis (trust me they're better stirred, than       shaken)
            Muddler   (for mojitos or fruit infused drinks)
            Jigger   (this is to measure shots–we don't want guests getting too crazy)
            Cocktail shaker   (for those martinis that just have to be shaken)
            Strainer   (to pour the drinks from the shaker into the glass)
            Ice   (a lot of ice! think a pound per guest)
            Wine Key (bottle opener for both wine and beer)
            Knife  (to cut any fruit)
The Booze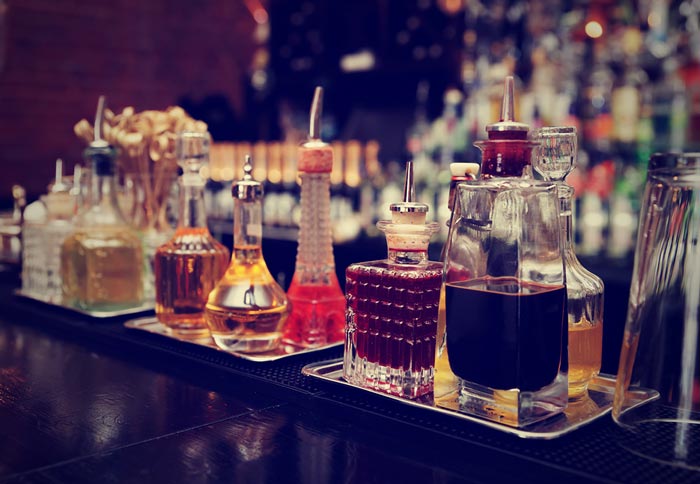 For the good stuff on a cocktail bar, I normally follow the Long Island Ice Tea Recipe: Gin, Vodka, Tequila, Rum and Triple Sec–plus a whiskey or bourbon. That's how you should stock a basic bar. Unless you are doing specialty cocktails. This is the cheapest way to cut down on cost. Think three cocktails per guest and simply buy the ingredients in the recipe you need, and leave the recipe for guests or pre-mix and put in a jug for guests to self-serve.
The Mixers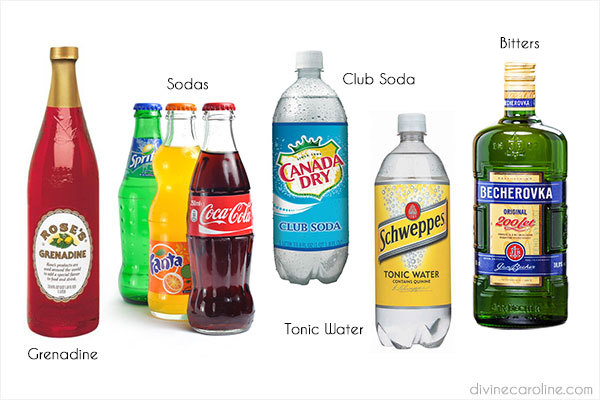 Generally speaking, you usually need: a coke, a diet, a lemonade or lemon/lime soda, soda water (or sparkling water if it's cheaper), and tonic. You'll also want to add basic fruit juices: orange, cranberry, pineapple.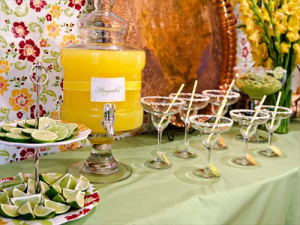 If you'd like a really good bar set-up also include: bitters, grenadine, simple syrup, lemon, lime, orange and maraschino cherries.
Tips & Tricks
One of the best ideas ever is to pre-mix and set up all glasses. source
Don't exclude the non-drinkers, either! You can provide non-alcoholic options like Shirley Temples and fruit juice with soda water and a splash of lime!