Bring in the holiday cheer by saying "I do" and throw one bad-a$$ soiree for the holidays. When it comes to bringing your friends and family together, this is really great time to do a budget wedding, especially if your loved ones are spread far and wide across the globe. Check out our sweet ways to get everyone together for your big day and ring in the following year on a very sweet note. Header image source
Follow The Forecast
If you really want your magical holiday wedding to be surrounded by snow, then you need to grab an almanac. Okay, that's what my Dad would say. You can get a Weather Channel app to keep up to date on what's going on this season, and the next for that matter, that way you can pretty much nail the date on the head and say "I do" surrounded by snowflakes.
Dinner Party Fun
The best part about the holidays: you can throw your diet out the window! Go for big, family dinner style parties. The reason most families do turkey and ham in the holiday season is due to the fact that it can feed an army. Set up a killer DIY carving station with turkey, roast beef, ham, or any kind of protein you love. Ask guests to bring a signature dish on your R.S.V.P. Don't be afraid to ask your Aunt for her apple spice cake or your Mom for her pumpkin pie–this is where you cut the cake budget, too! A lot of brides are going with pies this year, and just having a simple one tier cake for the traditional cutting with the groom. Unless you love pumpkin, like I do, then just smash some pie in his face. Image source.
Winter Wedding Apparel
When it comes to winter weddings, you'll want to stay warm, and what better way to do that than with my handy guide to staying toasty with winter wedding fashion: From faux fur stoles to ostrich feather boleros, you can keep cozy and grab these goodies on a budget. Scour the internet for your favorite piece, then check Groupon
and Shopular for coupon codes and free shipping.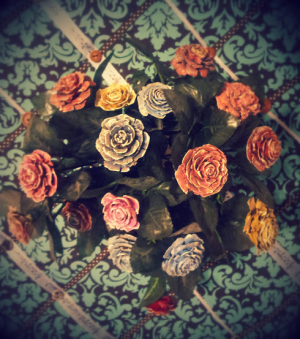 Some stores let you double up on codes when you check out so don't be afraid to try a few several times. Of course gently used pieces are budget friendly too, and Tradesy or Ruffled may have just what you're looking for!
Winter Wedding Decor
Want some bad-a$$ centerpieces on a budget? Get out into the woods and start gathering pinecones. Pick out some sweet paint that matches your color theme or wedding motif, and get to painting. Because yes, this is what they will look like! You just need to give definition to the edges with some cream colored paint and a tiny paintbrush. Image source