Ok, so we are only just taking our first wary steps into September, but that doesn't mean we can't focus on Christmas. If you're tempted by a festive wedding or if you are already in the throes of planning one, this guide will give you jolly holiday inspiration to create your dream Christmas wedding. Your wedding will be the best day of your life. You are making vows to the person you want to spend the rest of your life with, your one and only, your soulmate.
If celebrating your nuptials at the most wonderful time of the year appeals to you, then read on.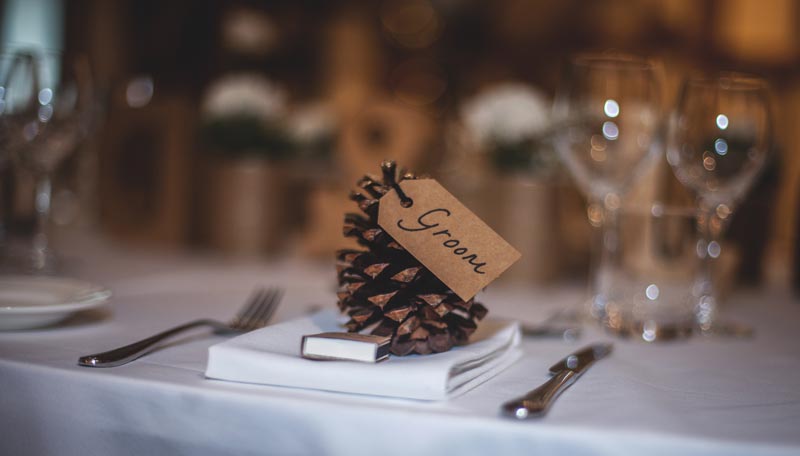 Weddings are expensive beasts, and trying to plan one during the holiday season can see prices for venues, catering and the all-important photographer increase dramatically. However, there are some nifty savings to be had if you plan your wedding astutely. It's vital that if you are thinking of marrying in the winter season, that you begin planning now if you haven't done so already. Take a look at these winter wedding ideas to inspire you when organizing your festive celebration.
Christmas Wedding Color Choices
When you consider seasonal weddings, different colors immediately come to mind. Summer weddings can be vibrant with golds, oranges, and bright yellows. Autumn weddings tend to take on a more subtle hue with icy blues, off-whites and silver color schemes echoed from the bridal dress to the table dressings.
Christmas weddings are no different in their theme. You could choose an opulent deep red color scheme or emulate the season with silver and gold. Whatever you do, don't take a look at your Christmas tree and glean inspiration from there.
Remember the old adage: red and green should never be seen and this is never more apt than on your wedding day. A Christmas wedding gives you the opportunity to explore holly berry reds that will stand out against your white dress.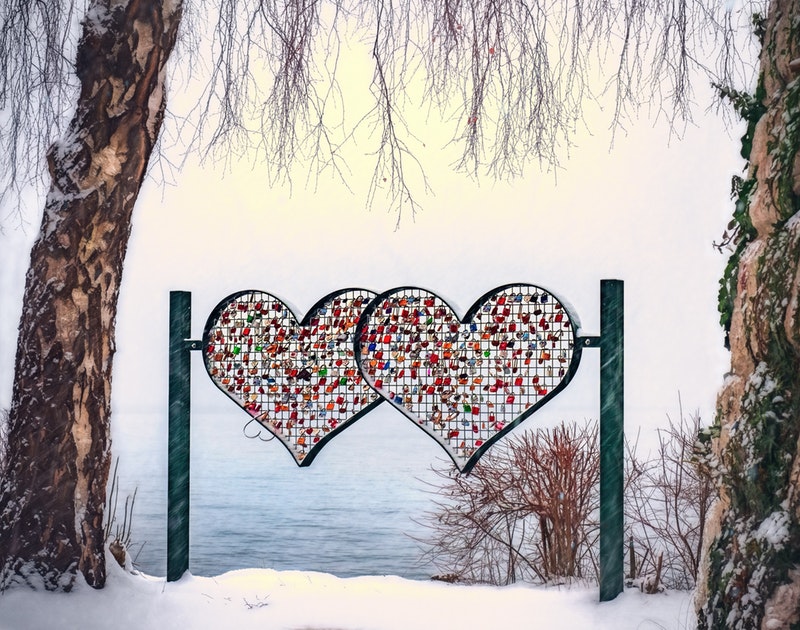 A great little way of exploring the vibrant tones of winter is to head to your local florist and ask them about the flowers readily available at Christmas time. You could use these as the basis of the color scheme for your festive wedding.
Catering Your Christmas Wedding
Any lover of the festive period enjoys the hearty warming food that the season lends itself to. Consider welcoming your guests to your reception with delicately spiced and warming mulled wine or a hot cinnamon apple drink for the teetotallers.
If you are opting for a sit-down dining experience with a traditional three or four-course meal, the obvious choice would be to serve turkey with all the trimmings follows by Christmas pudding and a brandy butter. However, if you want to think a little outside the box, consider a more relaxed affair. You could bring a little bit of summer into your festive celebrations with barbequed meats, warm salads and roasted potatoes.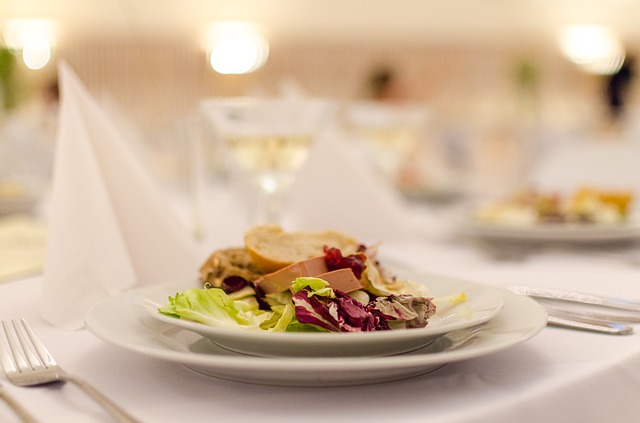 If a buffet style is more your thing, you could take the traditional Christmas dinner and turn each aspect of it into a canape. Who fancies a turkey and cranberry jus blini? When it comes to desserts cute little mince pies, strudels and chocolate yule logs make perfect pudding canapes. By thinking outside the box a little bit, you can take your guests by surprise and keep them talking about your wedding for weeks.
Christmas Wedding Style and Decor
The way you decorate your reception room should mimic the color you have chosen for your dress. A Christmas wedding is often thought of as an opulent affair, but if your budget doesn't stretch so far as a ten foot fully kitted out Christmas tree in each corner of the room, there are some simpler approaches to decor that you could try.
To make your wedding more personal and bespoke, it pays to have a go at some DIY decor anyway, regardless of your budget. Head down to your local DIY store and pick up some fairy lights. Buy in bulk and try and purchase them at trade prices to get the best deal. Then pop to your local florist and pick up some ivy, one of the most Christmassy bits of foliage around during winter and intertwine the two. Whether you adorn barn beams with your festive lighting or place the DIY decoration around the tables for your sit down meal, you will be creating a subtle and sweet decoration that you have made with your own fair hands.
Deep red candles scented with cranberry, spices and mulled wine evoke all the senses. For a simple table decoration, why not pick up some of these scented delights and place them in frosted glass vessels complete with fir pine off cuts and holly berries. As your guests sit down to eat their festive feast, they'll smell the evocative perfume of Christmas.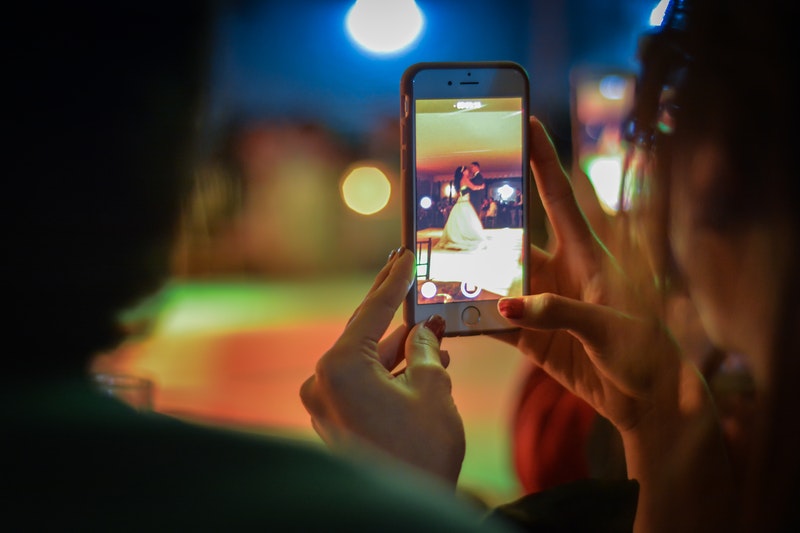 You could even choose to carry on your festive theme in the favors you purchase for the bridesmaids and best man. You could opt for the most comforting snood or shawl for your bridesmaids, and a pair of comical Christmas themed cufflinks for your best man.
When it comes to flowers, the choice is seemingly endless. You could opt for the deep crimson of poinsettias, the brighter red hues of amaryllis or the gentle cream of mistletoe berries. Christmas flowers will add a distinctive touch to your festive theme.
Choosing the Right Venue for your Christmas Wedding
It's not just Christmas when the venue of your wedding is crucial. Where you choose to celebrate your nuptials with your family and friends is one of the most vital decisions you will make. The venue you choose could be formal and traditional like a hotel complete with grand dining room for your reception, silver service with the wedding breakfast and luxurious and grand gardens perfect for those all-important photographs to capture the memories of your day.
This venue comes at a cost. If this is an aspect of your day that you're not willing to scrimp on although you're on a tight budget, you may need to consider if you need a loan to secure your dream venue. Loans don't have to be mammoth financial sums of money paid back over the next decade. You could secure a small loan to cover the cost of the venue and pay it back before you've even returned from your honeymoon.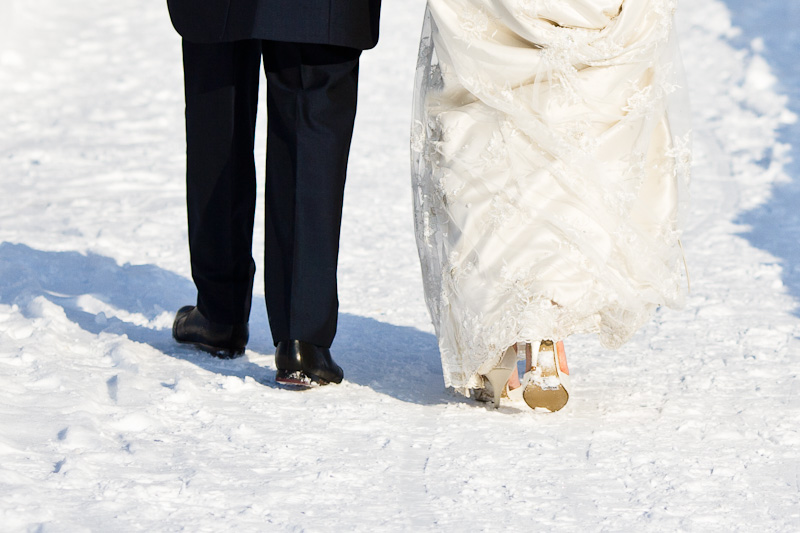 If the expensive, formal sort of building doesn't reflect your special day, why not consider cheaper alternatives that echo your personality more. You could explore the option of a rustic barn setting for you and your guests. For the movie buff couples amongst you, perhaps an old vintage cinema would be your ideal wedding and reception venue. You could even hold your celebrations in a haunted house or gothic museum if this floats your boat. It pays to sit down with your partner and discuss your ideal venue. Just because the norm is a country house hotel, doesn't mean you have to conform. Remember, this is your special day.
Hiring a Photographer Around Christmas
You may think that hiring a good photographer is the same all year round. Most wedding photographers will have plenty of experience shooting summer weddings complete with sunny, balmy backdrops, but fewer experience the pleasure of providing their services for a winter wedding. If you are somewhere that gets a lot of snowfall and you are lucky enough to have a snowy vista as the backdrop to your photos, you'll want a photographer who knows how to shoot in those conditions.
When you meet any photographer to discuss your requirements, ask to see their portfolio and ask about their experience covering winter weddings. You'll be surprised at just how different it is shooting in the summer to the winter, and you'll want a photographer who can manage that transition. If they decline to show you any portfolio, then alarm bells should begin ringing, and you should politely make your excuses and find another photographer.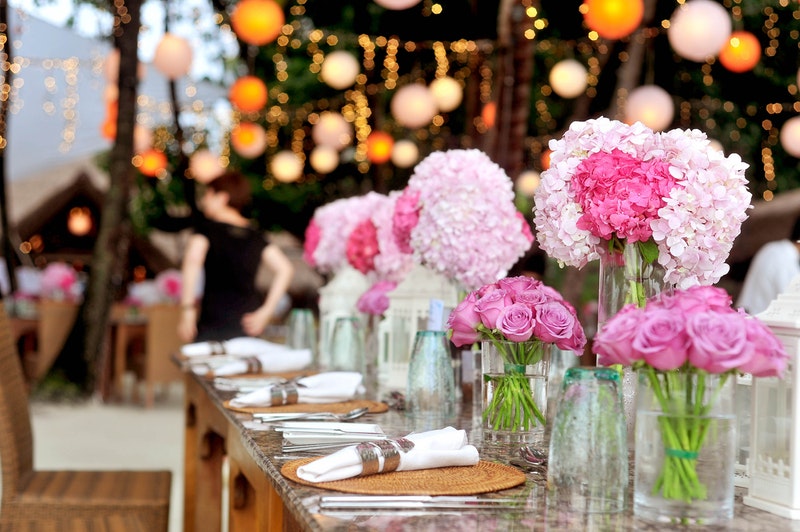 Planning the perfect wedding can be stressful, time-consuming and frustrating at the best of times. A Christmas wedding has an added level of pressure because it is one of the busiest times of the year. We are now heading towards autumn, and if you haven't sent out your 'save the date' cards yet, you'll need to get a wriggle on. The festive season is jam packed full of events, parties, plays, festivals and concerts. You need to give your guests plenty of time to organize their schedule and fit your wedding into their plans.
Never forget that you and your partner are the only two people that matter. Consider what it is that will make your festive wedding day absolutely perfect. If you want to arrive in a plush reindeer drawn sleigh to your ceremony, do it. If you want the unashamedly traditional Christmas dinner for your wedding breakfast, have it. Try and enjoy the planning experience and relish being one of the few couples to be getting married at one of the most special times of the year.