Throwing a wedding is one thing, but a DIY Wedding — put your big girl pants on! You're gonna need em'. This is totally not for the bridezilla type, either. What? I'm being honest. If you can't put your back into it…well, it's easier than I'm making it out to be. From food and drink, tables, chairs, and all that other stuff you're gonna need check out our sweet list below of how to set up and break down your DIY wedding without breaking your back.
Who Do You Ask For Help
Everyone. Literally tell people they can't come eat your food and drink your booze unless they pitch in. That's my philosophy. Most of the time people sincerely want to help, and you can delegate sweet jobs to just about all of your close friends and family. Of course, if you do want to hire a few people on the cheap try checking out Craigslist, Taskrabbit, and Thumbtack.
Setting Up Self-Catered Food & Drinks
When it comes to Food & Beverage set up this is where your talented bestie from college or bartender friend comes in handy. Bartenders are great at asking what you might need for your bar and drink set up. I found this awesome inflatable serving bar that lets you keep a lot of drinks on ice (or keep cold foods cold, nestled in the ice) without using coolers. (Basically, writing these articles is letting me do shopping for you, and I love it, but now I want to buy one of everything, which is bad.)
As far as the food is concerned, the hot stuff will need to go in chafing dishes that most caterers provide. If you're doing the food yourself and value cleanup and cost over the look of things, this three pack of disposable chafing dishes is perfect!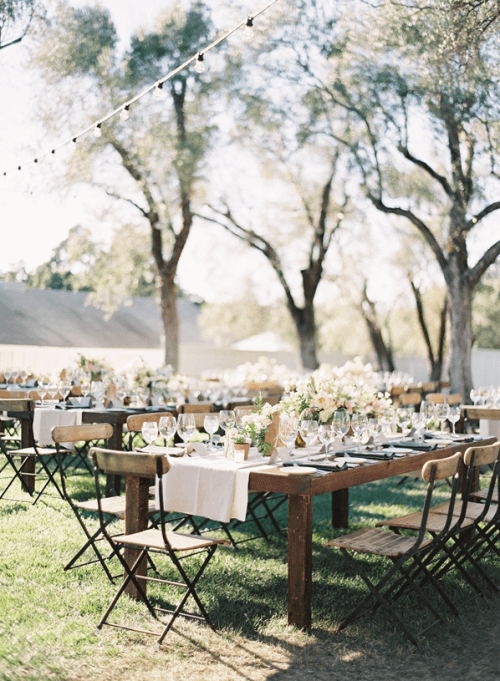 This Oster three-dish electric buffet server is actually a really great price at around $50 at the time of this posting (annnnd now it's on my Christmas Wish List on amazon because having warm food at parties is amazing!) (oooh, there's a three-dish slow-cooker as well!)
Anywho, call around to some rental companies in your area–if they include the chafing fuel in the rental take it! While you can get a duel chafing dish at Target for $40, the fuel can cost around $26. So, just do some simple research because you can re-sell a chafing dish online. Check out our DIY Bars and DIY Food & Drink Archives for some super-sweet ideas to get your creative reception juices flowing.
Chair & Table Set Up
First off, you're gonna want to make up a seating chart and as horrible as that sounds it's the best way to map out where tables and chairs will go. A great way to get an idea of how things need to be set up is to visit the venue, and bring a friend who works in catering if you can. They can normally help you out with premium table placement. You don't want your tables too close, and you can only fit about ten chairs at one round table kind of snugly, or just eight chairs very comfortably. Check out table covers wholesale to find the very best unique designs to add elegance to your table setup.
The Breakdown
My friends recently chose a DIY setup/breakdown, stayed on the grounds of the reception and tore everything down the next day in two hours. If you hire a few people get them to pack up as much as possible during and just after the reception. That way you and the guests can enjoy your time together, and there's less to do the next day. Either way this is really the worst part about DIY, so make it a party with some leftover champagne and music. It will get people motivated to get things done, and you can get ready to honeymoon!