by been there, seen that bridezilla Brittany McComas
In my life as a bridesmaid, or guest, I have watched the ugly of the ugliest unfold. I've never really seen a bride go Bridezilla, but I sure have seen the Bridesmaids go bat sh*t bonkers! I mean, there is likely an episode of snapped out there featuring these women. Before you go asking girls to be your bridesmaids, you should prepare yourself just in case things go a little sideways.
Keep a Tight Leash on Maids of Dishonor
This is the ultimate Bridesmaid-zilla! My friend once cancelled her bridal party because of a group of women like this. The wedding was woodland themed with chocolate brown bridesmaid dresses and fall foliage as bouquets. One girl hated the color of the dress, another wanted a design that wouldn't have been flattering on one girl because she was full-figured and said 'the fat one could bite it'. My friend stopped it dead, fired her bridal party, and only had her sixteen year old cousin stand beside her. There is only one way to handle this: Tell them to stop, or they're fired.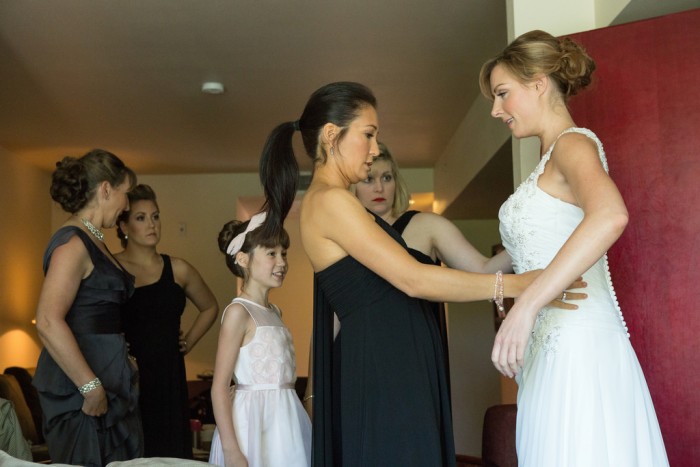 (Let Someone Else) Keep Little Miss Perfect Placated
You know the one, she's so focused on things being perfect for herself that she comes unglued. My friend's own sister actually left her Hen Do, because things weren't going her way. It was the most selfish thing I've ever seen a bridesmaid do! My friend was so hurt, because her sister had to make it all about herself. She couldn't let the bride be the center of attention for even one day. Enlist your Maid of Honor to help squash this kind of stuff privately as it starts to unravel.
Keep Tabs on the Wild Card
You never know when this one might show her a$$. She could be perfectly behaved, or she could get so drunk the night before your big day she picks a fight with your friend who flew in from London and hasn't seen you in five years, only to pass out naked in the hot tub with your Dad. Then picks another fight with your cousin in the morning over table placement, because she's too hungover to help set up. You may have more than one friend who is like this (even just a teensy bit like this), and you know them best. If you really think it's going to be a gong show, consider that it might be healthier for your friendship if she's not in the bridal party.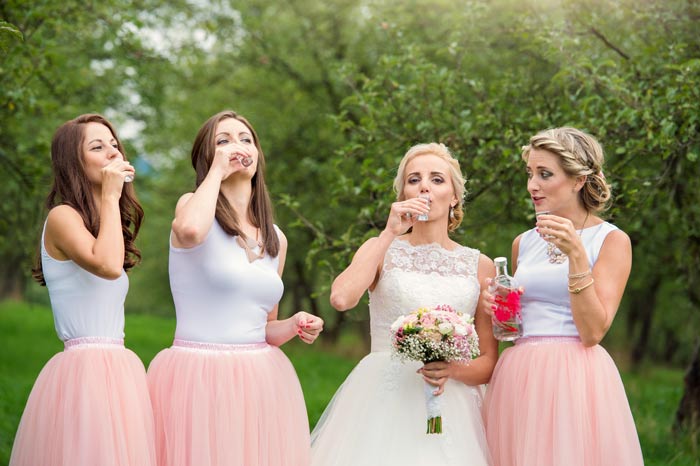 Keep it PG-13 With Strict Booze Rules
If you have friends that can't handle their booze, make sure dinner is served before drinks (at the rehearsal), and that your friend stays away from things like tequila that will make her clothes come off! Don't be afraid to talk to your friend privately about this either. If she doesn't respect you for it, she's not your friend or has a problem she may need help for.
When it's all set in stone, you are within your own right to sincerely set some boundaries for your girls. Be sweet, compassionate, funny–don't be too much of a prude. Let them know in the coolest way possible that you chose them to stand by your side for a reason, and your day won't be perfect without them…but you're not afraid to do it without them.