by Lisa Duong
With wedding themes going rustic romantic, beach breezy and a little country chic, you don't have to be traditional and use a wedding ring pillow. Think outside the box when it comes to putting the personal touches on your big day. Check out our list below on wedding ring pillow alternatives and complete your unity with a special ring presentation.
Wedding Ring Box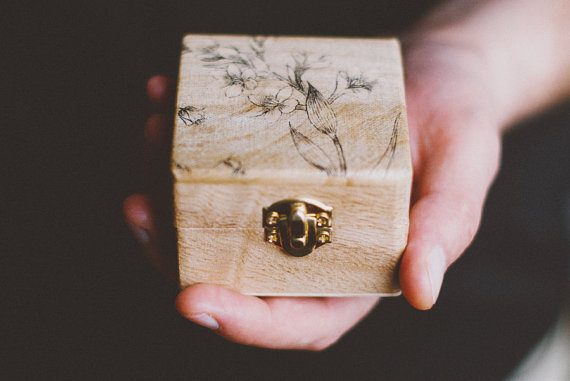 via weddbook.com
Little wooden boxes make adorable alternatives to traditional wedding ring pillows. Etch them with cute sayings like "With This Ring I Thee Wed" or "We Do". Have your initials or wedding date printed as a keepsake for your big day.
Something Borrowed
One of the sweetest things you can use to hand over the wedding rings is a little something sentimental and borrowed. Rings can be specially transported down the aisle in something meaningful like your grandfather or father's pocket watch, a small jewelry box that belonged to a favorite aunt or your grandmother, tied to a vintage cowbell or saucer that you have always admired in a loved one's house.
Book of Love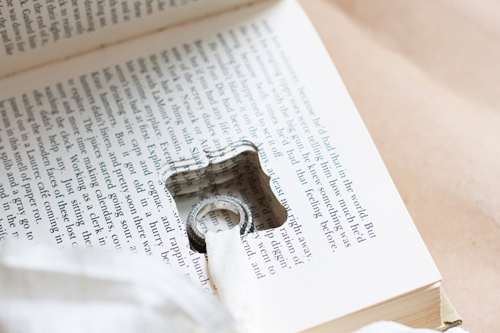 via lilyshop.com
Choose a book, and place the rings in a cut out heart in the middle. From the bible to a book you both love as a couple, or something that is a symbol of your love this idea makes for a nice photographic moment.
Something from the Sea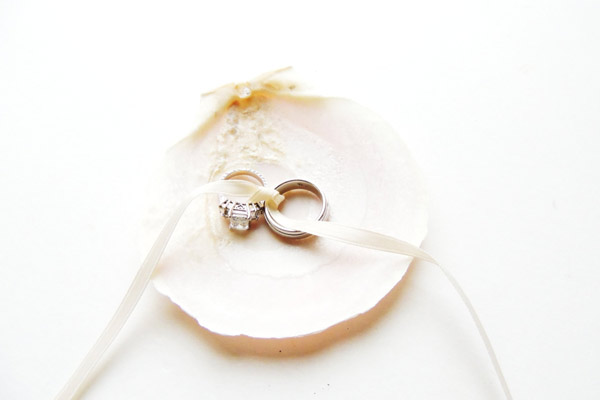 If your wedding is beach or nautical themed tie the rings to a seashell with a ribbon for a gorgeous alternative to a wedding ring pillow.
The Sweet Little Pocket & Sign
Sometimes your ring bearer might be too little to entrust with your precious rings, instead give your little guy a cute entrance with a sign that says something like "Here Comes Your Girl", and tuck the rings safely in the Best Man's pocket.
Want to see how you can go wrong planning a wedding on a budget and how to do it right? Check out some ideas here! How about a fun DIY project to gift your girls?