Oh, Pinterest, you fickle mistress.  You bastion of inspiration, you creation of self-doubt, we all love to imagine ourselves in your perfect photos. While most of us know that we will never be able to replicate the truly high-end Pinterest-worthy crafts, sometimes the site makes complicated logistical aspects of wedding planning look effortless.  One of the lies that Pinterest is telling you is:
Your mismatched bridesmaids will interpret your instructions perfectly
There is a huge trend these days towards not dressing all of your bridesmaids the same.  The definite upside to this is that the bridesmaids can dress for their own body types and budgets.  However, there are some things to consider if you are going to go this route.  First, from the perspective of the bridesmaids, it may paradoxically be more work for them the more freedom you give them because they have to go shopping and consider not only their own taste but yours.
Second, from your perspective, the look may not turn out cohesive.  But this is never a problem in Pinterest-land!  According to the site, all of your bridesmaids will interpret your vision perfectly and end up with matching-but-not-matching dresses.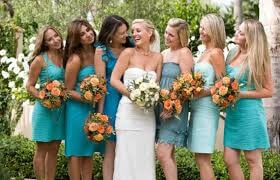 For example, it would seem easy to get these pictures by telling your bridesmaids "mint/aqua" or "full-length metallic."  But imagine all the dresses in these color schemes you have come across in your life.  Some are flowy, some are heavy, some are pastel, some have full skirts, some are strapless.  Really, by the time you tell your girls "metallic, but not too gold or silver, and sparkly but not gaudy, and full-length, and not strapless because my dress is strapless, and swishy but not a prom dress," wouldn't it be easier to just narrow it down to a few and let them pick instead of sending them shopping?
What you are more likely to end up with, if you gave the "aqua/mint" instructions to real women, is something like the picture below.  Now, there is nothing wrong with having mismatched bridesmaids if that's what you like.  Just know that it will be difficult to tell them apart from guests when they are not standing next to each other.  This bride probably still received countless text messages like: Is this the color you are looking for?  Are any other bridesmaids doing strapless?  Is this too blue?  How far above the knee is knee-length?
To the right is an example of mustard yellow going right, because the dresses are the same length, sheath-shape, and belted (which you know the bride had to specify).
And on the left is an example of mustard yellow going wrong, because you can guess the bride was a little too chill and didn't give the bridesmaids much instruction to work with.
Below and on the left is an example of a purple color palette that has already been determined by the powers that be to work together, and where the similar shape of the dresses causes cohesion. The overall look doesn't come across as 'mismatched' so much as 'ombre'.
Similarly, like the picture on the right, having the mismatched look also doesn't mean you can't be in control.  This is an example of a bride who chose her mismatched colors for her bridesmaids to ensure balance.
If you want to do the look of mismatched bridesmaids and you don't live in Pinterest-land where your friends are mind-readers and savvy shoppers, I highly recommend narrowing down the search a bit, accepting that they might end up quite different, and/or allowing them to pick within a store/site meant for bridesmaids so they can access off-season colors.  It is also a great idea mismatch the color or the style, but not both.  Azazie.com is a great example of a site where you can choose the color or color family and let your bridesmaids pick their own shape of dress.  You could narrow your bridesmaids down to "green," where they have 10 shades of green to pick from still, or you could narrow it down to "sage green," where they can pick different styles of dresses in the same exact shade.  By doing this, your bridesmaids still get to look at different shapes and prices that reflect their own needs, but they can rest easy knowing that you will love the color and the group will look good together.