If you search the words "Candy Buffet" on Pinterest or even just google, you'll see at least 50 websites that claim to tell you the perfect set up for a candy buffet at your wedding.  Most of them do a decent job.  Some of them are barely in understandable English, and some are beautiful but completely unattainable on a budget. I made the mistake at my wedding of ordering too much candy. I was eating candy for MONTHS afterward. MONTHS. (Although, to be honest, I rather enjoyed having three pounds of pink Smarties all to myself. American Smarties, that is, which the Canadians and Brits know as Rockets.)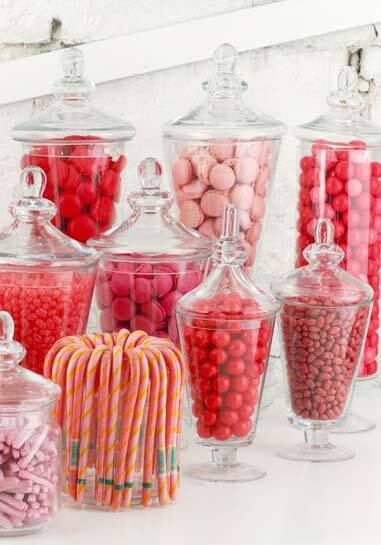 I wanted to make it as easy as possible for people to put together a candy buffet for their wedding – while not going over budget. I've included Amazon links where possible and links directly to candy sales sites where I thought it would be appropriate. Some of them are affiliate links, and any money I make goes back into the server costs, so thank you for your support if you order through them!
Since everyone has a different number of people and a different style they want to convey at their wedding, this isn't going to be the perfect list for everyone.  Change it as you see fit, obviously, but this candy buffet list is for a 50 person wedding, that isn't adhering to a color theme.
Get enough candy
First, the general rule of thumb is about eight ounces of candy per guest. That's accounting for the fact that some guests will take a little more, some a little less and some will take none at all. It's definitely better to have a little leftover candy than to run out of candy completely.  For 50 people, you'll need 25 pounds of candy. Here ar ea few ideas for how to make up that 25 pounds: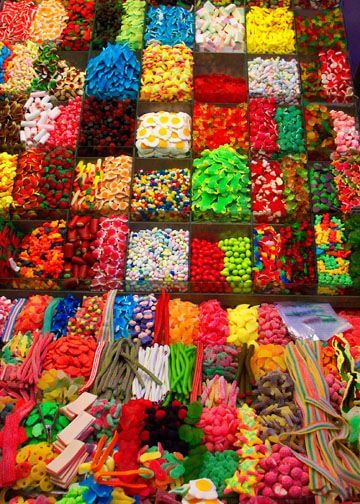 First, if you want to do chocolates, check out Costco. You can get a huge mix of all Hershey Chocolate minis – about 5lb for $15. Whether you leave them mixed, or sort them out by chocolate type is up to you. The same goes for a wide mix of non-chocolate candies. You can get about 200 pieces for only $14, and when separated by type it looks like a huge amount of money was spent! If you're not particular about the color of your M&Ms (or you don't mind separating them by color), they can also be purchased in 5lb bags at Costco for about $10. Purchasing two of each large mixed bags, and one bag of bulk M&M's, all at Costco, you've spent about $70 for the entire amount of candy you'll need for a party of 50 people. Not a bad deal!
For a great deal online, let's check out CandyStore.com. Bulk candy mixes are always a good value. Five pounds of mixed Starburst, Salt Water Taffy, Tootsie Roll Fruit and Jolly Ranchers is only $14.99 at CandyStore.com. Need M&M's in specific colors? They are definitely more expensive when they're ordered in specialty colors: $58.99 for 5lbs. Individually wrapped candies range in price from $15.99 per 5lbs to around $60 per 5lbs, but most are around $20 for five pounds.
If I was to order from CandyStore.com, I'd probably get something like this for my group of 50 guests if I was planning a candy buffet on a budget:
25 pounds of candy for a total of $96.44 – with free shipping!
If you're hoping for a specific wedding color scheme, you might look at getting a pre-packaged 'Candy Buffet Pack', which saves you the work! All you have to do is get the containers to display it, and it's all set for around $200 for 50 guests.  That's a great price considering the variety that comes in each of these buffets, and they also include several scoops, tongs and enough bags for all of your guests (and then some). Here's a sample of what's in one:
Display the candy
You'll need to put the candy in something so that people can see the selections – that's the whole point of having the candy buffet, right? But there's no need to go overboard. You will see some examples of beautiful but expensive apothecary jars that people use for these kinds of buffets.  You don't have to do that.  There's seriously budget ways to offer a bountiful display of candies without breaking the bank!  Here is a list of links to DollarTree items that would be perfect for displaying a variety of sizes and types of candy. If you order online, I think you have to buy in bulk. So check here for what you need, then make a list and visit the DollarTree near you.
To serve candy, if you don't order the candy buffet packs:
Obviously, there are substitutions and creative ideas that you'll want to exchange for these. My point was to demonstrate that it's possible to do a candy buffet on a small budget. I hope this helps!