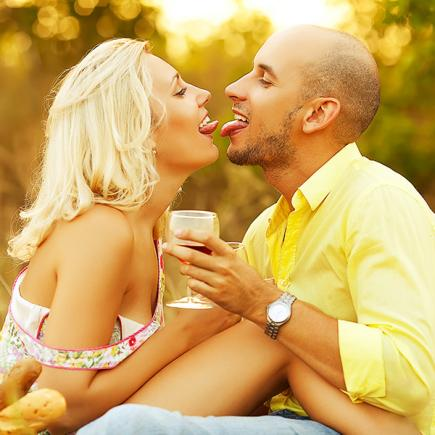 Grooms listen up! My friend asked me the other day what she could do to keep her husband to be from making weird faces in their engagement photos. Apparently some men get a little camera shy, and they deal with it by unconsciously looking like a weirdo. It happens to the best of us. If you don't want it happening on your wedding day, Wedding for $1000 has got you covered! Don't worry guys, we'll have you rockin' those engagement and wedding photos like a Calvin Klein model in no time.
Don't Try Too Hard
Because licking each other is just nauseating. photo credit
Don't be that guy. If you think something is funny, it probably isn't. So listen to your photographer. If you want cool shots with your guys and your bride, talk your ideas over with the photographer. That way he/she can help you create something super cool, unique and genuinely hilarious.
Be Natural
Nothing Says I Love You Like Staring Into Her Armpits. Said no one. Ever. Just be natural. Listen to the photographer. If they tell you to stare into your bride's armpits, you might want to question their professional status. No really. This is weird. photo credit
Practice Makes Perfect
While it sounds kind of ridiculous and you might want some sublime "caught in the moment" candid style shots, Rome wasn't built in a day. The same goes for your wedding photography. The best way to get your guy comfortable with your photographer is to get him comfortable in intimate poses with you. Of course there will be laughter and moments you two might simply not be able to keep it together, but the sweet moments looking into one another's eyes will be sincere and cozy if you practice a few of your favorite poses on a little night in.
Love The Weirdo You're With
Ladies no matter what I say, or anyone for that matter, simply love the weirdo you are with! If you end up with some weirdo candid shots of your man doing something crazy pants embrace his weirdness–for the rest of your life. He's just that guy, and you need to love him for it. Because if you're annoyed already, you might want to re-think this whole wedding vow "til' death do us part" thing and just live in sin (as my Mother would say).*
*You love him and you know it, and you should totally feel better when you check out Bad Engagement Photos!
When you're done checking out the pictures that are the engagement version of People of Walmart, check out these gorgeous and romantic proposals then get ready to prepare for your engagement party!