Maybe you're just too excited to wait for a spot at your favorite restaurant to open up, or you've got too many people you want to invite. Then again, you could just be on a smaller budget – saving up for a wedding now, right? Here are some easy ideas for entertaining in an apartment when you've got a lot of people coming over. These ideas don't just have to be for an engagement party – the holidays are coming up, and who doesn't love a fun Christmas bash?!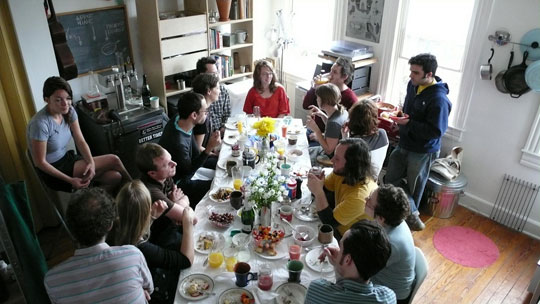 source
Using ALL the Space
You've got to get really clever with space when you're entertaining in an apartment the size of a shoebox. From living in high-rent areas like New York and Vancouver, BC, I've got some tricks up my sleeves for making room for everything!
First, figure out if you're having people over for a sit-down dinner or a buffet (which can be either heavy hors d'ouevres or dinner). If it's a sit-down dinner, you need to make more room.  Your four-seater table isn't going to cut it. A full sheet of plywood laid over top of that will maximize that space (make sure it's very secure!). Here's a great video from Martha Stewart on how to do it. (I'll be super honest, hers is fancy. I just put a giant piece of plywood down, covered it with a huge piece of fabric from my craft box and boom – let's eat!)
If it's just a fun cocktail party, move all the furniture to the edges of the room, and think about how you can use your vertical space in creative ways.  Empty a couple of shelves off of your bookcase and you've got a place to store plates, cutlery and even some small food platters. On a sideboard, shelf or buffet table, make sure you're using things like cake stands, plates on top of mugs and tiered fruit baskets to display goodies!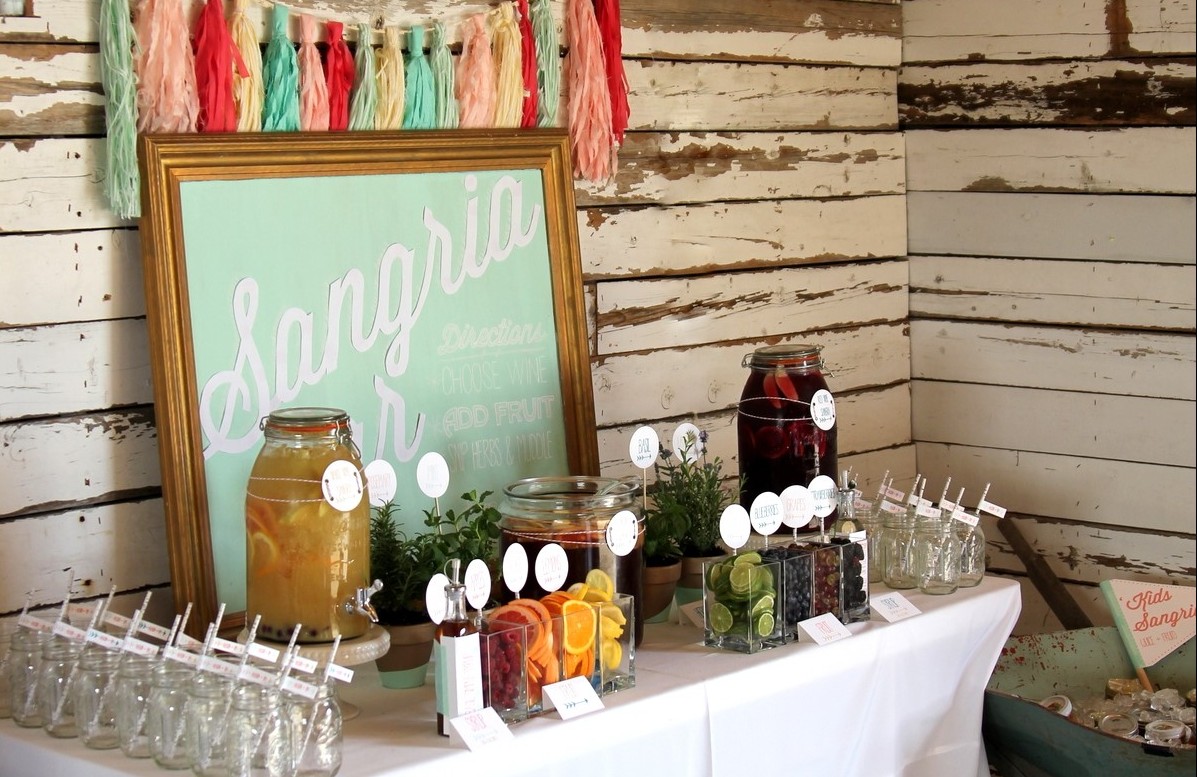 Set Up an Easy DIY Bar
When it comes to bar ideas, we never seem to run out! Brittany McComas is always coming up with new ideas for how to make your wedding bar as budget-friendly as possible, and you can find her articles here in the Bar section! (To be fair, that's usually where you can find her, too!)
If you've got a washer and dryer in your place, tidy up the area then throw a festive piece of fabric or table cloth over them. Set up your DIY bar here, complete with ice bucket, glasses, garnishes, alcohol and mixers. Everyone serves themselves, and if anyone spills, well, it's the laundry room.  Who cares?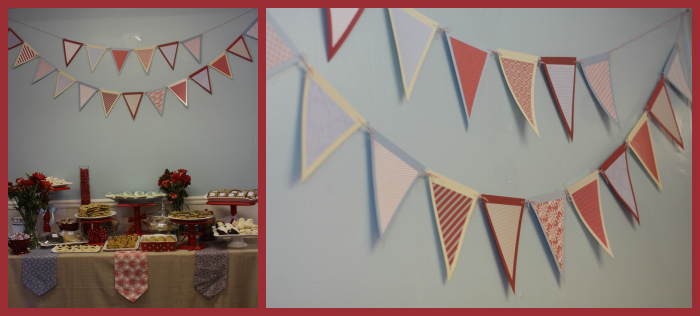 Hang the Decorations
Don't clutter up any surface space with unnecessary floral arrangements or beautiful sparkling centerpieces.  Hang fairy lights, tinsel, garlands, pennants… Anything you'd like to display, hang it up, but let your food and welcoming space serve as the real decorations!
Delicious Food on a Budget
For a party that you want to actually enjoy, you have to make sure that you're not spending time in the kitchen.  So the party foods need to be easy, and mind themselves once they're done, so you can go mix and mingle. Here are a few party food ideas that will take care of themselves:
Mini quiches can be served warm, and no one hates them even if they've cooled a bit. So can Vidalia Onion Tarts and Cauliflower Fritters.
A cheese platter is ubiquitous (and delicious!). Try Drunken Goat, Humboldt Fog, Beecher's Flagship, Cambozola and Ricotta Salata for a well-rounded selection.
A selection of crackers, flatbreads and baguettes are perfect with the cheeses.
Small munchies like olives and nuts are always perfect.
Fruits like segmented mandarins along with apple and pear slices make a beautiful arrangement on a plate.
Fancy deviled eggs are great to pack in protein and stay pretty healthy.
Never under-estimate the humble crudite platter!  Make a delicious dip that isn't your typical ranch, and it seems more posh.
What are your ideas for 'Must Include' in a cocktail party to celebrate your engagement?