There's nothing quite like the smell of fresh ocean air blowing across open sand. If you really don't have the money to jet set your bridal party to a destination wedding, you can always bring it to you!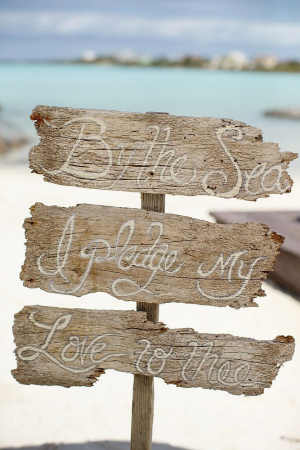 This is a great way for brides to learn how to throw a backyard beach inspired wedding on a budget, but make it look super-sweet!
From turning your backyard into a beach, to setting up a reception that makes you feel like you're really there, this is your 'go to' guide on how to throw a destination wedding without leaving home.
Beach Inspired Decor
Set sail for something special with these cute ideas! You can get some sweet tarps from Walmart for as low as $7.99 and play sand from The Tool Workshop for $2.80 per 50 lb. bag.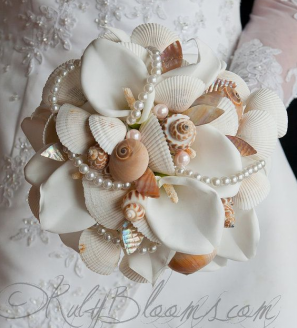 Put a tarp or two down in an area and cover it with sand. Instant beach! (Okay, maybe it's not quite that easy, so here is a really fun DIY article!) Plus, if there are kids at the wedding this can turn into their play area after the ceremony. Just make cute grab bags with beach buckets and shovels for them!
Accents for your wedding can include cute handmade signs! source
A pretty and preservable bouquet made out of silk calla lilies and seashells–if you borrow the shells from a friend or family member, you can use them as your something borrowed!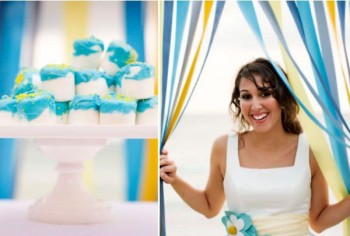 If you and your groom are the beach baby type–I'm sure you might have some sentimental shells lying around, too. source
DIY Dessert Beach Bar
Get your guests in the mood with a bright beach bar filled with sweets, cupcakes, mini-cakes, your wedding cake, and just about anything that comes in your wedding colors. Of course, I can't get over the cuteness of these beach ball cake pops either–so lush! source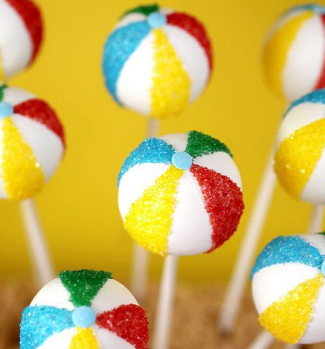 Beachside Reception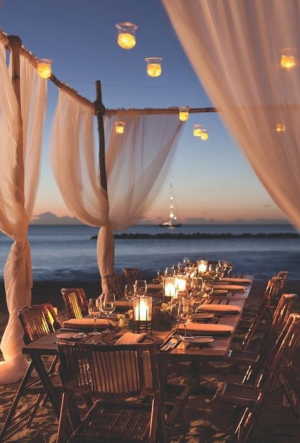 When it comes to throwing a killer reception you gotta light up the night. Tiki torches around the yard make a sweet sentiment. Of course, you can also carry in tables to put right over top of your beach sand. Put up a mock canopy you can build on the cheap with some scrap lumber from Home Depot or large sticks, tie some simple linen draping around the canopy, and place candles on the table.
As far as frozen concoctions to help you hang on and busting a flip flop, no beach wedding is complete without a Sassy Sangria Bar to help save you money by yours truly. Or have some Fiesta Fun with the best dang DIY Taco Bar you could ever learn how to set up!