by Samantha Post
I don't know about you, but ever since I was a child, I have dreamed of just how beautiful my wedding day would be. My dress would be stunning, my skin flawless, and my hair and makeup perfect. We only get one wedding day, so it's important that we make it the most wonderful day of our lives. And one of the best ways to do that is by looking and feeling gorgeous.
The main way that we remember our wedding is through the photos taken by our carefully selected wedding photographer. If you want to look at your wedding pictures and be happy with how you look in them, you need to know how to achieve that perfect bridal look.
Pamper your skin
In the lead up to your big day, give your skin lots of TLC. Your wedding day makeup – something we'll come onto in a minute, will only look as good as the skin underneath it. In the weeks leading up to your wedding,  you need to take extra care of your skin.
Book yourself in for a facial, and give your skin a good pamper. Each night, cleanse, tone and moisturize your skin, and make sure to exfoliate once or twice a week. Eat healthily and drink lots of water to ensure that your skin is getting all the hydration, vitamins and minerals that it needs.
Glam up your hands
On your wedding day, everyone is going to want to catch a glimpse of your ring. So it's important to glam up your hands so that they are as pretty as possible. (They may even end up in a photograph or two, so it's well worth the effort.)
Polish your hands using a vitamin enriched hand scrub, such as Sanctuary Salt Scrub. This will remove any dead or dry skin cells, and will smooth out the surface of your hands. After exfoliating, always hydrate your skin with a rich hand cream, and your cuticles with a cuticle cream. (If you have a two-in-one product, that will do the job nicely.) Finally, if you have the budget for it, have a professional manicure done, to ensure that your nails are perfect.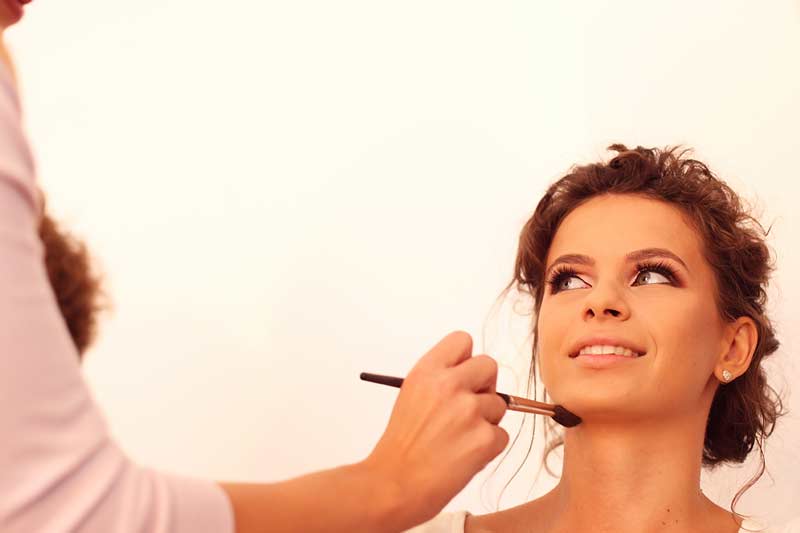 Plan for wedding day makeup
If you want to look flawless on your wedding day, it's a good idea to hire a professional to do your makeup. We have a lot of DIY makeup tips here on Wedding for $1000, but we also recommend considering all your options. 
Your wedding pictures will be around for many years to come, so it's important that your makeup is perfect. To find out more about having your makeup done by a professional, get in touch with a mobile makeup artist. Make sure to explain the type of look you want, and ask to see their portfolio to get an idea of their skills. Talk about what kind of wedding look you're going for and bring pictures. Be open to their input on what looks will work on you and what won't.
Prepare for your big day hair
If you've already been practicing amazing and elaborate hair styles you've seen on Pinterest, you can totally plan to do your hair yourself. Practice your hairstyle a few times, before you try it on the big day just to be sure!  If you're not ready to put your styling skills to the wedding day test, consider hiring a professional stylist to do it for you, so that it's perfect. If it's going to be in all the pictures, your hair needs to look fabulous, and we promise – it'll be in all the pictures!
Go online to search for local stylists in your area, and ask friends and relatives for suggestions. Make sure that you have at least one practice with your chosen stylist, to ensure that on your wedding day, your hair is perfect.