When it comes to creative wedding venues, don't be afraid to get super-imaginative when it comes to deciding where to throw yours! An affordable wedding venue can be as unique as your dress, as obscure as your something borrowed, and just as romantic as your wedding vows. Check out our top five picks for creative wedding venues that just might spark some venue ideas of your own.
Walt Disney World
You might be surprised at how affordable a wedding at the infamous Walt Disney World can be. Their intimate weddings include outdoor venues, photography, a bouquet, and you'll work with a wedding coordinator to keep your budget in check.
Shark Reef
Want to walk down the aisle surrounded by 1.3 million gallons of seawater and sea life? This is the venue for you. A wedding at Shark Reef in Mandalay Bay of Las Vegas includes a wedding planner, dressing rooms and seating music.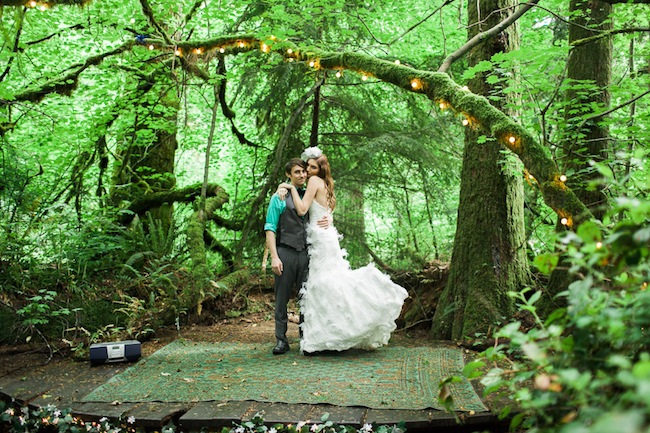 Treehouse Wonderland
If you're thinking coastal cool, rustic romance, modern vintage or classic elegance for your wedding theme, look no further than The Lodge on Loch Goil or Treehouse Point in Issaquah, Washington. How awesome would it be to get married in a treehouse! The picture here is found on somethingborrowedpdx.com.
Bridal Cave
Wanna get married in a cave? Check out weddings at the Lost River Cave in Bowling Green, KY or the Bridal Cave at Thunder Mountain Park Camdenton, Missouri are the places to go. Ask about their budget-friendly wedding packages! Some come with a minister, music, sparkling cider, flowers, photography–the works!
Volcano Park
Say "I do" next to an active volcano in Hawai'i Volcanoes National Park. While most couples choose one of the romantic overlooks with a view like Kīlauea Caldera or Kīlauea Iki Crater. You can also hold your wedding in the forested areas like Kīpukapuaulu for a wedding surrounded by lush green nature. You just simply need to apply for a special use permit that makes this venue one of the most affordable, creative options out there.