Are you having a massive issue when it comes to placing chairs at your outdoor wedding? Can't get people to R.S.V.P? Or they say they are coming and cancel, then call back to say they are coming. Throw your cares out the window and be one super-savvy, modern bride. Ask them to simply bring their own chair.
How do you go about being classy when it comes to a BYOC? Check out our tried and true Wedding for $1000 advice below that will both save your wedding and your sanity.
The Big Chair Debate – Is It Okay to 'BYOC'?
A lot of brides want to know if it's tacky to BYOC. No, it's not. Not if you do it right. Don't get caught in that place where people make you feel bad about not being invited. If you're stressing over wedding cost because you've invited 125 people and you can only accommodate 100–you're screwed. Don't be that bride. Invite 100 people only, because you don't want to run into the big chair debate about who gets a seat and who doesn't. Want to save a few pennies on seating, then BYOC. Here's how to get it done without coming off rude.
Keep It Simple
Keep it off social media. Don't boast about your finances being spent on other things. Or the fact that people are indeed a-holes when it comes to replying and you simply can't get your chair reservation completed because your wedding just went from 100 to 50 people or vice versa. You don't want your guests to think you're being rude. You want them to think you are being trendy!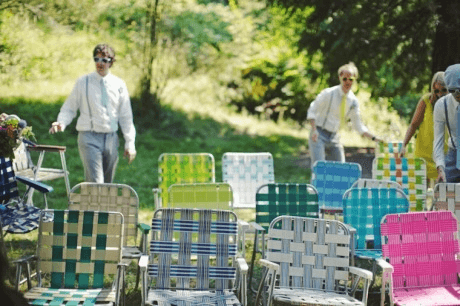 Get A Little Trendy
Check out Unique Wedding Seating: How To Place Some Chairs. We offer some amazing ideas on what kind of chairs will suit an outdoor wedding, as well as how to place them. Make a chart and put a few ushers in charge of chair placement. It's that easy. Your actual ceremony is going to have a few guests loitering in, or arriving late, so be sure to keep an usher at the back to help them out. Also, for those friends and family that are slightly forgetful ask your parents or the parents of the groom to bring two or three extra niche seats.
How To Get Your Family Up Front
Tell those yahoos to be on time. My family is eternally late for everything. This year, I told the eternally late ones that Christmas dinner started a half hour before it really did and they were only twenty minutes late. So! Make a separate batch of invitations for them to really sell–if you have to. I mean, it's not that hard to tell them your ceremony is going down thirty minutes before it actually does. Sometimes you just gotta be a little cheeky.
Got any more questions about chairs? Or how to handle a situation? We'd love to hear from you! Leave a message below or email us at info@weddingfor1000.com and we'll get right on it!