The best kinds of guest favors are the edible kind! Here are two recipes for easy and delicious DIY fudge guest favors – a sweet treat that everyone will enjoy! These yummy treats are also budget-friendly, depending on how you package them up – and we've got some ideas for that, too.
1 (14-ounce) can sweetened condensed milk
2 cups semisweet chocolate chips
1 cup milk chocolate chips
fine sea salt
1 1/2 teaspoons pure vanilla extract
Directions:
Add the condensed milk to a small saucepan. Pour the chips into the pan, give a stir, and make sure that the milk coats all the chips. Add a pinch of salt. Cook over low heat until it's melted and glossy and a looks like a thick, hot fudge.
Add the vanilla and walnuts, making sure to coat the nuts with the fudge. (I like to make double triple batches of this and freeze the extra.)
Line the bottom and sides of a 9-inch square baking pan with foil. You want to leave about 4 inches of overhang on the 2 opposite sides. These serve as your handles to remove the fudge from the pan in 1 piece, so make sure that there is enough of the overhang for you to have a solid grip.
Pour the fudge into the pan and smooth it out, getting it in all the corners. Let the fudge come to room temperature, then put in the fridge for 3 hours or so. This will make it easier to cut.
Pop out of the pan and cut into little pieces.
---
1 tablespoon cold unsalted butter, plus more for pan
1 1/2 cups heavy cream
3 cups sugar
1/4 cup light corn syrup
1/4 teaspoon salt
2 teaspoons pure vanilla extract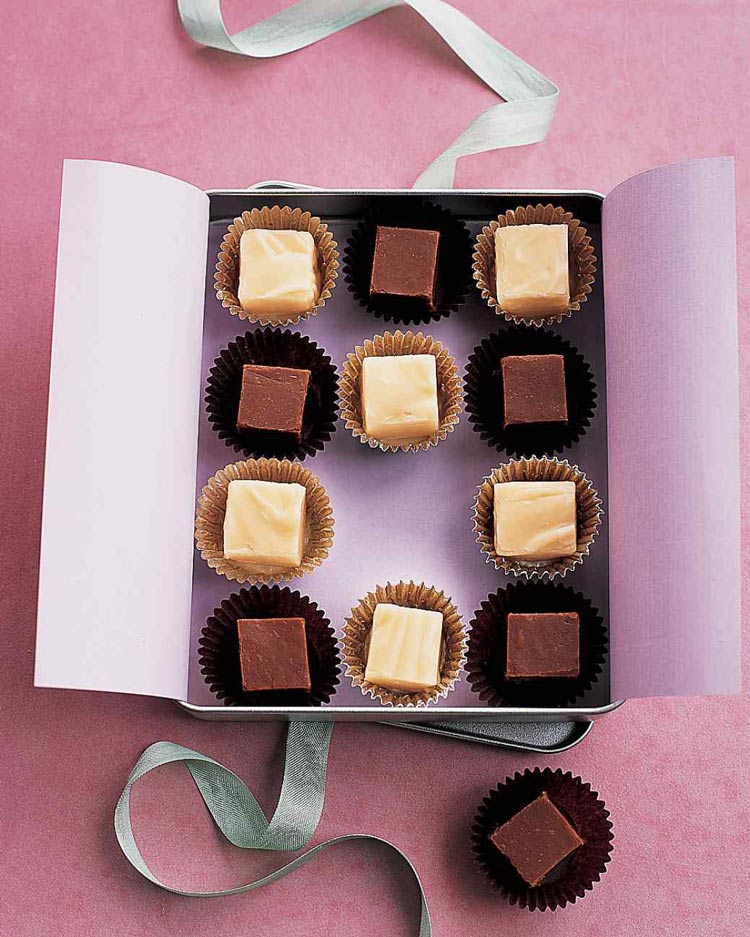 Directions:
Butter an 8-inch square baking pan; line with parchment paper, allowing a 1-inch overhang. Butter parchment paper, and set aside. Check the calibration of the candy thermometer. Put butter into a large bowl, and set over a wire rack; set aside. Put cream, sugar, corn syrup, and salt into a medium heavy pan.
Cook over medium-low heat, stirring constantly until sugar has dissolved, about 10 minutes. Raise heat to medium. Bring mixture to a boil, washing down sides of pan with a wet pastry brush to prevent sugar crystals from forming. Attach the warm thermometer to pan; continue to cook, without stirring, until mixture registers 238 degrees (soft-ball stage), 10 to 15 minutes.
Immediately pour mixture into the bowl with butter (do not scrape out the bottom of the pan). Attach thermometer to bowl. Let mixture cool, undisturbed, until it registers 110 degrees, about 1 1/2 hours.
Remove Transfer bowl to a work surface and add vanilla extract. Using a wooden spoon, begin to gently stir mixture until it thickens, lightens in color, and loses its sheen, about 6 minutes.
Pour into prepared pan. Using a small offset spatula, quickly spread fudge to sides of the pan, and smooth top. Let fudge cool in pan on a wire rack, about 1 hour. Cover with plastic, and refrigerate until completely set, about 8 hours. Run a sharp knife around non-parchment sides to loosen; lift fudge out. Cut into 64 one-inch pieces.
---
Is this a secret?
I asked my grandmother many years ago about the fudge recipe that has been passed down for many years in our family.
"Grandmommy," I said (because that's what I call her), "Is this fudge a secret family recipe?"

"Well, no, it's not a secret," she said.

"Can I share it on my blog?"

"Absolutely not."
That was about a decade ago, and she has since passed away. I miss her a lot, and while I want to understand that she wanted to keep this recipe to a small number of people, I also understand that this fudge is way too delicious to keep to a dwindling group of folks. So I'm going to share it with you guys.
Odds are good, actually, that you won't particularly love this fudge. It's not the chewy, creamy, squishy fudge like you get almost everywhere else. It's a tiny bit gritty, has a nice balance of bitterness and sweetness and is just buttery in your mouth. I love it.  Not everyone does, so give it a try before deciding to give it to your guests! Here's what you'll need to make it (and I'll go ahead and tell you that I've made this so much I can literally tell you every ingredient and step of the recipe off the top of my head).
The Thomas Family Secret Fudge Recipe
1/3 stick of butter
1/2 cup of 2% or whole milk (not 1% or skim)
2 cups sugar (fine baking sugar is great, but regular granulated is totally fine)
2 ounces of unsweetened baking chocolate
1 teaspoon real vanilla extract
To make the fudge, it's all about how it feels and looks, not about the temperature on a thermometer (you know how we do in the South).
Add butter, milk, sugar and chocolate to a medium saucepan. Turn heat to just about medium high. Stir occasionally.
Butter a glass pie dish or 8×8 pyrex dish. Don't use margarine.
Once the mixture is combined and comes to a full boil, set a timer for five minutes exactly. Continue stirring.
When five minutes is up, remove the saucepan from heat and add vanilla extract.
Set pan on kitchen towel and angle to about 30 degrees, then beat the fudge with a wooden spoon for at least ten minutes.
When your arm starts to feel really tired, you are at the halfway point (most likely).
If you over beat the fudge it will set too quickly and will be difficult to pour. If you don't beat it for long enough, it won't set.
Start to watch the surface of the fudge as you near the ten-minute mark. At some point the surface will start to lose the glossiness – that's when you know it's time to pour it into the pan. That's a very weird kind of state to recognize until you've made quite a few batches of fudge, so don't get discouraged – just make more fudge!
Packing Up Your Fudge Guest Favors
Presentation is everything, right? Now that you've made a batch (or several) of your chosen fudge, let's get it into a pretty container to give to your guests!
Small cellophane bags are a perfect container to deliver fudge guest favors, and they're quite inexpensive. Here are 100 cellophane bags for just $5.93!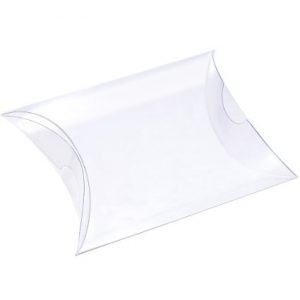 There are some super cute boxes you can find in your wedding colors, too! Here are some cute Tiffany blue boxes that are just $0.79 each!  And here are similar ones in white for just $0.19 each.
Consider a pillow-style clear box for just $0.32 each.
There are also cute gold boxes that are quite inexpensive!
Lastly, I love these striped, polka dot and chevron boxes: