With venue costs, flower costs, the price of the wedding dress and many other wedding-related expenses piling up, the last thing couples may want to spend money on would be on wedding transportation: the logistical line item to get them to and from the wedding. So move over limousine services – if getting there and back is your only requirement, read on.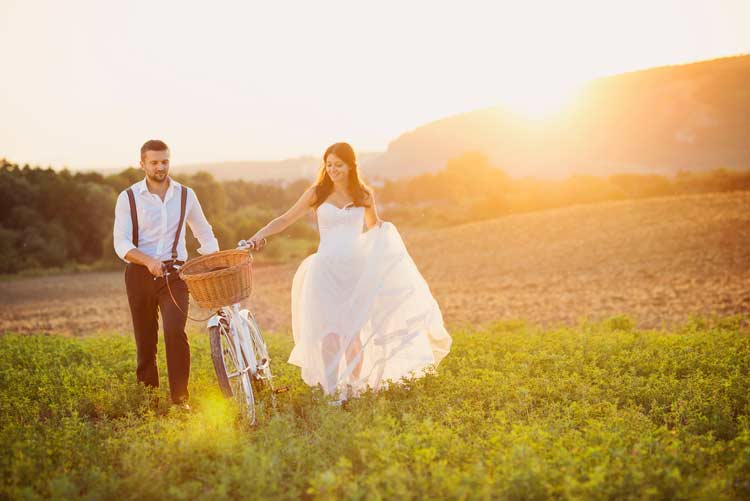 Bicycle as Wedding Transportation
What did you use to do before you got a car?  That's right – get back to the basics with a romantic tandem bike for two that can be decorated to match your wedding theme and perfect for casual outdoor wedding affairs.  A basket addition to the bike provides the perfect place to carry the bouquet or signs like "Bride" and "Groom."  Or, opt for "Going on the ride of our lives."  Separate bikes – one of the bride and one for the groom can later be used as part of the décor.  Just park your bikes by the cake table, the entrance, or any other wedding display.  Use a decorative bike chain to tie the bikes together as a symbol of love or add string lights to the bikes to give your party a glow.
Perfect transportation choice for:
Those staying at a nearby hotel to the wedding venue, environmentally conscious couples, those wanting to inject an element of whimsy on their special day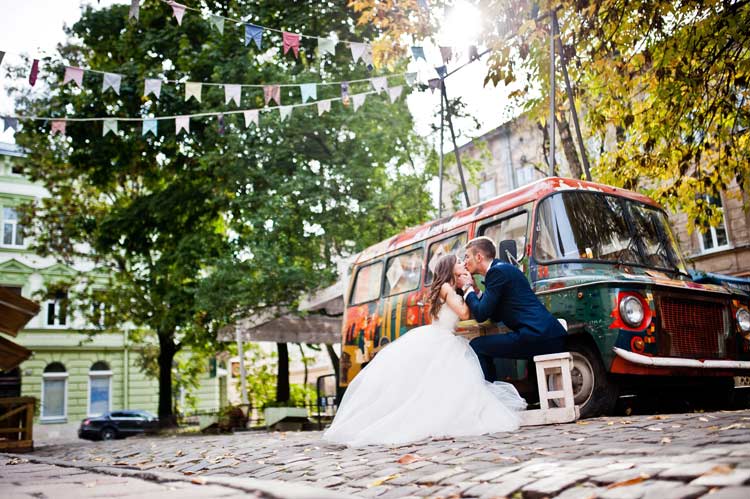 Shuttle Bus to Move Friends and Family
Have a large amount of family and friends to transport?  Shuttle bus services are usually more cost effective than multiple limousines and keep the party going (or get it started) by having a large group all in one place.  While not the sexiest type of transportation available, the practical shuttle bus can be jazzed up by placing wedding programs or customized welcome kits on each seat.  The welcome kits can include a bottle of water, snacks (candy, banana, crackers) and wedding related games for the ride.
Perfect transportation choice for:
Out-of-town wedding venues, guests who are planning to drink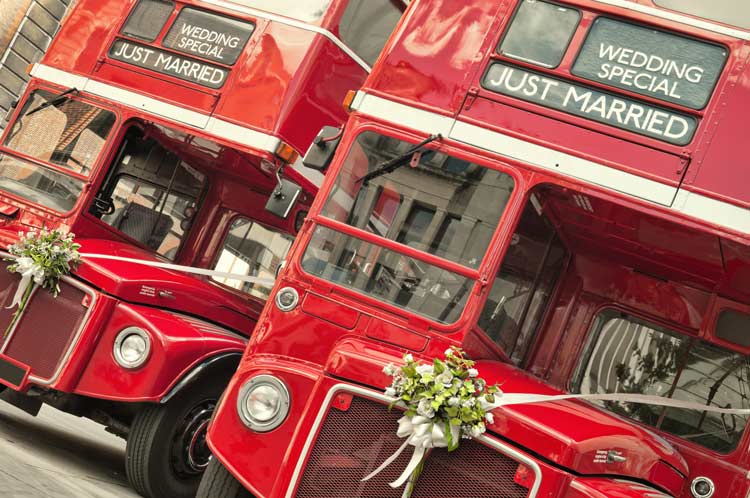 Offbeat Wedding Transportation: Trolley
Want a memorable backdrop for wedding photos? For a creative way to transport a ton of guests, consider connecting with your local trolley company.  Many cities have trolley services catering to tourists and these city tours usually end before dinner time, leaving the evenings free for private rentals. The trolley is more affordable than multiple taxis and your guests can even take turns pulling on the bell.
Perfect transportation choice for:
short distances, post party ride