It is SUPER exciting to get engaged; you get to feel like the center of attention (if that's what you are into) or you get thrust into a loving pink limelight (pinklight?) that highlights and celebrates your exciting news! Eventually, those let-me-see-your-ring squeals fade back into the normal chatter of everyday life and you will start the next phase of what it means to be Just Engaged.
Getting started wedding planning can be a total headache, but it can also be totally amazing. There are lots of moving parts to worry about like whether or not you should have your wedding outdoors (have a backup plan), should you send save-the-date cards (email them) and what kind of bar do you need to have (anything you can afford, just as long as it's not a Cash Bar).
So let's look at the first couple of things on the ABC's of Wedding Planning:
Authenticity
It's important to know one thing: This is YOUR wedding. I can't tell you how many books I've read that will tell you that "your wedding isn't for you." It's for show, it's for your parents to show off, it's for you to get lots of presents, it's…something.
But let's be real here. If you're on a budget, you're not trying to set off fireworks and arrive in a glass carriage, right? When you're on a budget, what you really want to do is make sure that you end up married to your best friend at the end of the day and enjoy everything between sunrise and sunset. You want your guests to feel welcomed and loved, you want to feed them and get them socially lubricated with some adult beverages and you want them to celebrate your union.
While you are making choices while planning your wedding, it's important to come back to this one question:
Is this authentic to me and my future husband or wife?
If the answer is no, or you can't answer 'Yes!' right away, you may not need to buy that product or choose that service. Put it on the back burner and reconsider it later.
Atmosphere
Close your eyes and bring to mind a picture of your perfect wedding. Check out this video, which is part of the Complete Wedding Planning on a Budget course, which talks about how to figure out your wedding theme and style. Setting the atmosphere and ambiance are the best way to convey a clear theme without having to go overboard on expensive décor!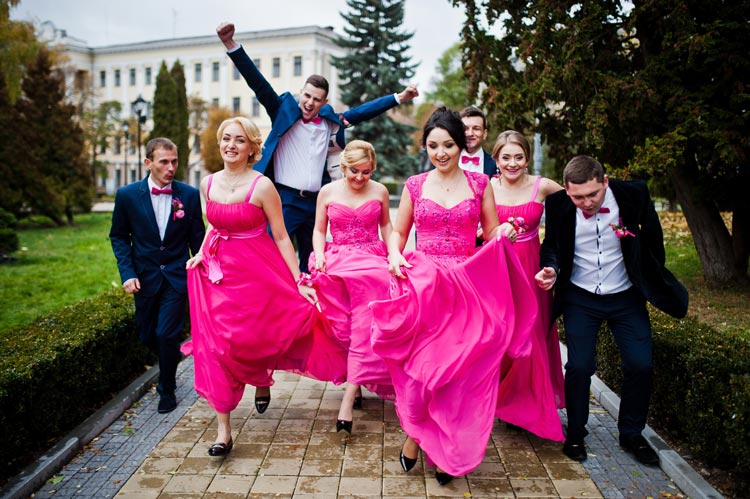 Attendants
The number of bridesmaids and groomsmen you choose to have in your wedding is up to you. You can totally keep it small and intimate by asking just your closest sibling or best friend; you can also extend your bridal party to include more pals or family members. Remember that there is no required amount, nor must you have the same number of attendants on either side of the aisle.