One of the most singularly expensive items on your wedding budget will be the dress you choose to walk down the aisle wearing. The ugly truth is that wedding dresses are sold at a huge markup because they can be. People will pay extortionate prices for wedding dresses. But what's the actual truth behind the cost of a wedding dress?
The Ugly Truth About Wedding Dresses
According to Cost of Wedding, the current US average for a wedding dress ranges from $912 to $1,520, depending on what state you purchase and are shopping for your dress.
On top of dress cost, the average cost for bridal accessories ranges from $172 to $286.
Some brides then turn to the internet to cut corners on the cost of their perfect dress.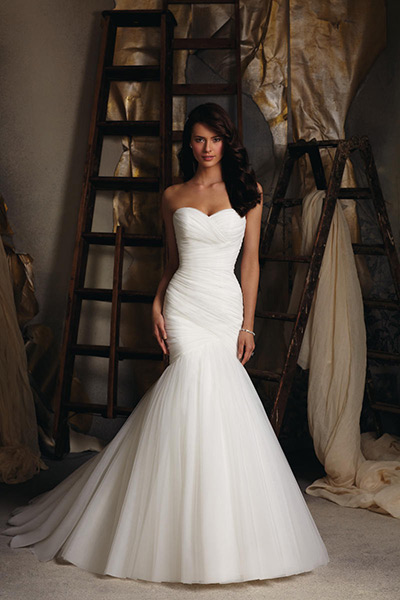 Beware counterfeit dresses!
The proliferation of counterfeit websites and unscrupulous bridal gown retailers is disturbingly high. Though you might think the most important day of your life would take precedence over profit, the truth is, there are countless operations whose primary goal is to get your money at all costs. Whether it's a website selling knock-off bridal gowns, or a brick and mortar boutique with racks full of counterfeit wedding dresses, swindlers can strike when you least expect it.
Brides-to-be need to take it upon themselves to shop smart and ethically. It only takes a quick search to turn up shops that are designated as an AUTHORIZED RETAILER. Make sure to look for the authorized retailer seals on their website and, if necessary, check with watchdogs like the BBB to identify any past complaints.
Consider a prom dress! If you're looking to cut costs, don't hesitate to shop other sections of your dress boutique. Sometimes bridesmaid gowns or even prom dresses can offer the color and silhouette you have your heart set on but at a fraction of the price. 
The Ugly Truth About Online Wedding Dress Shopping
The internet is full of wedding sites that offer deep discounts, as well as free shipping. The ugly truth: You get EXACTLY what you pay for! Often, brides will cut corners using online shopping sites when buying a wedding dress. The ugly truth: these dresses are cheap and look cheap too! If you order a $200 dress from JJ's House, you're going to get a $200 dress – not one that looks like a $1500 dress for two hundred dollars.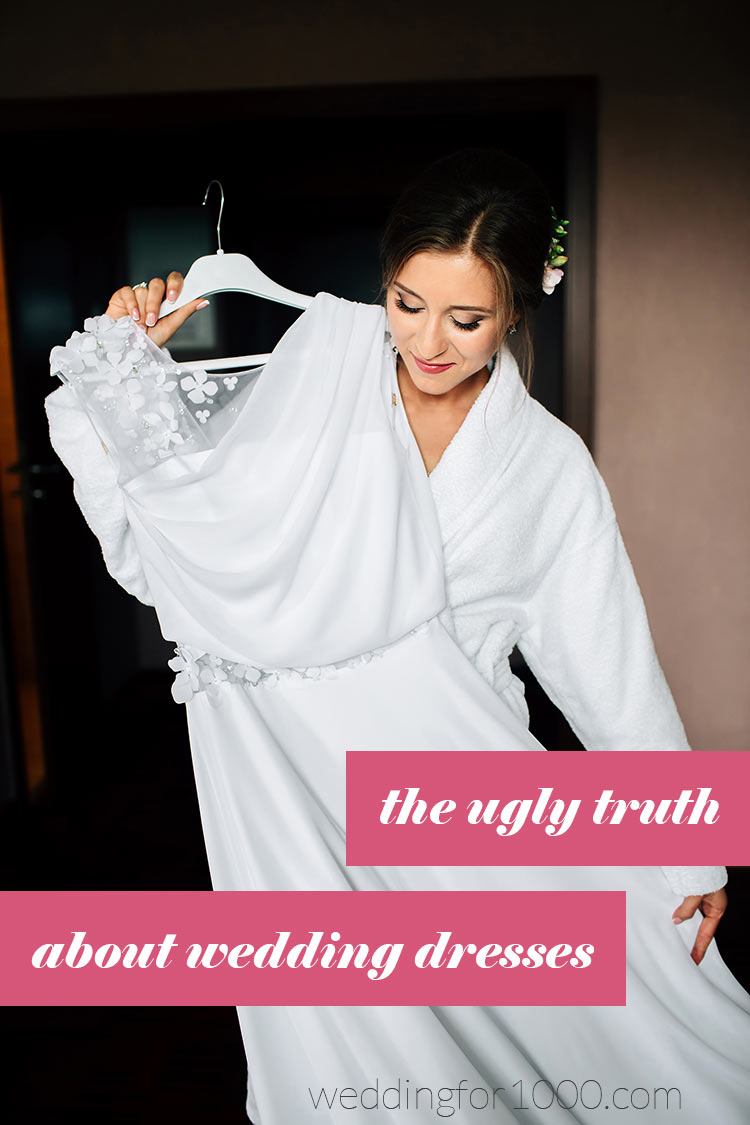 The Best Tips for Wedding Dress Shopping
The first thing you should do before you even begin wedding dress shopping and wedding magazine research is to set the exact amount you want to spend on your perfect dress.
Setting a budget will keep you from getting bullied by wedding dress clerks. Don't let anyone talk you into buying a dress that's over your budget. Tell them upfront that you have a budget and you will not go over it. The moment they try to upsell you after you put your foot down – get out of there.
If you're considering having a family member make you a custom dress, the ugly truth is: it might not turn out to be exactly what you want. That will cause feelings to be hurt and you to have no dress. In the event you want a custom design, talk to local wedding dress designers or independent retailers. They may be willing to work with you if you tell them that you have a specific budget. Ask them if they potentially have a sample or something from an old collection they would be willing to modify for you.
If your ideal wedding dress is super-specific, you can commission a dress designer to make one for you. The ugly truth in doing this: It's going to cost A LOT more money than you think.
Think outside the box when shopping savvy. Look at special collections from stores that often have runway shows you might not be aware of like H&M and ASOS. You can often find boho styles and beach bridal wear at these stores for way less!
Bridal and wedding expos are great places to gather information. You may be able to score the dress you want for cheap right from the retailer/designer.
Check out coupon and voucher code websites for stores that offer additional savings. Websites like Groupon and Shopular often help you get more money off.
There are no rules to wedding dress buying. Don't be afraid to go second hand when it comes to buying your dress. Check out sites like Ruffled or Tradesy for gently worn/used wedding dresses.
Rent the Runway. Don't be afraid to rent your wedding dress. Lots of sites like Rent the Runway offer designer dresses for less. Maybe the perfectly priced wedding dress for you is something borrowed or something blue: