Want an outrageous(ly gorgeous) way to nail your wedding hair? Consider the lovely styles of wedding bun we have here! The popularity of the man bun has brought things up a notch when it comes to styling your own wedding hair. Buns are all the rage this year. Here're some sweet dos that are so simple and easy, you can take your formal hair up a notch in no time.
Bird of Paradise Bun
This gorgeous top knot can be worn slightly messy or super sleek. photo credit
You'll need:
Hair dryer
Surf spray
Elastic hair tie
Hairspray
Saturate your hair with a good dose of surf spray. Try Not Your Mother's Beach Babe Texturizing Sea Salt Spray, $4.74 Walmart, or Bumble & Bumble Surf Spray, $27 Sephora. Flip your head upside down and blow-dry lightly, with the lowest setting on highest heat. Coil your hair into a knot on top of your head and secure with an elastic hair tie. Allow the ends to splay out just like the bird of paradise flower. Spray with hairspray to secure, and you're ready to hit the wedding aisle.
Romantic Ballerina Wedding Bun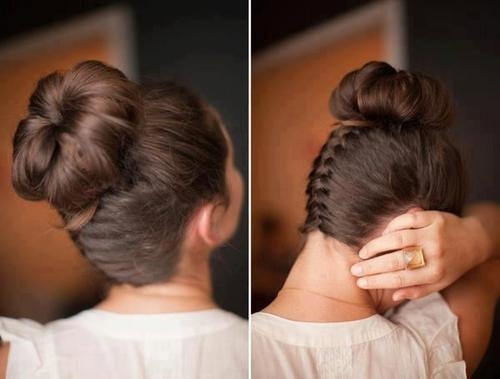 When it comes to keeping your hair wrapped up for an all day wedding, a classic bun with a gorgeous plait will keep your hair beautifully out of the way. photo credit
You'll need: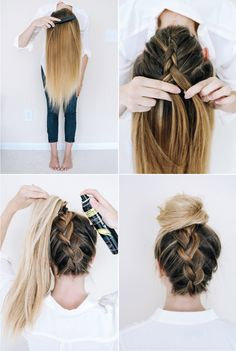 Hair tie (elastic)
Hair pins
Hairspray
Put a dime size amount of Redken's Braid Aid into your hands, flip your head over and smother over hair from neck to the middle of your head. From here you are going to French Braid your hair from the neck to the top of your head. photo credit
Secure the end of your braid into a ponytail using a hair tie; spray with hairspray to secure style so far. Grab your mesh chignon and run your ponytail through the center, placing the mesh hair styler on your head. Wrap the ponytail hair over it in a fan-like fashion, tucking the ends under as you go and securing them with hair pins. Set your bun with hairspray and go.
Half Up Wedding Bun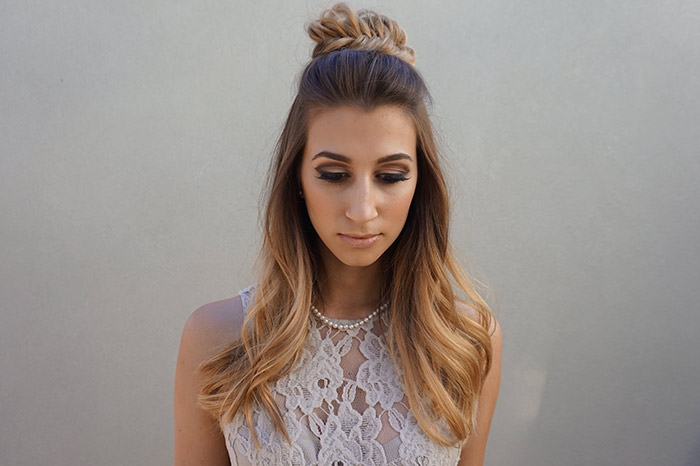 This is a great way to wear your hair half up, and softly accent a small tiara with a veil. photo credit
You'll need:
Comb
Frizz cream
Hair tie (elastic)
Hair pins
Hairspray
Comb out a section of hair above your ears. Pull half your hair back, wrap it into a loose bun and secure it on top of your head using a hair tie. Use a dime size amount of frizz cream to smooth out the top section and secure any flyaways. Use your fingers to lightly pull hair out of the bun. Be sure to pull strands from all the way around to give it a fuller, more symmetrical look. Hairpin any pieces that come all the way out, and set with hairspray.