When it comes to DIY, I get a little emotional. What? It's normally not as easy as those people on Pinterest say it is! You might hear 'easy' in your brain and get half way into a project and realize it's more trouble than it was ever worth. Let me ease your mind with this one: this rum bar is so darn easy, even I could do it! Header image source
What You'll Need To Make a DIY Rum Bar
First, RUM! I've listed Malibu here because it's my favorite, but you can use any kind that you like.
The Mixers
Soda or Sparkling Water
Coca Cola (or similar)
Pineapple, Cranberry and Orange Juice
Ginger Ale
Milk
Strawberry, peach and mango puree.
Angostura bitters
Simple syrup: dissolve 2 cups white sugar in 3 cups hot water. Let cool to room temperature. Pour into a used, clean wine bottle and put a liquor pour spout in for your budget-friendly bar.
The Garnishes
The Bar Tools
Glasses: Tall, rocks, fish bowls, margarita–whatever you fancy, really.
Jigger or Shot glasses for measuring
Shaker with strainer (just in case one of your guests have mad bartending skills)
Blender (for those frozen concoctions that help you hang on)
Drink stirs and straws
Knife and cutting board
Recipes To Post Near the Bar
All of these recipes can be typed onto a cute piece of stationery, maybe something leftover from your DIY invitations. Or hand write a few on a chalkboard for your guests!  Basically, what you're going to do is put out a bunch of bottles of flavored rum and give your guests drink combinations to DIY their own tasty rum-a-licious beverage. The best part about this bar: Malibu is a low proof alcohol, so your guests won't get too sloppy.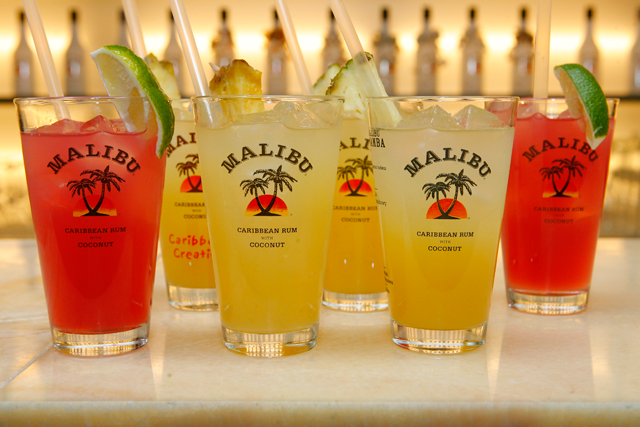 The Perfect Pina Colada: Malibu Original, Malibu Pineapple, Soda Water, Slice of Lime
The Rum Runner: Malibu Original, Malibu Passion Fruit, Cranberry Juice, Splash of OJ and a Slice of Pineapple.
The Dark & Stormy: Malibu Black Topped with Ginger Ale.
The Russian: Malibu Sundae topped with milk.
The Dreamsicle: Malibu Orange Float, Orange juice, 2 oz. Milk, Ice: Blend for the perfect smooth drink. Or shake over ice and strain into a tall glass.
The Chocolate Covered Strawberry: Malibu Swirl, Malibu Sundae topped with milk.
The Cubra Libre: Malibu Island Spiced, Coke, Slice of Lime.
The Strawberry Lemonade: Malibu Sunshine, 25ml Strawberry Puree, top with Soda Water.
The Banana-Rama: Malibu Tropical Banana, Soda Water, Splash of Pineapple Juice, Slice of Fresh Lime.
Don't forget to check out our other awesome DIY Bar posts, or even consider making your own wedding wine!