Interested in finding a dream wedding dress and saving money? The End of the Summer Clearance Sale at Diamond Bridal Gallery is the perfect opportunity for brides to purchase a wedding gown for an upcoming wedding and take advantage of additional savings.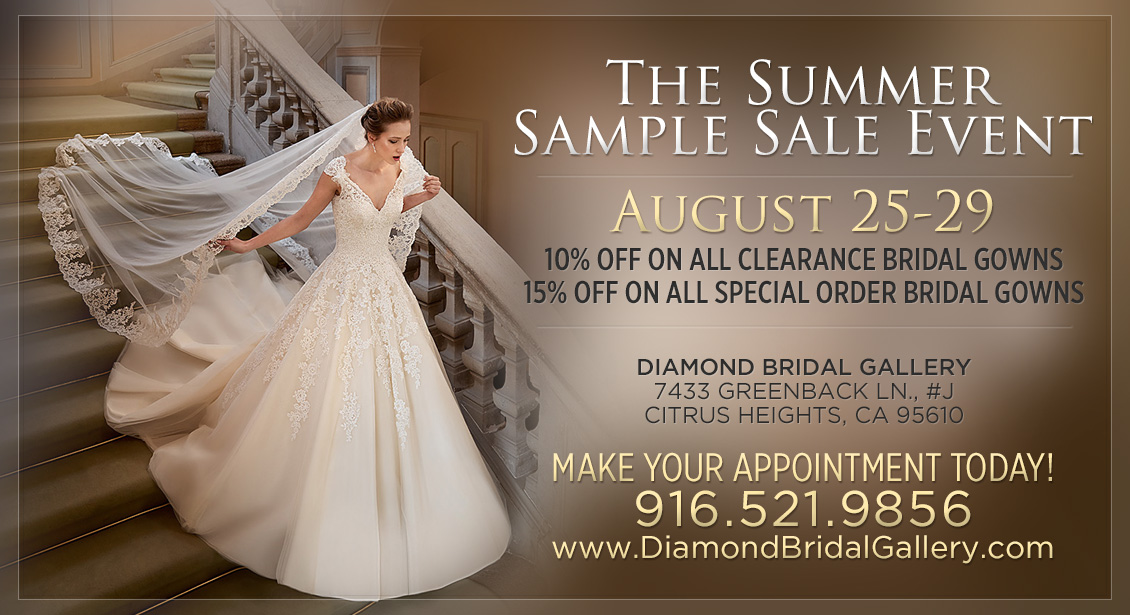 Diamond Bridal Gallery has an extensive number of bridal gowns for women of all shapes and sizes – bridal stylists are available by appointment to help brides shop and select the perfect wedding dress.
In addition to wedding gowns, Diamond Bridal Gallery offers other wedding day essentials such as bridesmaid dresses, formal wear, accessories, and flower girl dresses. Services include invitations, alterations, and cleaning of gowns. Take advantage of these services by purchasing a wedding gown from Diamond Bridal Gallery during the clearance sale and altering them with plenty of time to the wedding day.
Here are a few tips to avoiding some of the common mistakes made when bridal gown shopping:
Keep your selection limited: Diamond Bridal Gallery stylists are ready to ensure each bride has a stress-free experience when it comes to shopping. Experts suggest trying on between four and seven dresses, but no more than 10 – the more dresses tried on, the increased stress and confusion.
Choose the right size: One mistake brides make is choosing a gown that's too small – choose a size that fits a current size and take advantage of alteration services to create a flawless fit.
Diamond Bridal Gallery's End of the Summer Clearance Sales runs August 25 through the 29th – be sure to visit diamondbridalgallery.com for more information.
Diamond Bridal Gallery
7433 Greenback Lane #J-K
Citrus Heights, CA 95610
(916) 521-9856