OK, I'll admit it. I'm a make-up snob. I get stomach convulsions when friends tell me they're going to DIY their wedding makeup, because "it's no big deal" and then they pull out a drawer full of half-dried foundation and three-dollar lipsticks from the drugstore. No. When it comes to The Big Day, pro makeup will not only help you look more polished, but it will likely last longer too.  If you are not hiring an on-site make-up artist, consider booking an appointment at a cosmetic counter for a full wedding makeup application.  Usually, they only require a minimum purchase of $50 to have a professional artist work on you.  That's right, fifty bucks for your bridal makeup AND you get to bring back an item or two to keep.    If you still prefer to go the DIY route, or maybe the retail store hours just won't work with your schedule, here's a guide on how to choose high-quality wedding makeup without spending an arm and a leg.
Lips –  Buy It
The last thing that should be on your mind at your wedding is whether you need to reapply your lipstick.  With a truly long-wear lipstick, you won't have to scrub your groom with a napkin each time you kiss either.  This investment goes a long way, but don't be fooled.  There are a lot of brands that claim to be "long wear" but rub off easily on a glass, or after only a couple of hours.  Ideally, a long wear lipstick should be so highly pigmented that it's able to "stain" your lips.  Once it's dried on your lips, it should still have a nice, smooth finish.  It shouldn't make your lips look dry, or accentuate any lines on your lips.
Recommended: 
Too Faced Melted Liquified Lipstick in Peony, Marshmallow, Ruby
NARS Velvet Matte Lip Pencil in Dragon Girl, Dolce Vita 
Face – Try It
Committing to a $50 foundation can feel steep, especially if you're not planning to wear it daily. Ask for a sample of the foundation (and concealer if you need it), which will be more than enough to use for your wedding day.  Sephora, Ulta, and MAC retailers are known for giving out generous samples that are good for at least three days' use.
Recommended:
MAC Studio Fix Fluid foundation
Make Up Forever Mat Velvet + foundation
Too Faced Born this Way foundation
Cheeks – Borrow It
The idea of a blush is to add color to an otherwise pale face (but flawless, thanks to the foundation).  While there are many gorgeous blushes to choose from, any old blush or bronzer (as long as it's not a matte one) should do.   This is the only cosmetic that I am not too concerned about – even if it's a five dollar drugstore buy, it should still do the job because the foundation should help hold the color in place. Consider complimentary tones to go with your lip color.  If you are using a red lip, think of an orange or nude based blush.  Pink lips look great with, of course, pink blush. If you already have one in your makeup kit or have a friend who can share, you're good to go.
Recommended:
NARS blush in Orgasm
Make Up Forever HD Blush in Peachy Pink
Hourglass Ambient Blush in Cool Pink
Eyes – Ask for It or Practice It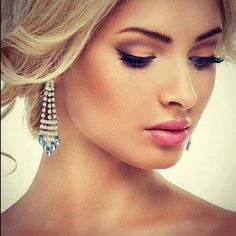 Eye looks are perhaps the most difficult to master when it comes to makeup. If it works with your wedding schedule, the best way to achieve the perfect eyes are with a professional!  Did you know that Sephora, Ulta, and MAC all give free mini make overs to an area of your choice? Simply book your appointment well ahead to time to ensure you get a seat at their beauty bar.  If you're unable to go to a professional, the only thing to do is practice, practice, practice. Decide what type of eye look you would like, and what colors would go well with the rest of your makeup. Ensure that you have the correct brushes to complete the type of look you choose and start training yourself using the many youtube videos out there.  And remember, if you're going to cry, don't even bother with the waterproof mascara. Just use false eyelashes.
Recommended:
Tarte Amazonian Clay matte palette
Too Faced Boudoir Eyes palette
While it may seem like a lot of work and just more things to add to the "to do" list, choosing the right colors and make-up that compliment your skin tone is really important to achieving the best result. So take your time in the store, have fun testing out colors and trying them on. Trust me, the pictures will come out looking amazing.