by Brittany McComas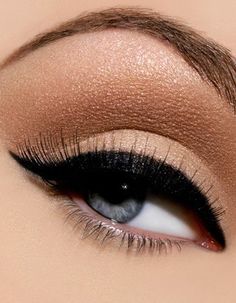 Grab your bridal party and get down and dirty with eye shadows. You want your wedding day eye makeup to be amazing, but we all know hiring a makeup artist is super pricey. You've been planning your wedding since you were six years old with your stuffed animals and Barbies. If I got married at six I would have worn a white cowgirl outfit, complete with a studded hat and electric blue eye shadow!
Let The Sun Shine In
One of my favourite eye shadows compliments beautiful highlighting and shimmery cheeks. Not too bright, this eye is all about blending techniques.
You'll need:
 Apply the eye shadow from the inner corner of your eye, blending out, in an upward motion toward the end of your eyebrow. Depending on how much color you want, you may need three to five coats. Keep blending, brushing over your lid continuously for a few seconds per eye shadow coat. *this will keep your eye shadow from creasing!
Line your eye from the inside corner out by tracing along the root of your eyelashes. Pull the outside corner of your eye away from your face to get the perfect wing. Apply your favourite mascara.
Smoke & Mirrors
If you love a smokey eye, have no fear, you can still do one for your wedding day. This look is so super romantic, sweet and easy!
You'll Need:
Rub your eye shadow brush into the deep brown eye shadow. Be sure to blow the excess dust off before applying to your eye. *Use the same blending technique as above. Using the eyeliner brush, apply the brown eyeshadow under your eye as if you would your usual liner; repeat this lightly through your eyebrow to give a good bit of definition. Even if you have light eyebrows this will look amazing! Finish with liquid eyeliner on your top lid and mascara.
My Best Friend's Wedding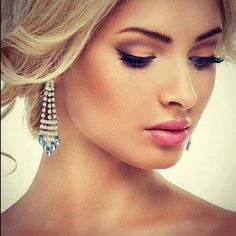 The bridal party needs to have some fun! I really like the thought of matchy-matchy, or neutral pops of colour like the peach to the right, when it comes to your girls. You can use any color as the bottom highlight.
You'll Need:
Apply your color eye shadow, as your base, using the same blending technique above. Follow by blending brown shadow from the middle of your eye, out and away; blending up and over the crease of your eye toward the inside corner for contrast. You can use an eyeliner brush for a thinner accent. Finish with liquid liner and mascara.
Another great product to consider is the all-in-one palette "Boudoir Eyes" by Too Faced Cosmetics.