You want to carry beautiful, affordable wedding flowers, and we want to help you!  We put together this collection of suggestions by talking to lots of wedding and event florists. It brought some really interesting things to light; especially the best possible substitutions for a flower you love the look of but can't afford. In particular, I asked florists to show me their favorite arrangements. Then I asked how they could cut down the cost of those arrangements.  Here are some of their examples and bits of money-saving advice:
Maryam Saeedi of Maryam Flowers in Vienna, Virginia primarily works as a bridal florist, but has a retail side as well.
In business for over twelve years, she shared this gorgeous arrangement featuring roses, ranunculus, lisianthus and wax flowers from a wedding in June 2016.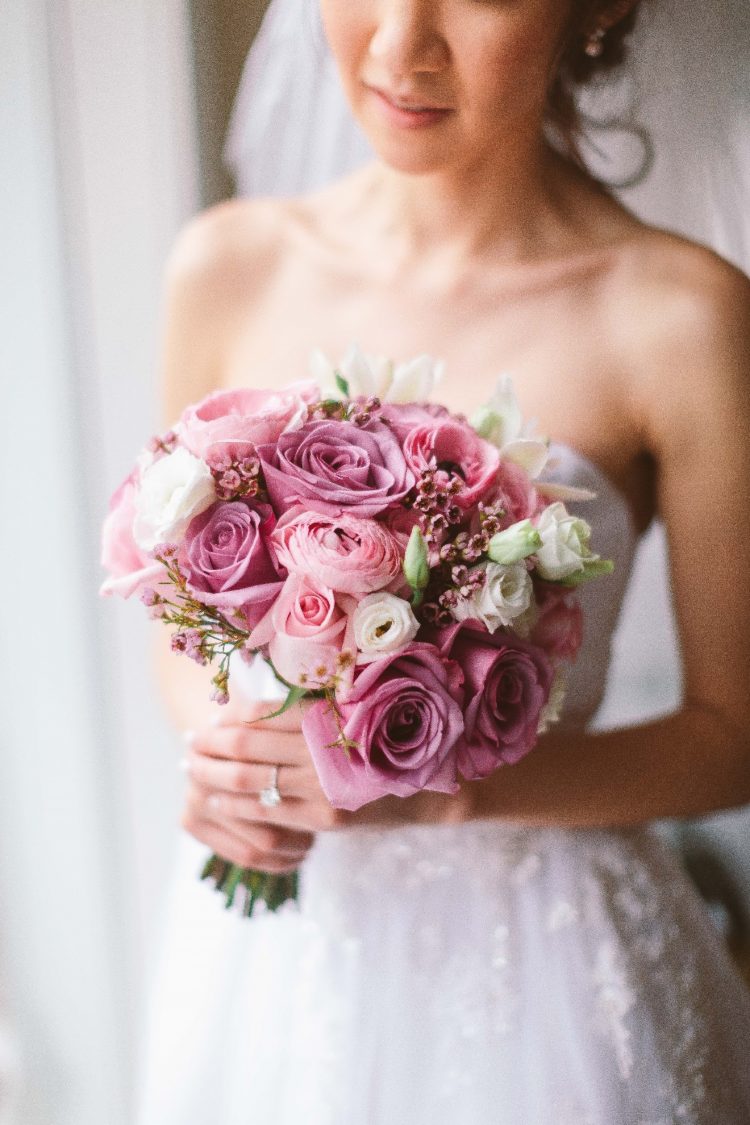 This particular arrangement was sourced from South America, Holland or California and cost the client $186.  In order to save money, she suggested eliminating the lisianthus and ranunculus and replacing them with mini carnations and alstroemeria. Making those substitutions would bring the cost of this arrangement down to $130, saving over $55.
Her advice for a bride looking to save money on her wedding flowers is: "Eliminate the items that are the least bang for your buck: cocktail table arrangements and aisle décor in particular. Don't compromise on the bridal bouquet or centerpieces."
You can find Maryam Flowers on Facebook and on her website.
Laura H of Bouquets Florist Croydon in Croydon, South London and enjoys designing in a very country garden/country vintage style of floral arrangement.
She has been working in the floristry industry for seven years and recently started her own shop. Laura created this gorgeous bridal bouquet for a wedding on the 13th of August, 2016 and used pale blue delphinium, 'Heaven' roses, 'Oh so peach' Roses, 'Erica' Astilbie, Gypsophilia 'Xelence', Lisianthus 'Salmon'.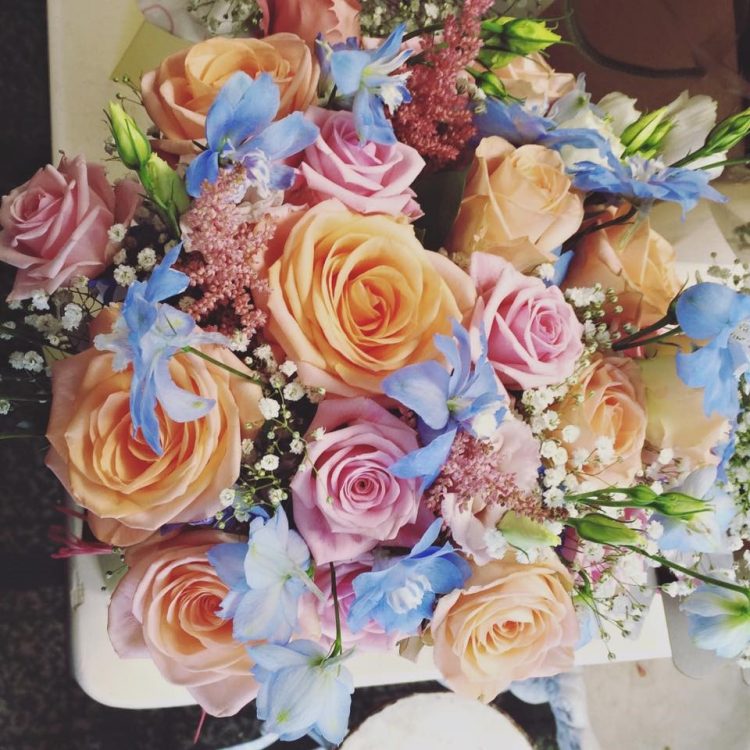 All of the flowers used in the arrangement were in season and locally sourced. She charged the client £75.00. If the client wanted to save even more on this tremendously affordable bouquet, they could substitute cornflowers for the delphinium.
"The costliest flower in this bouquet is the pale blue delphinium at £3.50 per stem. If a customer wanted this bouquet for a cheaper price, I would suggest cornflowers as they are the same beautiful blue and much cheaper at around 75p – £1.00 each – and they will still fit with the stunning pastel country style of the bouquet."
Her advice for any bride looking to save some money on their wedding flowers would be: "Be open to substitutions and trust your florist. A lot of brides use sites such as Pinterest and they see the beautiful designs, but they do not take into consideration the cost of the flowers and so can be quite shocked when they are told by their florist the total cost. If they are open to substitutions, then we can work our hardest to make sure that their flowers are as special and unique as they want them to be on their big day."
Bouquets Florist Croydon can be found on both Facebook and their website.
Janette O Rourke owns Kays Flower School and is based in beautiful Dublin, Ireland.
Kays Flower School doesn't just provide beautiful flowers for weddings and events, though. Kays Flower School is the only commercial school training florists from beginner to advanced levels. Over 80% of flower shops and florists in Ireland have either trained at Kays Flower School or have sent staff to train there.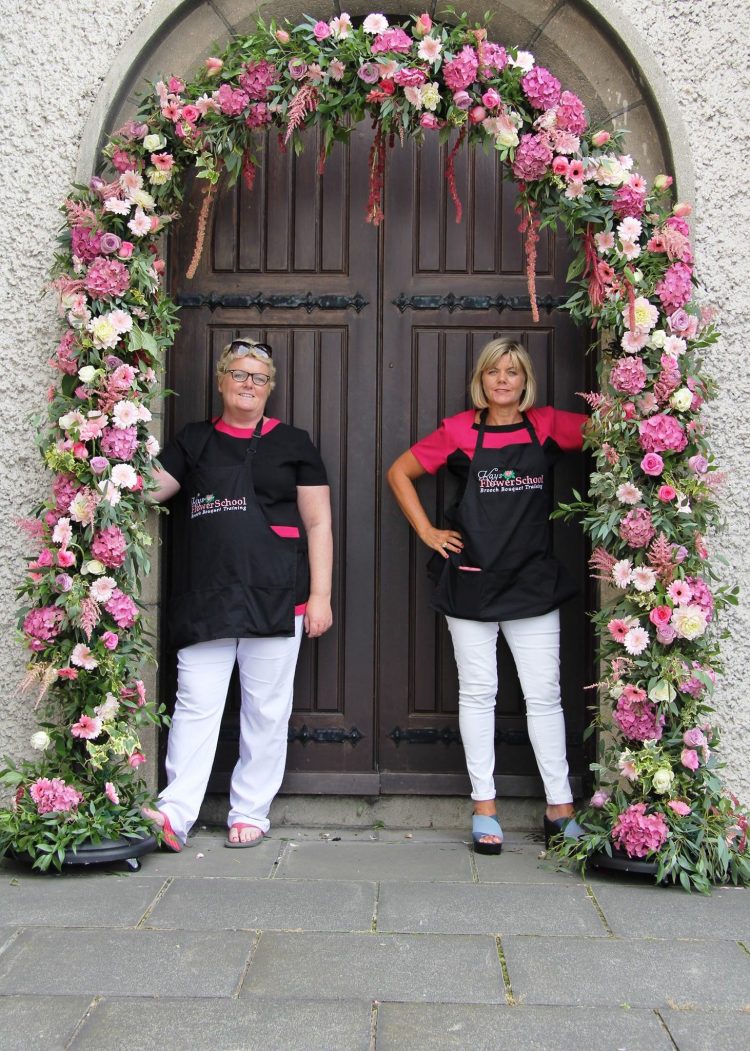 Janette has been working as a florist for 33 years and has been training other floral artists for 29 years. In particular, floral arches have been tremendously popular in the last year. Not only have many florists been seeking training in building floral arches, they've been looking for ways to make it affordable for couples on a budget.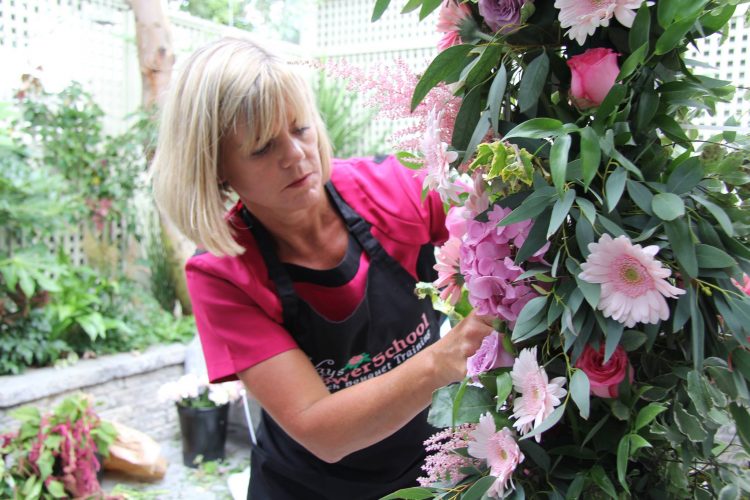 To save money, Janette suggests replacing Hydrangea with Chrysanthemums and replacing roses with germini (Gerbera daisies). Find Kays Flower School online.
OK Florist & Gifts is a floral and event company found just outside of beautiful Charleston, South Carolina.
The owner, Karen Powell, tremendously enjoys the modern take on traditional cascading bouquets that incorporates the texture and flow of many kinds of flowers and greenery. Having been in the industry for over sixteen years, she says she's never worked harder in her life but loves what she does! This bouquet was chosen as one of the Best Bouquets of 2015 by A Low Country Wedding (with good reason – it's gorgeous)!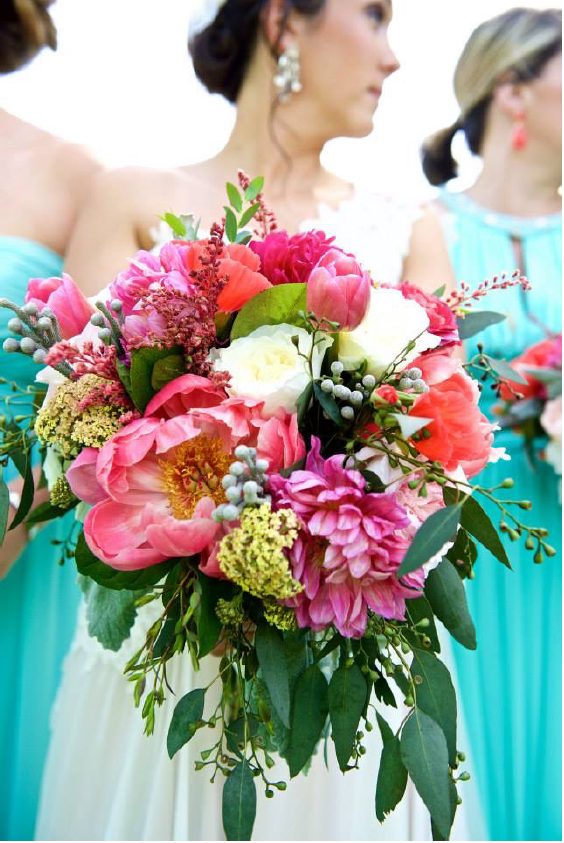 photo by Stephen Blackmon Photo + Cinema
All of the flowers used here were in season at the time of the wedding in the summer of 2015 and included lots of different textures.  This gorgeous arrangement was composed with dusty miller, seeded eucalyptus, silver brunia, coral charm peonies, coral godetia, green mini hydrangea, fuchsia dahlias, astilbe, fuchsia tulips and white garden roses.
The cost of that exact bouquet was $300; to save $100 a bride could request to substitute the peonies with garden roses, football mums or even hydrangea that could be tinted coral and create the same look. Additionally, making the bouquet just a little smaller would save some money.
Karen's biggest piece of advice for brides on a budget is to "Repurpose, repurpose, repurpose! Flowers can be added to small vases and tied to the ends of pews or rows of chairs as aisle markers. These can then be moved to cocktail tables at the reception. Flowers used on the alter can be moved to buffet or gift tables, as well!" 
Find Karen and OK Florist & Events online here.
Emily Hepworth owns Persephone Violet, a wedding and event florist in Malmesbury, Wiltshire.
She loves working with wild-looking flowers, but also enjoys contemporary conformed styles, as well. Emily has been working in floral design for over 11 years and enjoys working across many mediums and styles along with a huge range of flowers.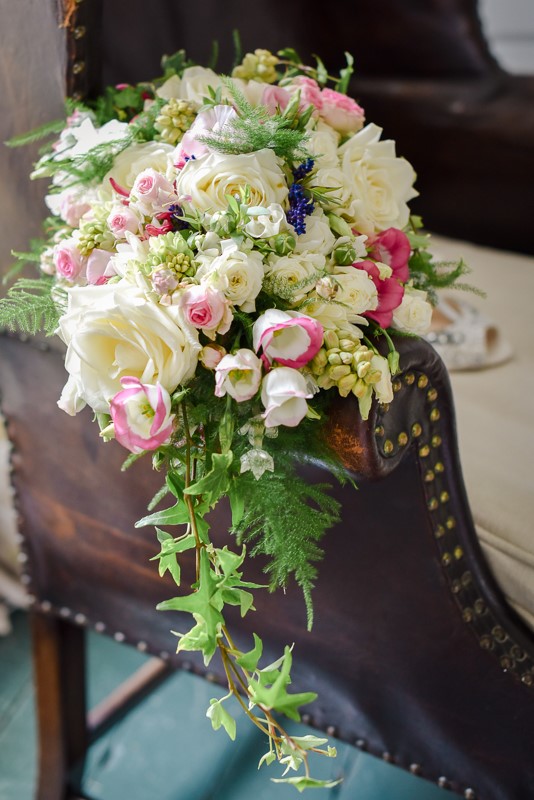 Her favorite arrangement has been the bouquet pictured here, which features a fantastic list of blooms and was created in July of 2016:
Asparagus long fern
Eucalyptus parviflora
Eustoma 'Cream piccolo', 'Hot lips pink','Piccolo violet'
Hedera helix
Honey suckle 'Lonicera'
Lathyrus 'Carmine Rose','Misty Cream'
Lavandula
Polianthus 'Sensation','Tuberosa'
Rosa 'Avalanche'
Rosa spray 'Bubbles White'
Rosa spray 'Kate-Lynn'
Stephanotis 'Floribunda'
Some of the blossoms were locally sourced in Britain, with most of them sourced from Holland. All of the flowers were in season at the time, however. The cost of this arrangement was £115.00.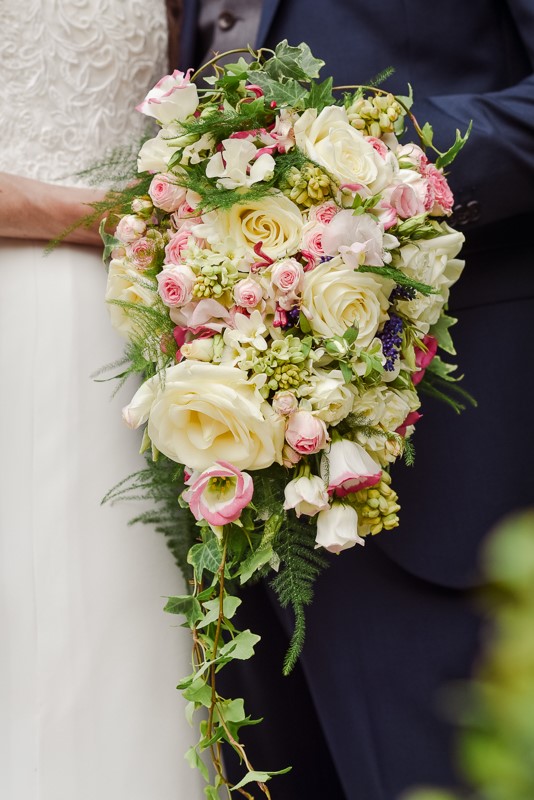 In order to bring the cost of the bouquet down for a bride on a budget, she suggests replacing the Stephanotis with Bouvardia and replacing the Sweet Peas with a double variety of Eustoma as it looks similar and costs less. By replacing those two flowers, the cost would drop £30.00.
To save at least $100 on wedding flowers, she suggests having larger tables at your seated-dinner wedding reception. By seating more people at each larger table, you need fewer tables, which reduces the number of centerpieces required.  Find Emily and Persephone Violet online here. Photo by Camilla Reynolds Photography.
Emma Sousa has run her own floristry business for ten years and has been growing her own flowers for her business for the last year.
Based in North London, her preferred style is seasonal, natural and rustic – easily done when you grow your own beautiful blooms! Her favorite bouquet is seen here, featuring dahlia, stocks, sedum, sweet avalanche rose, trailing jasmine and eucalyptus. All of these flowers were, of course, in season in July of 2015.  Everything was grown by her except for the sweet avalanche rose, which was a Dutch import.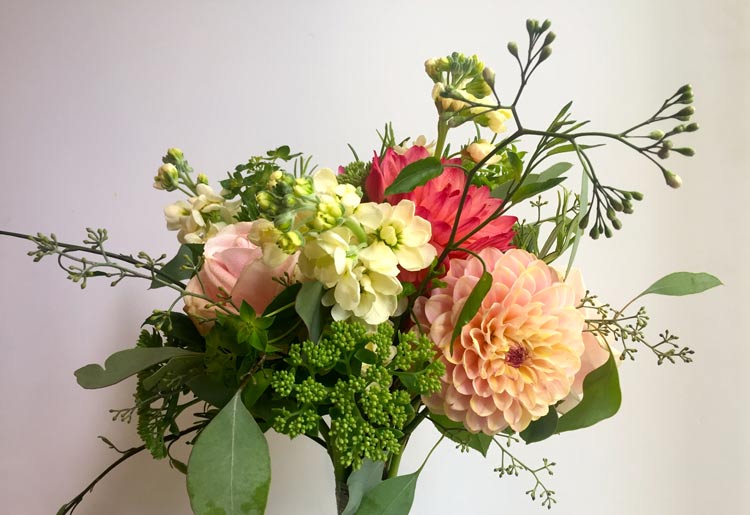 This gorgeous arrangement cost the bride just £70, which is extremely reasonably priced. If she needed to match an even lower budget, however, she would suggest adding more foliage and removing a few roses. You could substitute more dahlias in similar colors or even lisianthus, saving an estimated £10 or £15.
Her advice for couples on a budget is to only spend extravagantly on your bridal bouquet and just pick out a highlight flower for each centerpiece. Use a mix of foliages and less expensive flowers to bulk out the centerpieces alongside that one highlight flower.
Georgia D. Miller of Somethin' Sassy Floral Boutique and Gifts has been creating beautiful freeform bouquets and arrangements for 34 years.
Based in Bean Station, Tennessee, she created this gorgeous bouquet from pale peach David Austin English garden roses, orange ranunculus, silver dollar eucalyptus and white peonies. In May 2015, these flowers were in season but needed to be remotely sourced.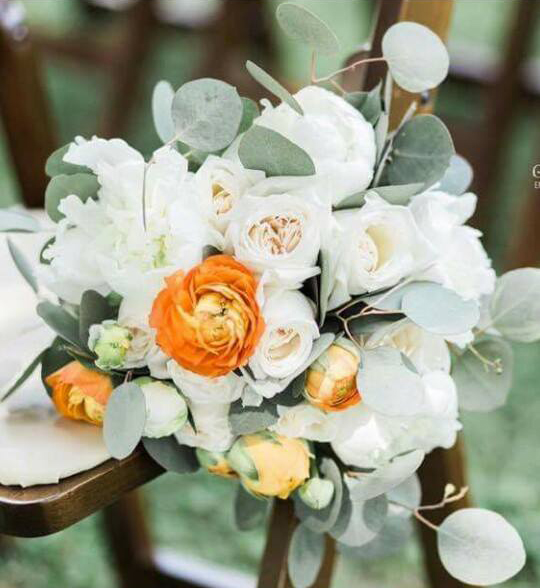 This particular bouquet was $295, but a bride on a budget could save between $125 and $175 if she substituted hydrangea for the peonies and using regular florist standard roses instead of David Austin branded roses.
Her suggestion for any bride hoping to save money on their flower? "Find just one flower that can be substituted and downside your aisle markers!"
Kelly L'Esperance is based in Essex, UK has a BA with honors in Professional Floristry and runs Miss Fleur Floral Design.
She loves and prefers to work with British flowers, and she shared this great tip for couples on a budget: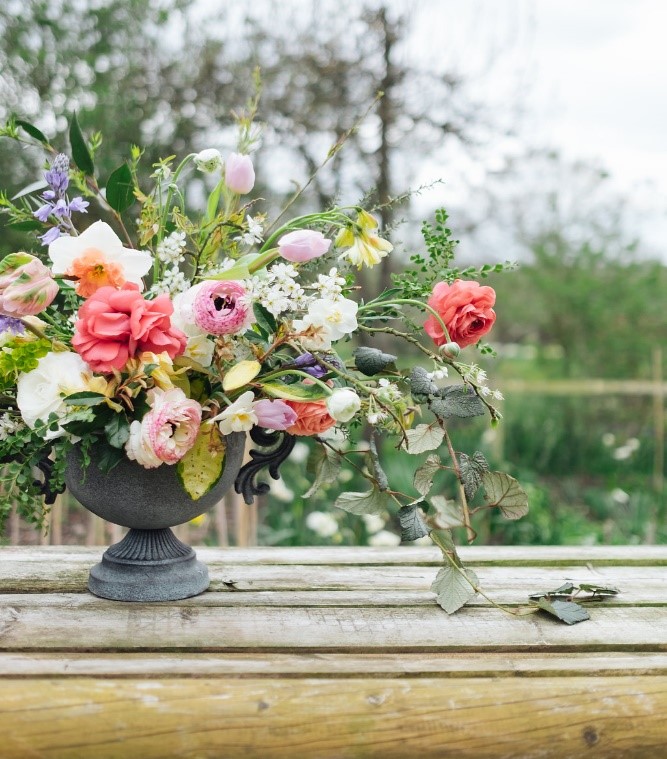 photo by Grace Hill of Photography by Grace Hill
"Although peonies and garden roses were not used in this arrangement they are requested often by brides, I have a great little florists trick using Dianthus to give a peony effect but for a lower cost and is great if peonies are not in season. Pictured below, top is Dianthus bunched together and bottom is a David Austin Garden Rose."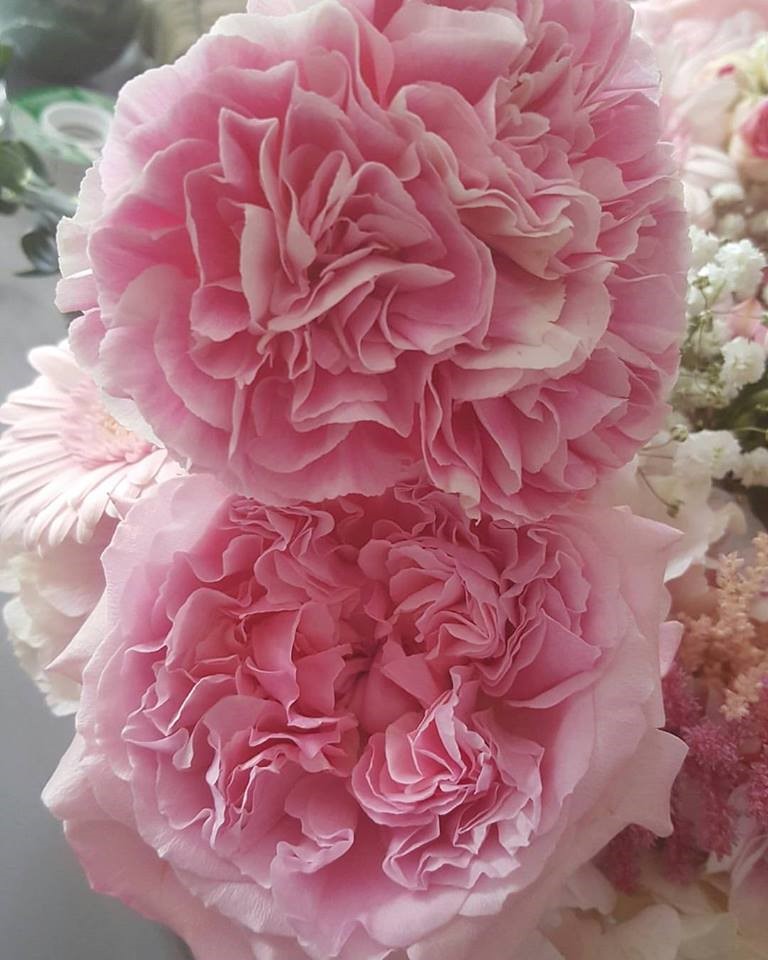 She also suggests having one big statement bloom rather than lots of small flowers, as creates a bigger visual presence of flowers. Spend the most money on your bouquet as this will be in your photos forever to see!
Pin the image below to save these tips for your wedding planning!