How much you spend on alcohol at your wedding is going to depend on the answers to several critical questions. We're going to ask the questions here so you can start making plans and map out your wedding bar cost and make the most of your beverage budget.
How many people are attending your wedding?
The number of guests who will be drinking at your wedding reception will have a huge impact on the bill (but you already knew that). Knowing the headcount of how many guests you think will partake of the free booze is definitely going to help – you can figure out an average budget and start whittling down the costs from there.
Let's assume you have 100 adults attending your wedding, all of whom are expected to partake. That estimate is based on the average 120 guests per wedding, some of which might be kids or underage adults. The cost of serving drinks at a wedding is usually calculated in one of the following two ways:
Flat Rate: Per Person, Per Hour – determined before the date of the event.
By Consumption: Charged by drink served, which means you don't know your total amount until after the event is over.
How long will you be serving drinks?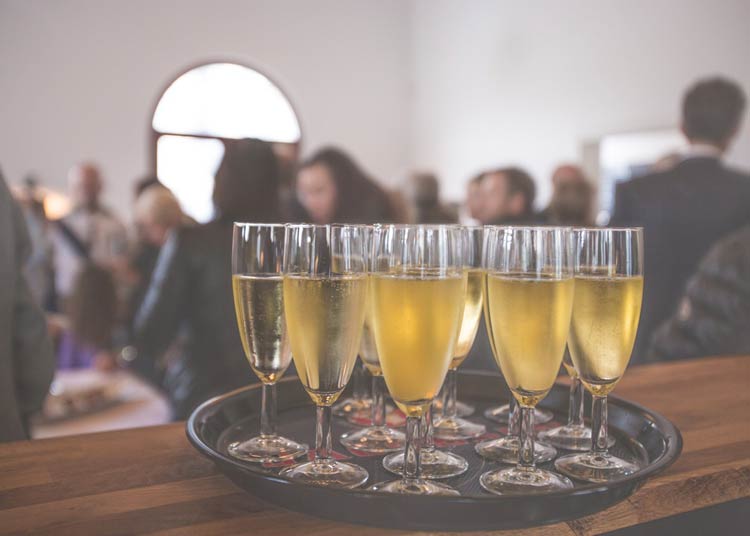 This should be decided pretty early in the wedding reception planning process. When will you open the bar and when do you want to shut it down? Often, caterers and bar service will be charged per person/per hour, regardless of how much each person drinks. Other times, the cost is calculated by drinks served.  What do you want to do for your particular situation? Be sure to account for time of day, style of wedding reception, the kind of drinkers your guests are and what you plan to serve.
For now, let's assume your wedding reception is scheduled to last from 6pm to 10pm, which makes for four hours of serving time.
What kind of drinkers are these people?
You know your folks better than anyone – or you know most of them, at least. How many drinks do they normally have when you have dinner with them, or at a party?  Typically, the average adult will have two drinks in the first hour and one per hour after that. If you have particularly heavy drinkers who are going to attend, you should adjust your calculations as necessary.
Your one hundred imaginary guests are all average drinkers for the sake of this estimation.
What kind of drinks are you planning to serve?
Generally speaking, serving beer and wine is less expensive than serving mixed drinks. Serving all three is going to cost you the most. The ideal situation is to figure out what YOU want to drink and serve your guests accordingly. Remember, these family and friends are attending to celebrate your marriage, not a free-for-all party on a random Saturday night. There are no rules about what you're required to serve.
Trend Alert: Signature cocktails for each half of the wedded couple. His and His, Hers and His, Hers and Hers – it doesn't matter the combination, but it's really fun to serve your guests your favorite drinks. At a recent wedding, there were two drinks served all night: a gin and tonic and a vodka press.  Non-alcoholic options included punch, water, and canned sodas. It turned out perfectly, and was extremely affordable!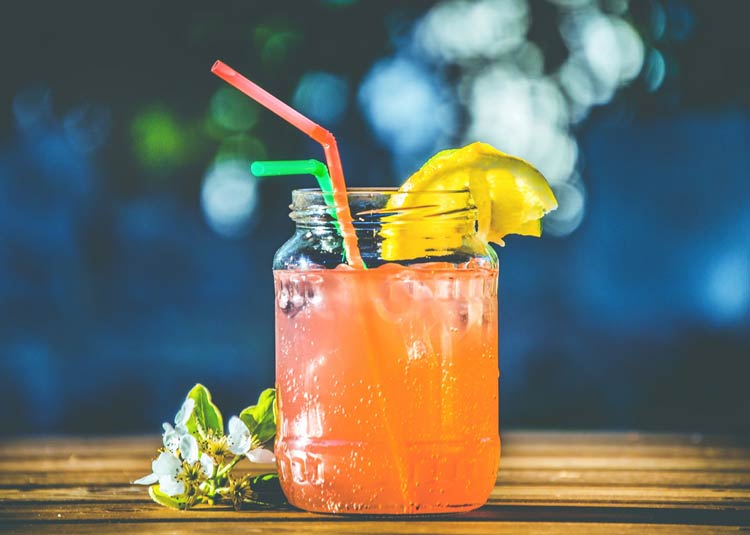 Beer and Wine: four options should be absolutely perfect for this kind of bar: a light and refreshing beer that anyone can enjoy, a hoppy beer that most people like, a red wine and a white wine.  It doesn't get much easier!  You can swap out the lighter beer for cider if you prefer.
Wine Only: Another well-received option is a wine-only bar.  You can go with as few or as many options as you like, but don't complicate it too much.  One red and one white is perfect. If you go with two of each, go with a fun variety.  You can also add some sparkling wine, cava or prosecco as an additional wine option – or mix things up with a sangria!
How much alcohol do you need?
Check out this handy calculator at Evite to calculate how much alcohol you'll need. For a party of just 100 people with mostly average drinkers serving only beer and wine, you'll need about 250 bottles or cans of beer and 50 bottles of wine. If you plan to serve a signature cocktail, you'll want to drop the beer to 167 cans, get only 34 bottles of wine and include 9 bottles of liquor.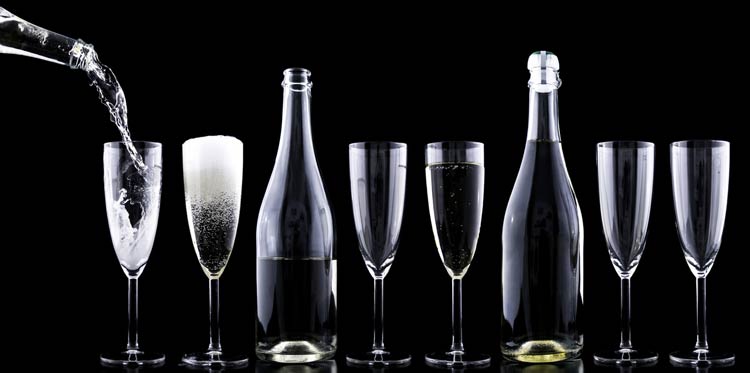 Who will be serving the drinks?
Once you decide the details you can look on websites likeGigsalad and Punchbowl to find state by state bartenders.
Don't forget there are task-oriented sites for staffing as well:Thumbtack, Gigmasters, and Taskrabbit
Post your job on a local online job board like Indeed, Career Builder or local newspaper.
Place a sweet ad on Craigslist or Gumtree.
Ask someone you know that's a bartender to donate their time as a wedding gift.
Get a free quote from the professionals at Airtasker.
Post on your personal social media sites or facebook groups that you are looking for an amazing bartender.
Ask friends and past brides for affordable staffing options in social forums on websites like Reddit.
Call a local temporary staffing company who will be able to provide a bartender at a reasonable price.
Talk to local restaurant bartenders. They often love to pick up extra money, and won't mind spending a day off providing you with killer bar service.
The best way to get someone affordable is to simply hire the bartender for the exact time you need them. For instance, signature cocktail can be done in two to three hours with fast mixologists. Champagne or wine service should only take one up one hour.
Be upfront with any caterer or staffing company and ask for a detailed list of exactly what you get with your bar staff. Some companies will pay the bartender to stick around. Tell them they can go home to save time if they aren't needed. Is the tip included? Some staffing companies don't tell you that a gratuity is included at the end for parties of 100 or more. Be sure to ask details or hire outright on your own to avoid taxes and fees.
Who's responsible here?
This is where it gets a little squiffy. If your caterer or venue is not providing the alcohol, you probably aren't going to be covered by their liquor license and liability insurance.  What happens when someone over-indulges and something happens? Who is held responsible?  You should check out this website and figure out your states laws on liability and adjust your wedding insurance accordingly. It's an awful situation to think that an accident could occur after celebrating your nuptials, but it's even worse for it to actually happen and you get sued.