Having an at-home wedding might not be the first thing that comes to mind during the process of planning a wedding.  Let's be honest, it's probably not even the second.  But you should definitely consider it as an option. Special event spaces are incredibly costly and usually end up being somewhat – if not totally – impersonal, and they can be even more expensive to decorate to suit your taste and wedding style.
Why go to all that trouble? Who says you have to rent your wedding space? You and your guests can't feel more at home anywhere else, so having an at-home wedding in your comfort zone would be totally perfect! Not only will it be welcoming, intimate and friendly, but the flexibility offered by hosting an at-home wedding or wedding reception lets you extend the preparation timeline. No rushing around at the last minute or on a particular schedule set by a venue.
Here are some 3 things to know when preparing your home to host your own (or anyone else's) wedding!
Get super clean on the inside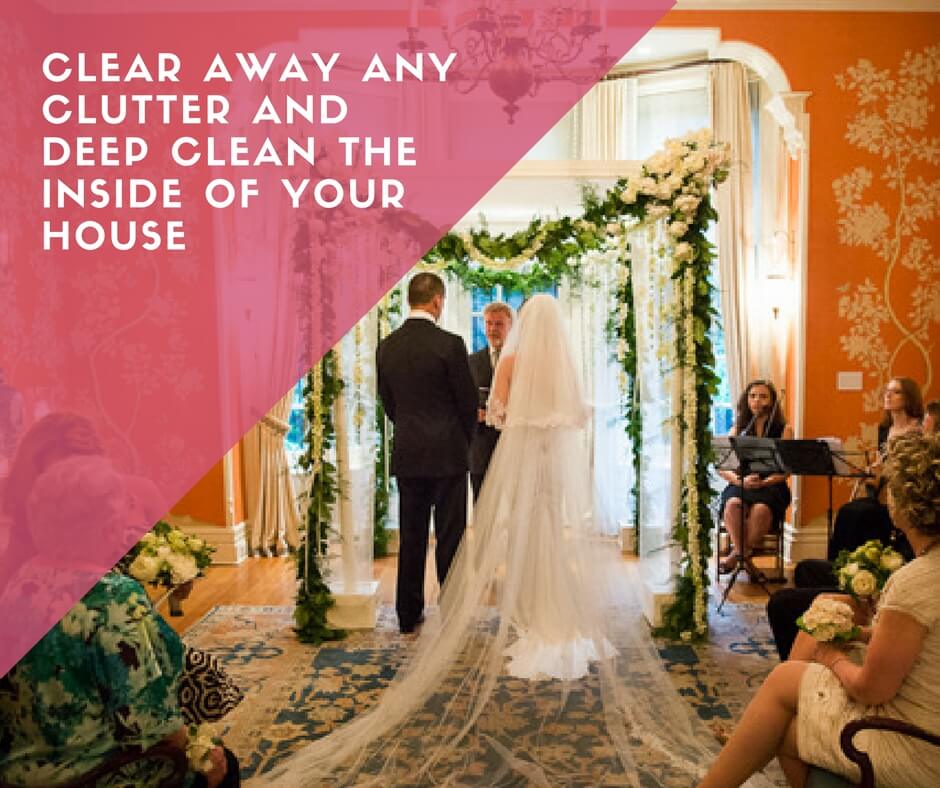 Don't leave the intense, full-home deep cleaning until the last possible minute! It's recommended that you do this a week or more before the event. You may consider hiring a cleaning service to do the deep cleaning and heavy lifting, as well as the post-wedding cleanup. Especially if you are hosting your own wedding; you probably won't be in the mood to clean anything the morning after!
Get really tidy on the outside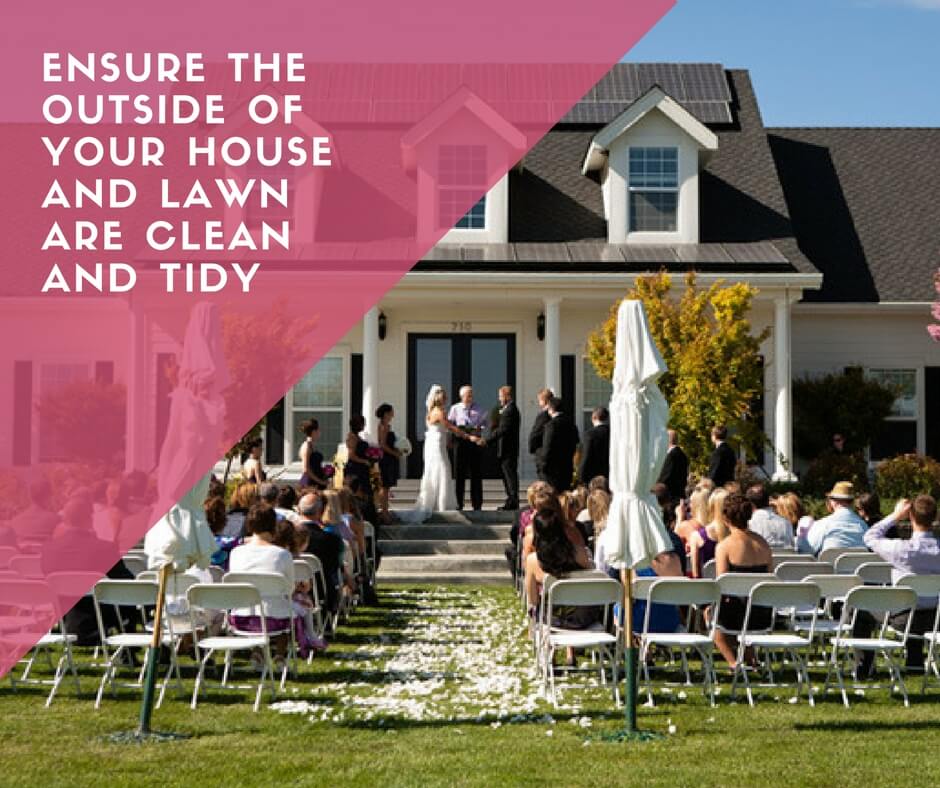 Ensure that the front and entrance of your home is welcoming.  The grass should be mowed, and the approaching walkway outlined with appropriate lighting so that people coming and leaving are able to find the path easily. Make sure that there is sufficient outdoor lighting.
Consider parking and how you will accommodate guests. Will you need to have them park at another location and have them shuttled to your home?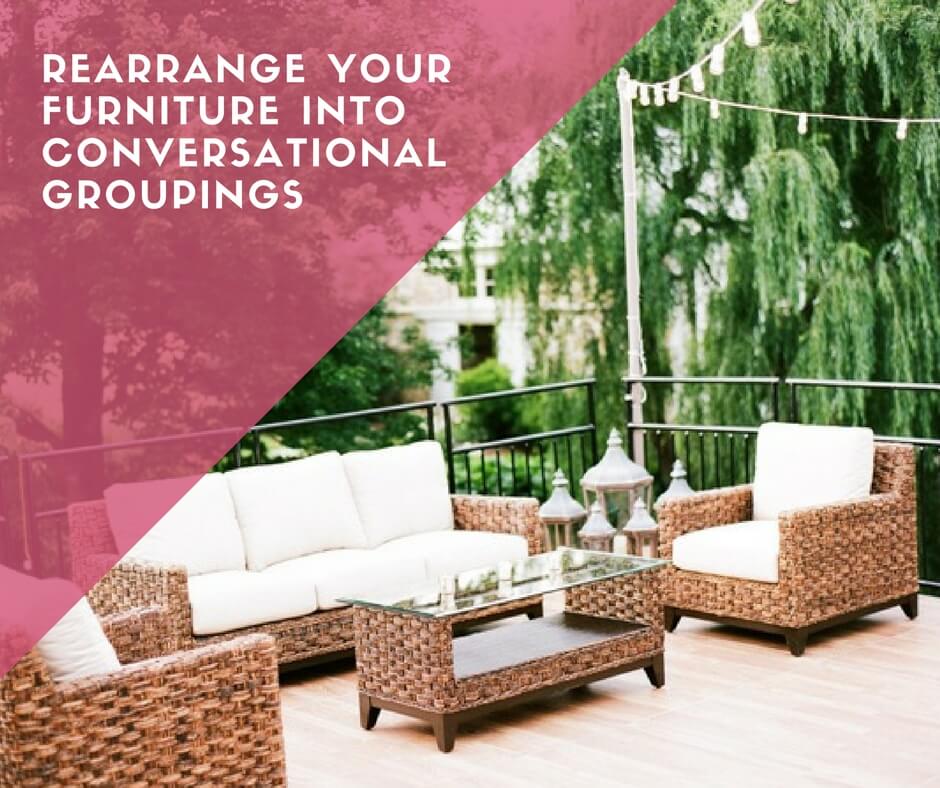 If you are planning to hold much of the event in an outdoor space in the backyard or on a patio, make sure that it is clean and tidy, swept clean of debris and any toys or clutter stored away. Organize patio or outdoor furniture in groups that make conversation easy, which is also something that should be done with the furniture in every room inside your home, as well.
Make it pretty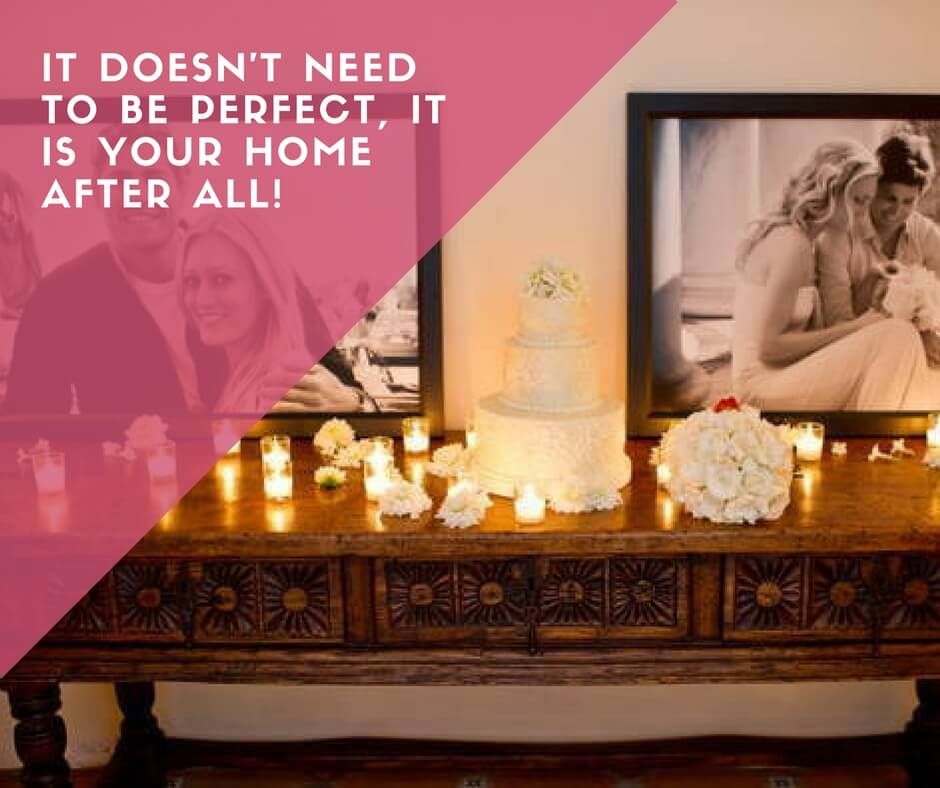 Your home isn't a hotel, so your house may never be perfectly spotless, but when it is properly cleaned up, you're ready to set the rooms up.   After you have situated the furniture into intimate groups for conversations and fun, it's time to set the mood for the wedding and reception with the lighting and décor. An excellent way to pull together an elegant party look is to add twinkle lights into just about any place.  Lining strands around the base of furniture will give a soft, glowing up-lit effect to a room.  A similar effect can be gotten by bundling them into large glass jars with faux flowers or greenery. Adding candles always creates an intimate mood, and decorating with unexpected displays of flowers in a wide variety of vases and vessels looks effortlessly chic. They don't need to be in exact arrangements, just arranged nicely.
An at-home wedding definitely needs to be carefully planned, but it can be done very well on a budget and is always a truly wonderful and intimate event – which is what a wedding is really all about, right?