Finding cool things that don't suck for wedding favors can be like finding a needle in a haystack. Wedding guests are super-sick of candy bars, bubbles, and cheap ass glasses with your new name on it. Give your guests something extra-sweet and priceless with our no-fail guide to fun wedding favors that don't suck. These wedding favors are so awesome you'll want to keep them for yourself!
Bet Big On Your Wedding Day

I'm sorry, but gambling is fun. And if one of your guests win $100 bucks–hell, even a dollar they'll love you forever and be the life of the reception party! Buy one dollar scratch-off lottery tickets at your local convenient store, put them in a cute envelope with a fresh penny.
Book It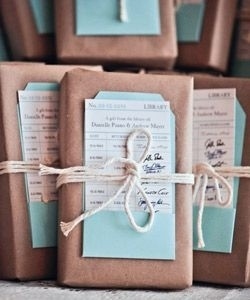 This is a super-sweet idea for a small wedding party. If you have 100 guests or more, you might not want to do this, but if you do "good on ya"! Visit your local thrift stores or second-hand bookstores with your husband to be. Pick out copies of books you absolutely adore. Alternatively, buy Moleskine journals that correspond with your wedding colors. Write a little personal note to the guest on the inside cover, and place their second-hand book or journal at their plate position on the reception table.
Swag Bags
Everyone loves a posh wedding with a little swag! Set your guests up with an entire bag full of sweet treats. This is great for small wedding parties, too. Get your friends involved. Ask friends who sell beauty products to donate some samples for everyone. Ask a beauty counter for some added extras when you make a purchase. Get online and join an Ipsy, Birchbox or Glambox swap group.
Think late night snacks like bottled water, Gatorade, popcorn, beef jerky, aspirin, anything for a hangover, really. If you know beverage distributors, beer or liquor reps ask for a sweet bulk discount and add a drink to the package…which leads me to booze.
Boozy Fun
You can print your own labels for every kind of bottle these days. Think wine, bourbon, vodka, beer cans–whatever your little taste buds desire. For an even more special treat get a brew kit, and make some brew yourself!
Photo Booth Fun
Enlist a photo booth with lots of sweet fancy dress gear for fun! Your guests can get whacky with photos they can take home for a sweet memory! A polaroid style booth/camera is an option, too. That way your wedding date and names can be printed on the bottom for a more personalized print.
The Charitable Couple
One of the sweetest ideas that have come about lately is giving charity pins. You and your family make a donation in honor of a loved one or a charity your heart pounds for, and place a souvenir pin with a note attached saying that a donation has been made in honor of each guest.