So, you're an Adele fan. You're the one with the old soul. You're in love with her makeup and always have been…have no fear. We've got just the hair and makeup tutorial for the soulful bride. You'll literally glide down the aisle on your big day!
Steal Adele's Look: The Hair Tutorial

You'll Need:
Volumizing Shampoo
Volumizing Conditioner
Giant Round Brush
Hair Pins
Hair Spray
Thin Tooth Comb
2 inch Curling Iron
Wash and condition your gorgeous locks in the hottest water possible. This boosts your hair shaft amplifying it from the root and gives it that big bad-ass volume. Blow dry with a giant round brush, brushing up, out and back from the root to end of the hair. This will add even more volume. Once dry, tease your hair in one-inch sections from front to back (all over) and smooth over with the comb.
Part your hair down the middle. Pull a one-inch section on either side of your face away from the rest of your hair to serve as your long fringe pieces in the front. The rest of the hair you will gather in a French twist fashion.
Basically, you're gonna fold all over your hair over and roll it until it's all tucked under itself as neatly as possibly. Use hair pins to secure it. Finish with hairspray and you're ready to rock the aisle.
Steal Adele's Look: The Makeup Tutorial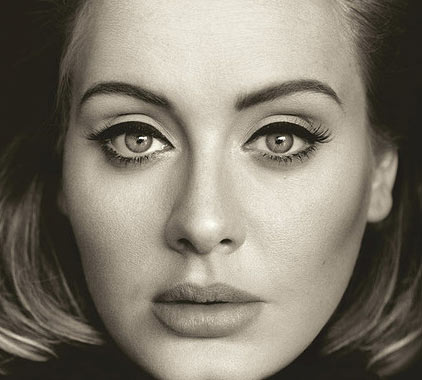 You'll Need:
Start by baking your makeup. Here's my kick butt tutorial, so you can get that matte satin finish for flawless looking skin. Apply blush using the two finger method just below the cheek bone. Stick your index and middle finger beside your nose brush from there up and out toward your ear.
One eye at a time: Apply eyeshadow primer to your lid using your finger. You want thin, sheer, even coverage from one corner of the eye to the other. Dust eyeshadow onto the brush. Blow off excess. Dust over the eye from one corner to the other: the primer will keep it from creasing. For extra color, give it a second coat. Repeat on the opposite eye.
For my beginners in eyeliner, I've got just the trick. Line and fill: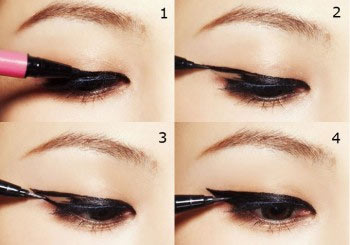 This technique is one of those practice makes perfect, so don't be afraid to play to get it just right!
Dip the eyeliner brush end in brown eyeshadow. Blow off excess. Follow the natural arch of your brow and gently dust the color from the inside out.
Apply a good coat of black mascara. Apply your lip color. Finish with makeup setting spray to hold the look all night long!