At your wedding, you want to shine and sparkle and a perfect wedding hairstyle will help you with this! When it comes to styling your wedding hair, simplicity can be your choice because it will never go out of style. In fact, celebrity hairstylist Scott King predicts simple styles as one of the biggest bridal hair trends.
More and more women choose simple wedding hairstyles that are easy to master because they look chic and it's almost effortless to create them!
We've collected the best ideas of wedding dos for your inspiration.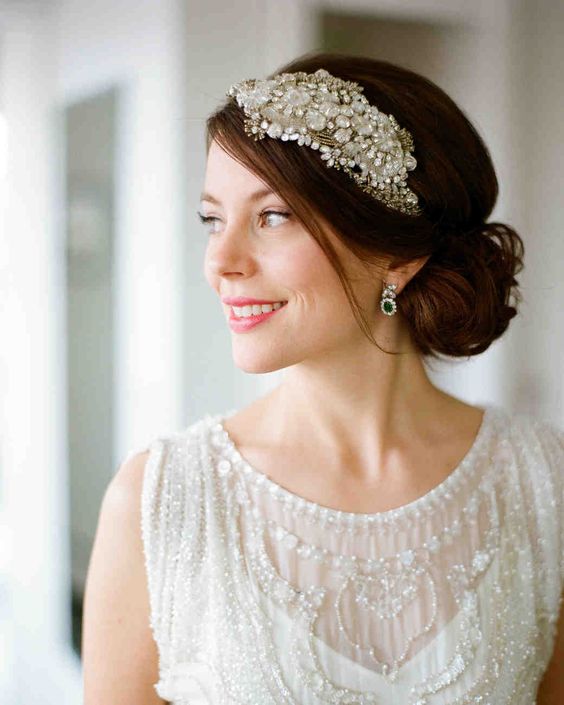 A Messy Low Bun
This messy hairstyle looks very girly and romantic. It adds alluring negligence to your look, it can be combined with various accessories, and, what is more important, it fits women with different face shapes, hair lengths, and textures. Really, you can't go wrong with this hairdo! photo source
You'll need:
Hair spray

Elastic hair tie

A tight-tooth comb

Bobby pins
The technique is really simple and you can make a perfect wedding updo in a few minutes!
This hairstyle requires a volume at the crown area. For this, use a tight-tooth comb and a hair spray. Tease different sections of the crown and sprinkle them with a hair spray.

Divide your hair into three sections, and the middle section should be the largest one. Gather the middle section into a low ponytail.

Make the base of the ponytail twisted – pull your hair through a hole above the hair band.

Roll up the tail and tuck it into the hole. Secure with the bobby pins.

Then take the right section, twist it, attach above the bun, secure with the bobby pins, and fix with a hair spray.

Take the left section, pull out some strands, then tease the strand a little bit, attach above the bun, and fix with a spray.

The hairstyle is elegant, but in order to enhance it, you can add a gorgeous barrette. With it, your hairdo will be even brighter.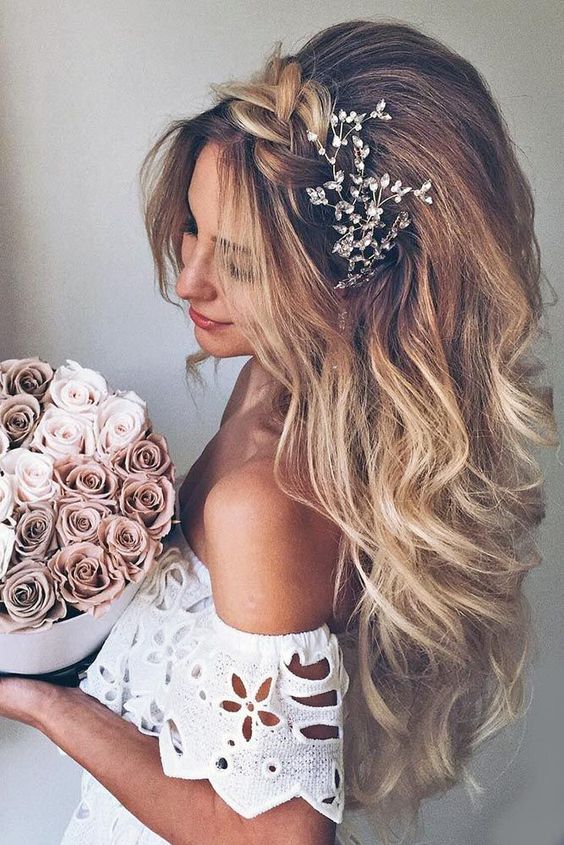 A Gorgeous Braided Headband
Are you looking for wedding updos for long hair? Do you want to find something chic in its simplicity? Then consider this flawless hairstyle.
Even women with sparse and unruly hair can create a perfect wedding hairstyle, using these tips and tricks. Hairstyles with braids are one of the most popular wedding hairstyles for long hair because they offer you almost limitless styling opportunities. photo source
You'll need:
Hair spray

A comb

Bobby pins

A curling iron
This updo looks marvelous thanks to the volume in the crown area, alluring curls, and a volumetric braid. You can do this hair style even with short hair. Just clip in high-quality hair extensions that blend well with your natural locks to add volume and length instantly. The technique isn't complicated:
Use a curling iron and create beautiful curls; leave your bangs frame your face freely.

Take a section of hair on the right side and braid a Dutch braid (

The Dutch braid goes by many names,

including the "reverse French braid." In fact, the Dutch braid is done exactly like a French braid, except that you cross the strands under instead of over).

Take the braid and secure it behind the left ear with the help of bobby pins.

Create a volume at the crown and in the back with the help of the hair dryer, a comb, and a hair spray.

Fix everything with a spray, add a feminine accessory, and you'll be ready to hit the wedding aisle!

A French Twist Updo
This upswept hair looks chic and charming, and it's a perfect option for the summer/spring wedding. The major advantages of this hairstyle are that you can choose any texture you want (messy or sleek), and you can do the updo either tight and smooth or loose. Besides, you can embellish it with different accessories. photo source
You'll need:
Hair spray

Protective spray

Bobby pins
The technique is the following:
Use a protective spray to protect your hair. You should spray a lot, then use a hair dryer. Tease the crown, sides, and the ends.

Comb all your hair to one side (you can leave some face-framing pieces out for a soft finish) and secure it on the nape with bobby pins. Place bobby pins vertically.

Take your hair and start rolling the ends in the direction you want to twist in.

When you have the desired shape, pin the twist to the rest of your hair. Pin the bobby like the barrette (through the hair) and fix with a spray.
Thus, use these gorgeous hairstyle ideas to make your wedding even more special!
Feature Photo by Tom The Photographer on Unsplash