So wedding hashtags are a thing now. If you're looking at this article as if you have no clue what in the world that means, have no fear. If you're socially savvy and just want some cool ideas–you've come to the right place too. Like all things Wedding For $1000, we've got all things related to your wedding hashtag completely covered!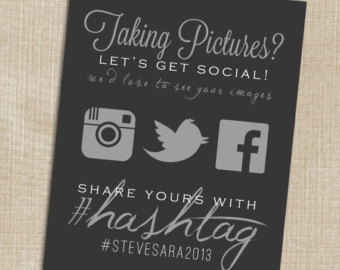 What Is a Wedding Hashtag?
If you're a super social couple the wedding hashtag helps guests share your unique and very special wedding on social media. The cool part about the hashtag, being your own unique very own limited edition tag, when you search it on the interweb–bam! There's all the crazy-fun, candid shots and amazing photos you didn't even know were taken of your big day all in one convenient little collection.
Do You Need a Wedding Hashtag?
If you are tweeting or instagramming your wedding and have provided guests with links to your website and social media apps–yes, you need one. Your hashtag should be super unique and no one else should own it. Why? Because you don't want someone else's photos popping up, nor do you want to taint someone else's social wedding collection of awesome. It's just common courtesy to be unique.
How Do You Get a Wedding Hashtag?
If you're not the most creative person in the world or you don't really have a theme, you can always scour the internet for a hashtag generator. Just so you know Weddingwire has my favourite! The Weddingwire Wedding Hashtag Generator takes all your personal wedding info and literally generates something sincerely sweet. This can also serve as a place to start creatively cultivating a hashtag on your own.
How To Create Your Own
Why not make it a night in with your honey. Have fun with your fiance and create something together! The best use of a wedding hashtag is to use a play on words or incorporate a cool pun. You might want to play the name game and use your last name to be, both your names, or even your nicknames. Remember to capitalize to maximize the uniqueness of your hashtag. You'll also want to make sure it's available. If it's too simple, it's probably already on the internet. Don't worry, just go back to the drawing board and play with words.
Then spread the news of your killer hashtag like wildfire and watch the memories pile up on social media for you and your hashtag partner in crime to break the internet together.