Inviting guests to your wedding is almost as important as the ceremony itself. Sending handmade invitations is a special way to say, "I'm getting married, and you have to be there!" No matter what type of couple you are or what sort of theme you're going for on the big day, these awesome handmade invitations are sure to be a hit with all of your guests. Romantic, custom, beautiful, rustic and adorably sweet invitations right at your wedding fingertips. So which one should you pick? Below is a sweet list of our absolute favourite wedding invitations from 4lovepolkadots.
We love these beautiful, handmade, super-customizable invitations. With 4lovepolkadots you can even choose your thread color and envelope color for a truly unique, beautiful invitation that's all about you and your big day!
For Love of… Shabby Chic and Rustic Charm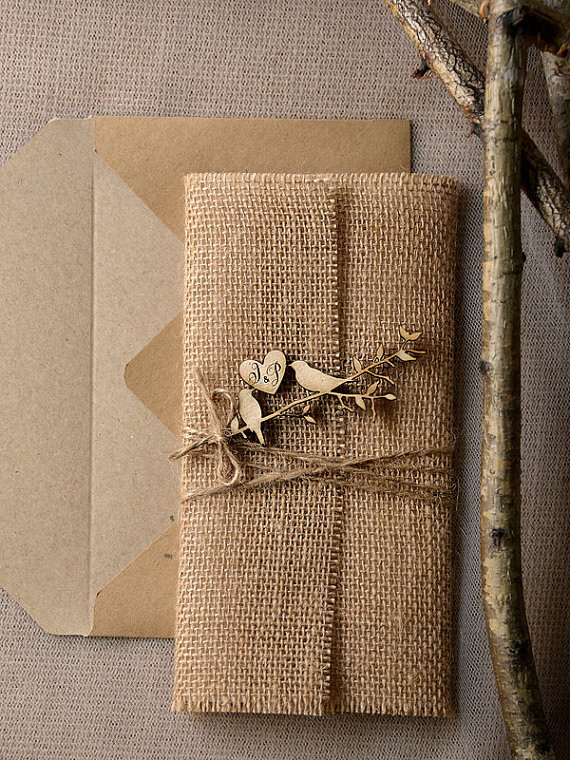 Rustic invitations are super romantic and all the rage with modern brides. So how can you be unique? With this absolutely adorable, custom-made Rustic Wedding Invitation Suite that includes laser cut love birds on a burlap wrap.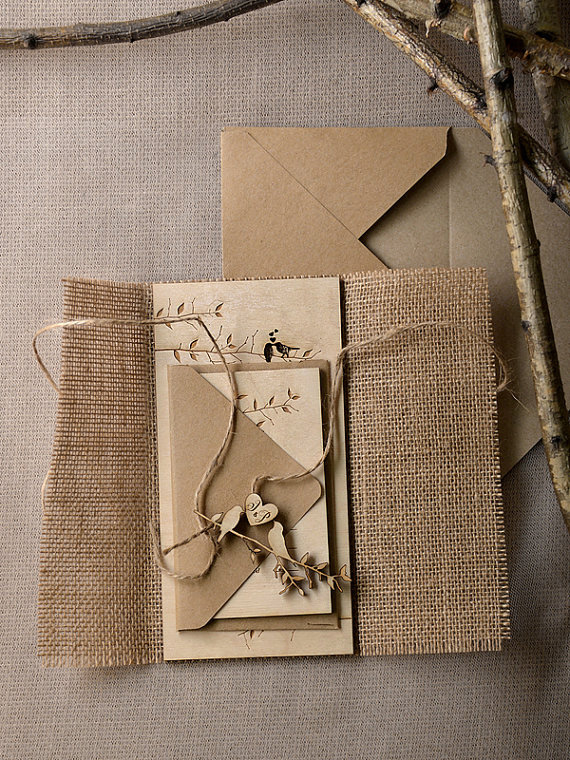 These beautiful paper wedding invitations are handmade with eco-friendly recycled paper and include an RSVP with envelope, as well as a wood engraved rustic love birds tag and a burlap envelope to keep it all beautifully wrapped.
For Love of… True Vintage Style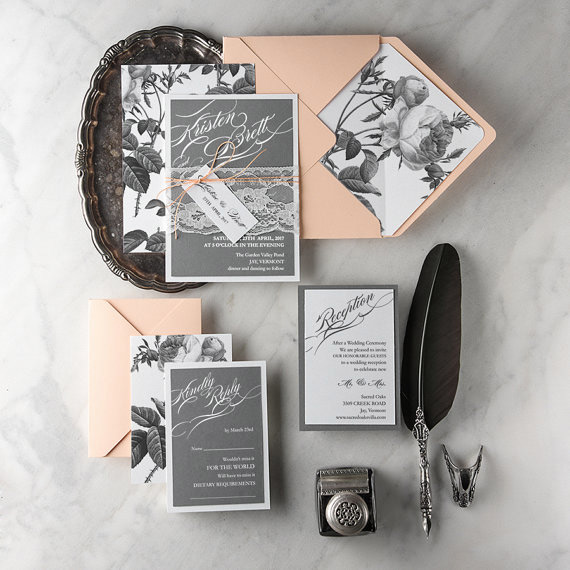 When you really want to make a sweet statement, try a vintage invite with a modern twist. These romantic invitations are so delightfully charming, no one could refuse this wedding invite. Vintage Lace Botanical Peach & Grey Invites from 4lovepolkadots really hits the vintage romance nail on the head. The handmade silver invitation comes wrapped in lace with a gorgeous floral lined peach envelope. This invitation suite includes the RSVP cards, as well as reception cards, for a full-on floral package.
For Love of… Color and Elegance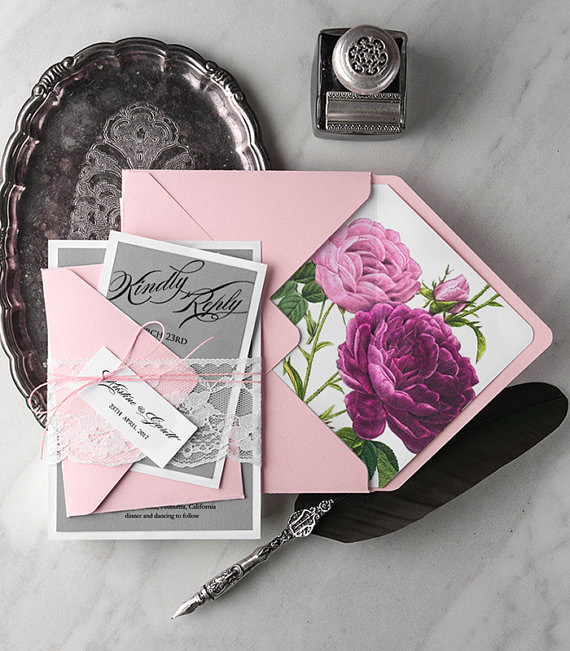 When you're looking for a just a touch of color, try an invitation in a blush envelope that opens up to gorgeous garden flowers! These stunning Vintage Wedding Invitations with Floral Accent are just the way to go.
Handmade with love and care, and you get to choose your colors, too! Even the beautiful lined envelope is handmade, and this suite includes an RSVP card, reception card, lace and twine with a cute tag.
For Love of… Floral Boho Chic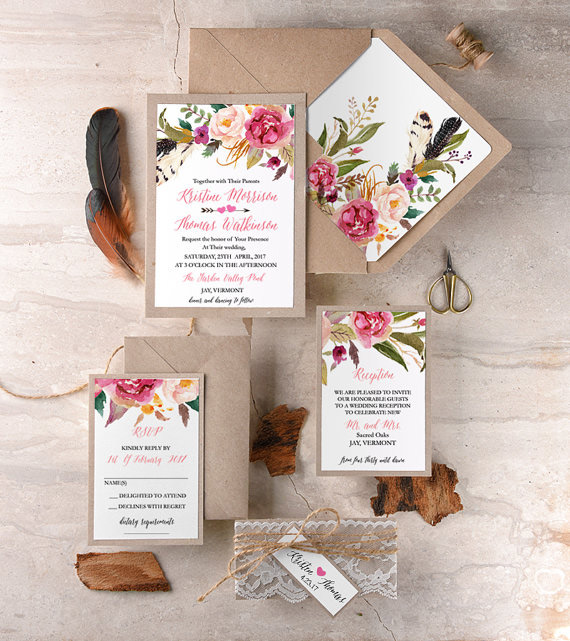 Show of your chic, bohemian style with a set of sincerely sweet invitations. These Boho Chic Lace Wedding Invitations combine elements like lace, feathers and flowers for a truly unique wedding invitation. These made to order, by hand, beautiful invites are created with paper, ribbon and lace; and boy do they make one lovely statement! Included are lined envelopes and an adorable RSVP card. I want to get married again so that I can use these and go to town with a floral theme for the wedding!
For Love of… Saving the Earth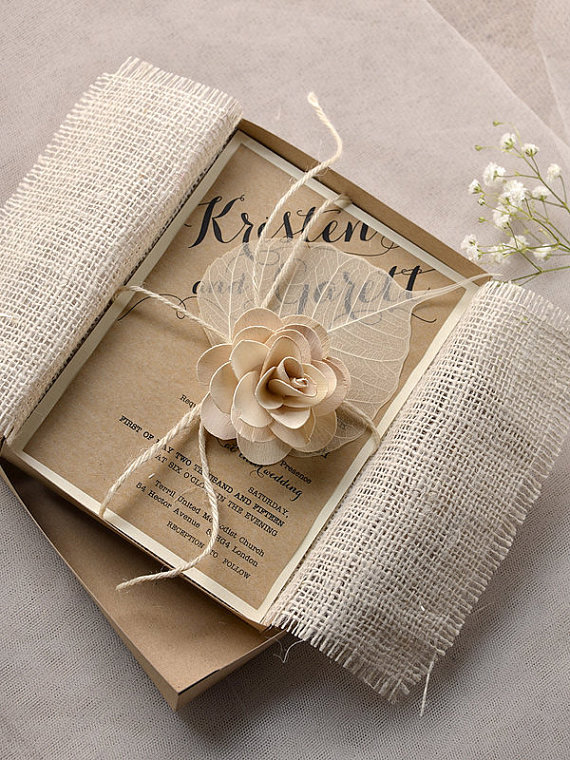 When it comes to saving Mother Earth and being the kind of couple that constantly recycles and does their best to preserve the planet, this gorgeous EcoChic Invitation is boxed in beautiful burlap just for you!
Handmade for the happy couple, this charming and eco-friendly invite is made with ribbon, lace, recycled paper, eco paper, twine and burlap. It is tied with a gorgeous paper flower and leaf, and then placed in an adorable box.
What To Keep In Mind
When you start hunting for custom, handmade invitations–be sure to check out invitation suites and cool Save The Dates! 4lovepolkadots even make absolutely adorable place cards for your wedding reception. Don't forget to check out their super swanky guest books with a just a pop of color like this carved wood guestbook or the charming and rustic Birchbark Guestbook with a plaque. 4lovepolkadots really does have all your paper needs covered, so why not make it a total package and match your invites to your wedding reception theme!