Selecting your wedding colors is an important decision that is often made quite early on in the process.  Which colors you've decided on is a question that will come up frequently as you meet with vendors, so don't just pick something on a whim and don't dismiss this as an insignificant wedding detail.  You want to have your colors chosen in order to create a cohesive look from the Save the Dates all the way through your wedding favors, but don't rush the decision without considering these key factors.
Keep an eye on your surroundings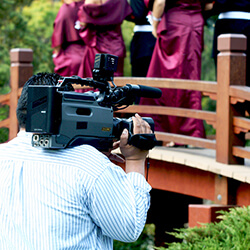 If at all possible, finalize your wedding colors after you have decided on the location of your ceremony and reception.  Though the bright red carpeting on the floor of the church you decided to exchange your vows in never bothered you in the past, you might later regret that you already asked your bridesmaids to purchase dresses in your favorite emerald green; after all, you don't want everyone thinking about Christmas at a wedding in June.  You won't be able to change the colors in the space you have selected, so instead, be mindful of the colors already there and make sure that the ones you still have control over — your own wedding palette — fit naturally into those venues.
Don't forget your Future Spouse
Remember, the whole point of this special day is to celebrate your union.  Even if your future spouse is not as interested in planning every little detail of your big day, deciding on the color scheme together can be a great bonding experience and a wonderful way to show unity.  Instead of simply going with one person's favorite color, consider taking your inspiration from something that symbolizes both of you— the sports team you root for together each week, the colors of the school where you both met, or the signature color of the television show you two could binge watch for days.
Time and place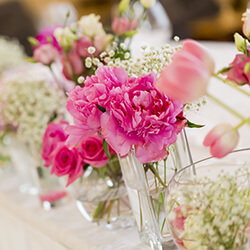 The suggested colors made by websites and magazines often rely heavily on the season, and the time of year when your wedding takes place might make some colors a better choice for you than others.  But before you get too taken with that blush pink that is very easy to fall in love with, think about where exactly you will see that color at your wedding.  Though that color will be beautiful and easy to find in terms of flowers for a wedding in the spring, it may not work on all your bridesmaids who will be featuring the color prominently.  Thinking about the exact places where you plan on incorporating your color can help you keep things in perspective as well.
Colors for budget brides
The more specific you are about your color, the harder and potentially pricier it will be in order to achieve the exact look that you had in mind.  Being realistic and a little flexible can help reduce your stress and keep your budget on track.
Maigen got her bridesmaid's dresses from amazon  – for $50 each!
If you embrace an ombre palette, you can still create a cohesive look and be perfectly on trend without the stress of ordering many extra samples and swatches to make sure all the rose gold products you ordered are in fact the same shade.  Ombre allows you to introduce a little bit of contrast without the hassle of having everything be an exact match.   You could create an awesome yet affordable effect for a DIY aisle runner or even "centerpiece" using cheap artificial flower petals from ordered in a few shades of your wedding color and arranging them in piles from darkest to lightest.  You will have a far greater choice of bridesmaid dresses by attiring them in an ombre fashion, with each girl in a slightly different hue.  Ombre is modern and stylish, but doesn't have to come with a high-end price tag for the high-end look.
If ombre isn't for you, think about going with a classic color scheme.  Selecting richer tones—like something with a glimmer of gold or silver— can increase the elegance without increasing the expense list.  Because these frames are finished in silver or gold, they will look classy even though they are inexpensive.  They would look great used as table numbers or displaying pictures of the bride and groom.
Beyond the big day
If you have invested the money in buying certain decorations, shoes, or jewelry for your wedding, these pieces will not disappear at the end of the night.  Instead, of trying to sell the items for a loss post-wedding, think about incorporating them into your everyday wardrobe or using them to decorate your first home as a wedded couple. Select colors you love so you can decorate your home with a bunch of mementos from your special day.