Summer weddings have been popular for many years. Despite the heat and potential for sun poisoning, many couples choose summer weddings so they can have an outdoor event with a beautiful backdrop. If you're planning a summer wedding, here are some of the best wedding favors to give out at your event!
Something to drink from: Your guests will be thirsty during your outdoor summer wedding. And, even if your wedding is indoors, your guests will need to ensure they stay hydrated throughout the event! Consider using personalized wine glasses at your wedding. Your guests will have a reusable cup for the event, plus they'll have something to take with them after it's over! You can engrave the glass with your names, wedding date or even your venue.
Something to wear: Get creative with your wedding favors! A simple rain poncho in one of your event colors with your wedding date on the front or back is a cute wedding favor idea. Since many rain ponchos are made of a thin, water-repellent material, they fold up and are pretty compact. They're perfect for placing in a metal tub or a large bowl on your guestbook table! Guests can grab one as they head out for your send-off. This is especially if your event is somewhere that's known for having a downpour or two during any point of the day. Just imagine the fun send-off photos with everyone wearing their matching rain ponchos! Other fun ideas include sunglasses and smartwatch bands.
Something to use in the kitchen: For many of your guests, they want a wedding favor they can use later. Whether you give them a set of measuring spoons, a wooden spoon with your wedding date engraved on the back of it or a commemorative coffee mug with a set of coffee grounds, powdered creamer and a packet of sugar, giving your guests something they can use in their kitchen for long after your wedding is over is something they won't be upset about. They'll love that you provided them with an item that expresses your love for your new spouse but can still be used for years to come.
Something to cultivate: There are so many ways you can incorporate plants and greenery into your wedding favors! Choosing a small potted plant or even a potted succulent as your wedding favors symbolizes how love grows and is also a cute wedding table decoration. Your guests will love the addition to your reception tables, and they'll think it's such a sweet idea. Consider setting your favors up unpotted for an even more unique favor idea! Include a packet of seeds, a small amount of plant food, a pot and a small packet of dirt. They'll love it!
Something to take on trips: Whether your guests travel often or just to their friends' weddings, a water bottle or travel coffee mug with your wedding date and initials is perfect for your guests to take with them as a favor! If your guests like to travel internationally, consider handing out luggage tags! It's a great idea for your guests, and it's something they'll use in the future.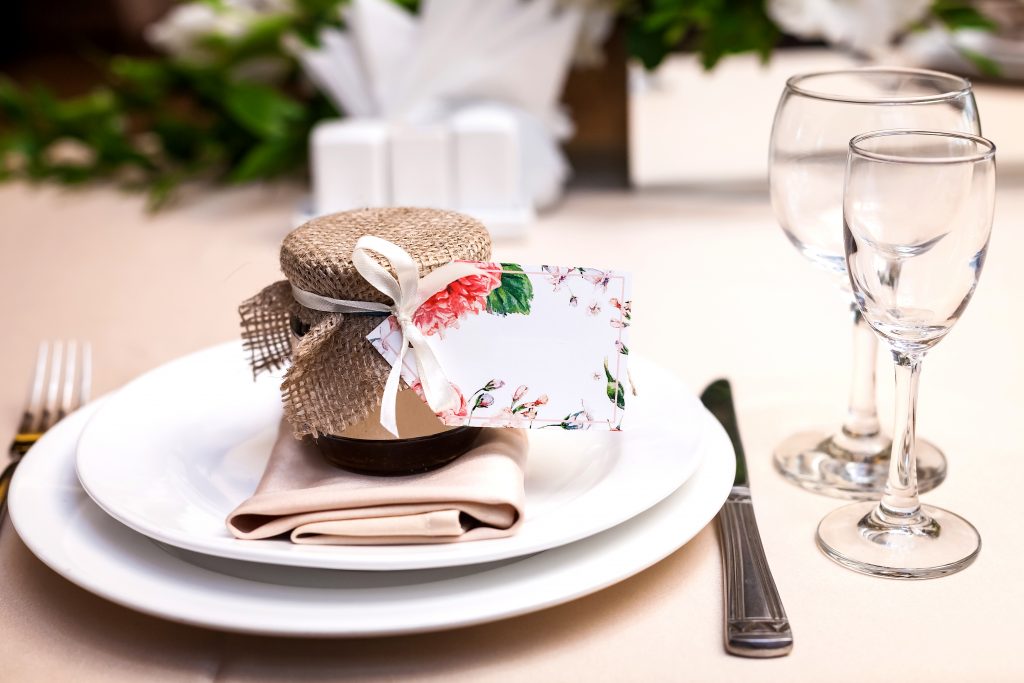 Something to decorate with: Who says you can't give out home decor for your wedding favors? Whether you hand out small printed canvases, engraved votive candles or unique coaster sets, your guests will love your thoughtfulness. Whenever your guests look at your favor on their wall or bookshelf, they'll be reminded of your event!
Something to eat: Candies, cookies, gum, peanuts, honey… the possibilities are endless! Traditionally, many couples pass out Jordan almonds to their guests; however, more and more couples are including foods of other varieties! Plus, not everyone can eat nuts or sugar, so handing out something other than almonds can feel more inclusive to your guests. But, who says you can't give out both?
Something for their drinks: Having the proper drinkware and accessories is essential, regardless of who you are. Whether you give out bottle stoppers, bottle openers, koozies, tea infusers, straws or anything else related to drinkware, your guests will be glad to have something to stop their wine bottles or place their glasses in. You don't have to personalize these to your specific event, either – incorporate phrases such as "Cheers!" or even symbols such as hearts into your favors so that guests can seamlessly incorporate them into their lives after your event.
Other Things to Keep in Mind About Favors
Here are some other considerations you should make when choosing your wedding favors:
Cost: Really take a look at your budget and determine whether you can even afford favors. While there are many affordable options out there, make sure you've budgeted enough for them! There's nothing worse than finding the perfect favor and realizing you can't get them because you've maxed out your wedding budget already.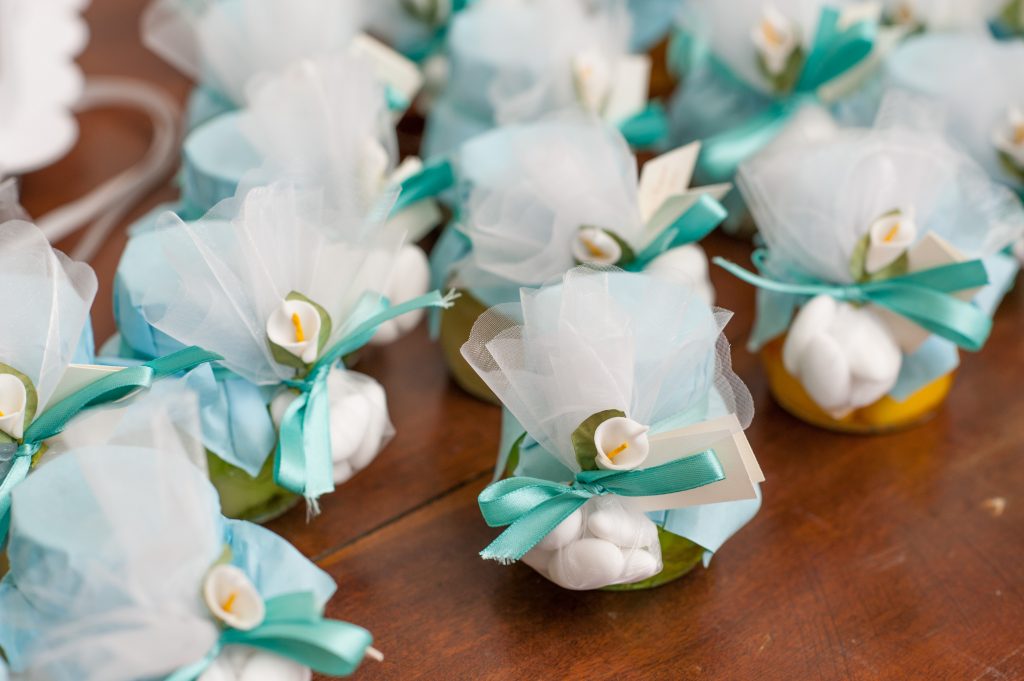 Practicality: Make sure the favors are practical. You don't want your guests to throw your favors away or choose not to take them! When ordering your favors, consider whether or not you'd use the item. Sure, it might look cute on a display, but how often will your guests really use it? If the answer is "never," then you should reconsider your choice of wedding favors.
Originality: There are some great wedding favor ideas out there (playing cards, anyone?), but some are seen frequently at weddings. You'll want to be sure that your guests walk away with a favor they've never seen before! And, even if you choose something they frequently see at other weddings, it should be designed or displayed in a way that no one's thought of. You want to be sure your guests never forget it – in a good way!
Color: Your wedding favors should reflect your event colors as well. Whether you choose your main color or accent, it's important that you find something that complements your decor or is at least displayed in a way that looks great with your overall design.