Aside from the beautiful dresses, gorgeous ring, and family bonding, weddings usually have one more thing in common that many tend to overlook as a priority. I'm talking about wedding invitations, RSVP cards, thank you cards, menus, ceremony programs, place cards, and more – you know, all of those printed pieces!  Added up, professional printing can represent a significant cost for weddings.  However, it doesn't have to be.  Choosing the right professional printer for your needs, or adding in some DIY time can give you the result you want that is in line with your budget. Choosing which way to go is the tricky part, so here are some considerations may help steer you in a direction that's right for you.
Home printers versus professional machines
The first question to ask yourself when considering DIY printing or outsourcing to a professional is, "What do you want your invitation to look like?" There are certain limitations for most home printers (which happen to be ink jet printers).  The quality of the print is usually fine for text but wouldn't work as nicely when mass-printing color-block heavy images.
Want a large glossy photo with customized wording? Go to a professional.  Want a regal looking invite on vellum or thick, textured card stock? Go to a professional.  But, if you are thinking of something on a smooth card stock, or perhaps have found a steal of a deal on discounted wedding invitation stationery, it may be the start of a good DIY project!
Another consideration is quantity. Professional printers normally charge a lot more when printing smaller quantities, the average price amounting to $3.50 per invite when printing 50 copies, compared to only $30 worth of ink (plus the cost of stationery or paper) which is far less costly than having it done professionally.  Scour greeting card stores, stationery and hobby shops for heavily discounted printable wedding cards.  In the past, I've seen beautiful cards and wedding stationery sets go as low as $5.00, while the average clearance price range was $15 for a pack of 50 or 60 invites with envelopes.  The only trick is to shop early to be able to find a design that works for your wedding.  Menus can be printed using online templates as a guide, and glued onto the back of a variety of card stock that you can purchase for less than $1 at your local craft store. On the flip side, if you are having a very large wedding, it may be worth it to print 300 invitations and skip the hassle of (literally) waiting for the ink to dry at home.
Who is doing the professional printing?
If you have decided on going with a professional printer, the next step is to source the printer that's right for you. Depending on the printers in your area, the cost can range significantly, as large printing companies only deal with quantities in the thousands to start, and will likely not be able to give price breaks for smaller print projects. Smaller companies may focus only on a digital press, which is less costly to run, and have the ability to print smaller quantities for less money. Quality also varies greatly, and printed colors may look duller or different depending on the paper stock and whether they calibrate the machine properly. Ask for samples of printed materials before selecting your printer, and be sure to look at a printed proof before committing to the mass-print!
One of the best deals we've found is the same one I used for my own wedding invitations – Mixbook had the best options for easily creating my custom style invitations and were the best priced.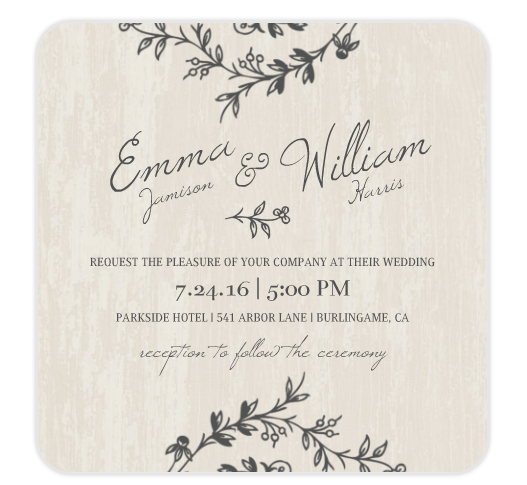 Adding on the details
Sure, your professional printer can add on a jewel detail, glue on a cute pink ribbon, or cut a custom shape for your invitation or menu, but the price is going to reflect that labor, and it's likely not going to be cheap. Professional printers can print and fold, but outside of those services, will have to have their staff members put in the time to add those details, which will be rather costly when you pay them by the hour.  These staff members may not be skilled in the arts and crafts department, and quotes on adding a band of ribbon and a jewel for 50 copies can range from $50 to $150.  Instead, consider adding these details yourself, or invite some friends over for a crafts night to complete these little additions. The cost to you may be some snacks and a bottle of wine.
If you'd prefer a custom shaped menu or stationery, be prepared to spend $80 or more for the printer to create a custom die, plus the cutting costs. While some printers have a die already made for rounded corners or zig-zag shapes, they will have to create a custom die for any shape outside of these.  There are many punches and cutters available at scrapbook stores and big box craft stores which may be a more cost-effective option if you don't mind cutting these items yourself.