The best possible way to cut the cost of wedding favors is to eliminate them entirely. Wedding planning experts can tell you how many times they see favors left sitting on the table after the celebration is over. There's no rule that says you must have them! If you're determined to thank your guests with a tangible gift, here are some ideas for wedding favors that don't suck!
The Perfect Blend – of Coffee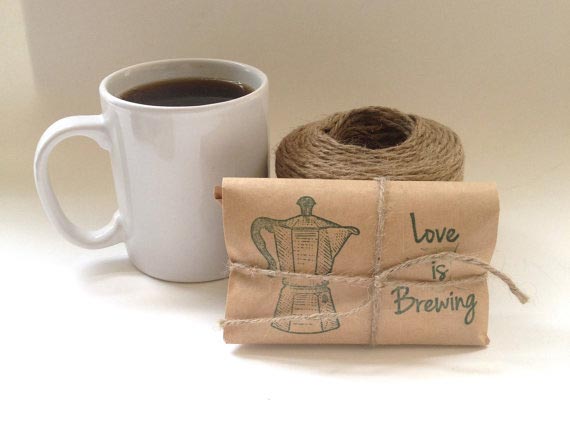 This idea is very easy to pull off and can be super economical. It's as simple as putting half a cup of coffee beans in a small brown paper bag, stamping it with your names, and tying it up with twine. Cute, sweet, and very useful (who doesn't like coffee?) especially if there are some left over. You'll need:
Small brown paper bags (200 for $13)
ribbon in your wedding colors ($10 for 50 yards)
a stamp ($15) or a personalized sticker ($12 for 12) (love the ones from Evermine, too! – $18 for 40 1.75″ scalloped circles)
whole coffee beans (you'll need about 1/8lb per favor, and the rough estimate for a 5lb bag is between $28 and $50, so about $50 to $100 in coffee for 100 favors)
So, these might be about $2 per favor (ugh, I'm not good at math, especially with so many variables!).  Or, you could get them pre-made on Etsy for about $3 each, including shipping (pictured above).
Love is Sweet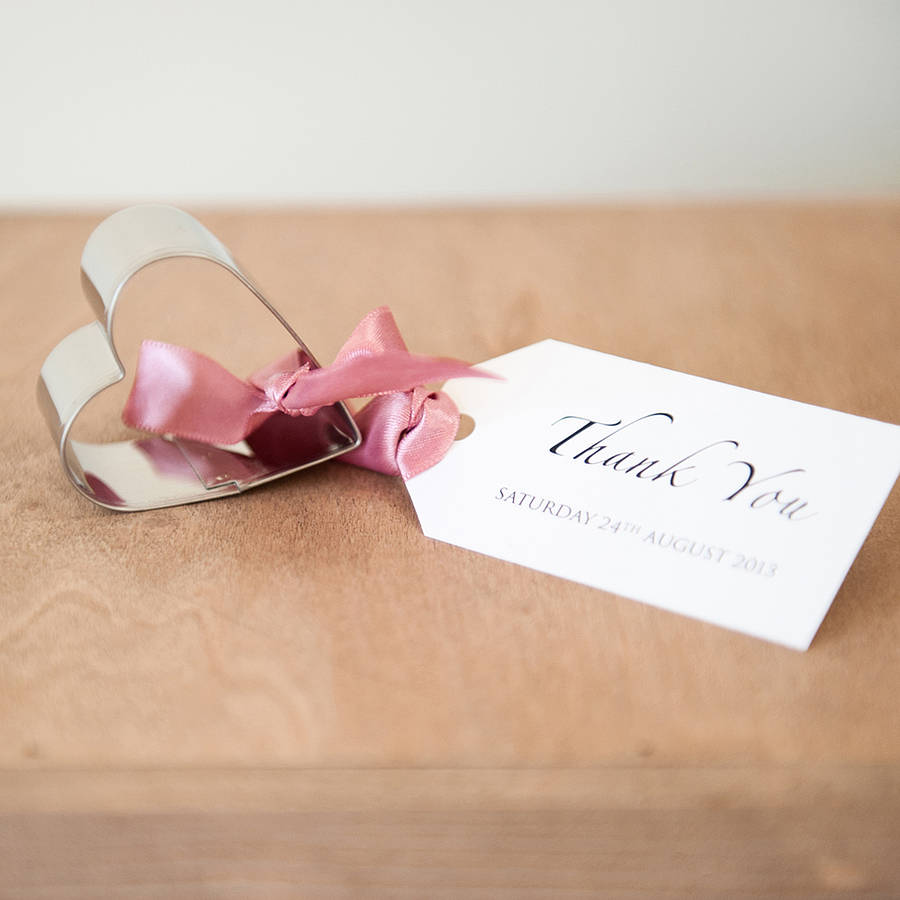 As cheesy as it sounds, it's true – and you can prove it with adorable, heart-shaped cookie cutters! With a sweet note and a bag, these are inexpensive (and actually pretty useful) wedding favors that your guests will actually like.  You can find them on OrientalTrading.com or on Amazon. Add a small tag or a card saying thank you on one side and your favorite cookie recipe on the other tied on with a ribbon and bam – they're ready to go! image from notonthehighstreet.com
Here are some cute tags from Evermine: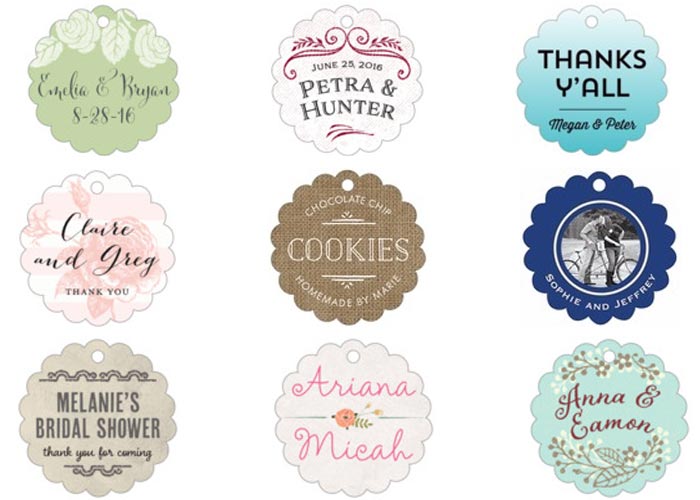 Let Love Grow
Plantable gifts are such a fun way to remember a wedding, and if individual plants in containers isn't an affordable option for you, consider buying some seed paper and making your own favors.  These biodegradable papers are embedded with a colorful variety of non-invasive wildflower seeds. At $27.41 for 100 hearts made of seed paper, you can make 100 sweet guest favors for very little cost! Place each cut seed sheet into a small envelope, print your names on it, and add the instructions to plant in the garden, water daily and "Let Love Grow".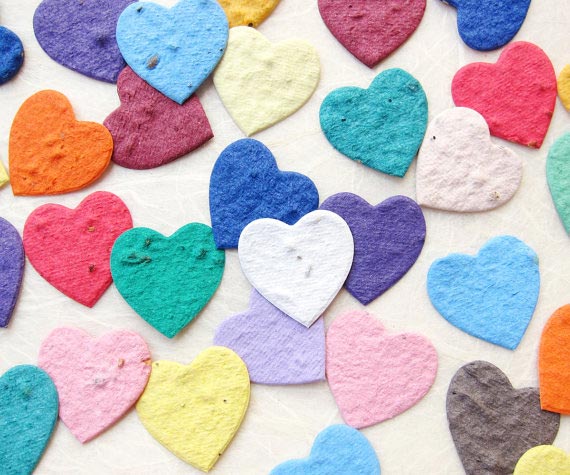 If you've got the budget, you can get some beautiful pre-made options on Etsy, too. These seed paper flowers are gorgeous!
You can definitely go the route of packaging seeds up in a cute way, but let's be honest, people are lazy. Planting them might never happen, so make it easy for people to enjoy them!