Wedding stationery – including invitations, response cards, menu cards, and the like – is a major part of your wedding budget. Obviously, you need invitations if you actually want people to come to your wedding (and don't even think about using an email invitation), but your invitations also give your guests an idea of what to expect at your wedding. The style, wording, and design of your invitation tells gives your guests clues about how formal the event will be – or not – and the overall theme of the event.
Just because your wedding invitations are important doesn't mean you have to break the bank on them, though. With advances in printing and more options than ever before, your invitations can be elegant and still affordable. Of course, that assumes that you don't make some of these mistakes that will drive up the cost.
Mistake #1: Not Proofreading
You might be thinking "There's no way I'd spell my fiancé's name wrong on the wedding invite!" Think again. It's happened. And it's not just unfortunate misspellings in the happy couple's name. Imagine if your invitations were printed with the wrong date or time, or there's an error in the location address. Your wedding invitation contains all of the most important details about your big day, so take the time to double and triple check that everything is correct before giving the okay to print. Even better, have an eagle-eyed friend give the proof a once over as well to make sure everything is correct. Reprinting your invitations to correct an error will drive up the costs – assuming you catch it before it's too late and your guests arrive at the wrong address the day before your actual wedding.
Mistake #2: Not Weighing for Postage
Wedding invitations can be heavy. Between the heavy weight cardstock used for the invitation itself and all of the enclosures, they often exceed the limits of a typical first-class stamp. Opting for a square or other non-standard shape will also increase the postage. Before you happily drop all of your addressed invitations in the mail, ask the post office to weigh one complete set to determine the correct amount of postage. Otherwise, you risk having all of your invitations returned to you, likely with ugly stamps or stickers on every one announcing the inadequate postage. You're now faced with ordering extra envelopes, readdressing them (an additional cost if you hired a calligrapher), and paying for the correct amount of postage.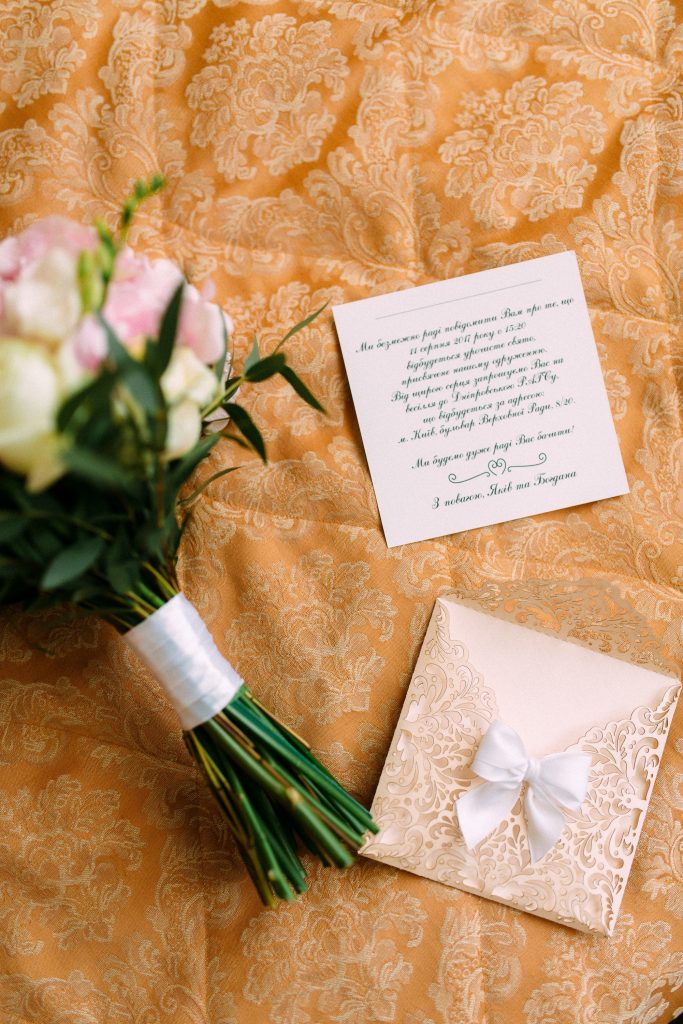 Mistake #3: Not Ordering Enough
Many brides think that they only need enough invitations for the exact number of guests they plan to invite. Then they are left scrambling for a spare if one gets lost in the mail, they realize they forgot to invite their mom's second cousin, or they screw up an envelope while addressing the invitations. When you're ordering large quantities, the price per invitation goes down, so add extras to your initial order. Worst case, you are out a couple of dollars for some invitations you don't use. Otherwise, you could end up paying a premium for re-ordering a smaller quantity after the initial run and have to wait for them to be delivered.
Mistake #4: Not Ordering in Time
Any time you need to rush an order, it's going to increase the cost. And when you're ordering all of your wedding stationery at the same time – invitations, programs, menu cards, etc. – ordering everything at once often means scoring a discount. Therefore, think about your wedding invitations early in the process to ensure that everything is printed and delivered on time, and you have plenty of time to address and mail the invitations.
Mistake #5: Not Understanding the Nuances of Printing
When you start looking at invitations, you'll discover a mind-boggling array of design options. Everything from the font to the paper to the type of printing influences the cost, and sometimes the look you want can be achieved for less money. For example, engraved invitations using elaborate fonts cost significantly more than a letterpress or offset printed design. Talk with your printer about the different option and how your choices effect the price and ask to see how different types of printing look. Chances are, unless your guests are well-versed in printing techniques, they are unlikely to notice a significant difference between a thermal or offset printed invitation, so you can choose the option that works for your budget.
Keeping your wedding budget intact means making careful choices and attending to details. If you avoid these mistakes, your invitations won't break the bank, and you won't be stressed.