by Brittany McComas
When it comes to cutting corners on all of the astronomically expensive things at a wedding, the first thing I think of is flowers. What a rip off. I mean, absolutely ridiculous how much they charge for flowers these days. I nearly fell off my chair when I went with my friend to her flower consultation. You want what for something I can do at home? Here are some great ideas for ways you can DIY wedding flowers all on your own – with a much lower budget!
Scoring The Flowers
Flower shops can be your best friend as long as you don't tell them the actual reason you want the flowers. While this sounds a bit dodgy, it's not really. Most flower shops throw away stock. Hit them up just before close and you can get flowers for a steal–or maybe even free.  The risk is that you don't know what will still be available and chances are still it'll be your ideal flower choice.
Things You'll Need To Make The Bouquet
Depending on the style of bouquet you want to fashion, you're gonna need a few crafty things. Think Walmart, Michaels, Ribbon Bazaar, hobby shops – anywhere that sells craft supplies. Before you go to these shops check online for discount codes or coupon codes. A lot of times websites like Groupon
will offer a discount if you order online/ship to store.
Of course you may need things like a glue gun, and if you don't own one yourself someone in your family is bound to have this kind of stuff. Don't be afraid to rummage Granny's attic for trinkets to decorate your bouquet either–for something a little sweet, special and borrowed. Think broaches, strands of pearls, even old earrings to push pin hold the fabric in place. source
The Bouquet Styles
Get creative! Sit down and scour pinterest for dream flowers, think about what style your wedding is, and what your favourite colors, jewelry, fabrics are–basically you're the designer. So, here's a few examples to get your creative juices flowing:
White Wedding Lilies
Grab a satin ribbon in your favourite wedding color. Wrap it around the stems, and slide a cheap ring or place setting holder around the ribbon to secure. source
All About Roses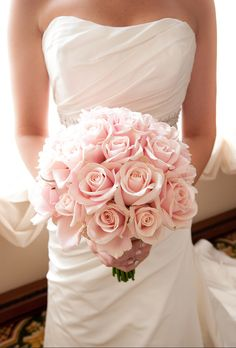 This traditional bouquet can be wrapped with a cardboard toilet paper roll, secured with hot glue. Then wrap ribbon around to hide the cardboard. source
Lavender, Spice & Everything Nice
Buy a lavender bush or raid a relatives garden for this budget friendly beautiful bouquet. Simply tie it together with the most exquisite piece of ribbon you can find. source
Wild Wild Wedding Flowers
No joke–pick them. Just not out of a national park or some farmer's garden you don't know. Then wrap them with twine and tie it off or secure with hot glue. source
Mum's The Word for Bridesmaids
For a cheap alternative for bridesmaids, simply pic a mum color and wrap a single one in satin ribbon for your favourite girls! source
Cascading Orchids
If you have your heart set on a cascading bouquet orchids are super simple. Just grab an entire plant, cut it off the stem, and wrap with ribbon. source