Whether you're throwing a wedding under the stars or an intimate garden party, we've got some super sweet ways to help you play wedding sommelier for yourself and set up a DIY wine bar like a pro.
Choose The Perfect Grape
If you know wine that's phenomenal, but some people only know white or red. Sit down with your partner and talk about what kind of wine you both like (or think of all the tasting you could do with your girls!). Go to a local wine retailer or liquor store and ask to do a tasting. They will often cut you a good deal if you then bulk order wine from their store. Another way to get to know grapes is to book a tasting at a local restaurant on Groupon
. The restaurant can then give you information on the distributor, or you might be able to find it on deep discount if you order it in bulk online.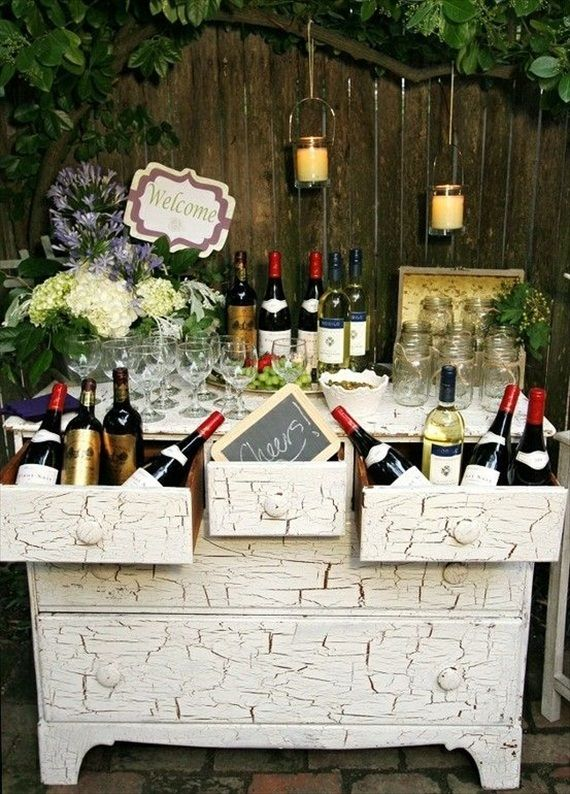 Professionally Pair Your Wine
If you are serving canapes or little mini posh eats, then you can probably get away with a red, white, and a rose of any choice. Otherwise, bring home a bottle of the wine you decided on and cook up a romantic dinner of the foods you're going to serve at your wedding and do a mini-tasting of your own at home. Not only will you be able to decide on wine and food, you'll get some sweet time as a couple before the big day!
Buy In Bulk Like A Pro
You don't have to be a member of a posh wine club or vineyard in order to get the good stuff on the cheap. You can bulk order badass wine to make it look like your reception was catered by a pro. A lot of stores like Ralphs and Krogers do "six for $20" sales on wine if you have a club card. If you go with an intimate wedding reception you're looking at about $100 on fine wine. There are some member clubs that give you some deep discounts too, like Lot 18, but I find that wine is kind of cheap quality. So, you're better off making a deal with your local liquor store. Just remember your reception etiquette: one bottle per guest, and serve a choice of red and white.
Wine Service
You also don't have to go all posh and hire someone for wine service. You can put two bottles on each table for a cute table number placard: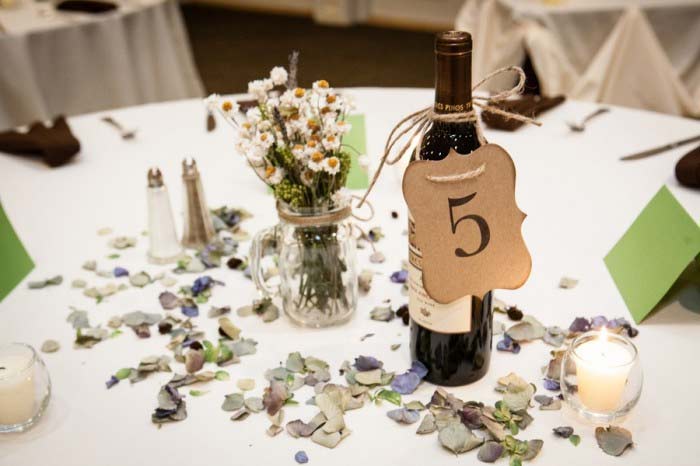 If you decide on champagne or prosecco, pour a little out as a couple for a romantic toast and have a bottle then delivered to each table for the guests…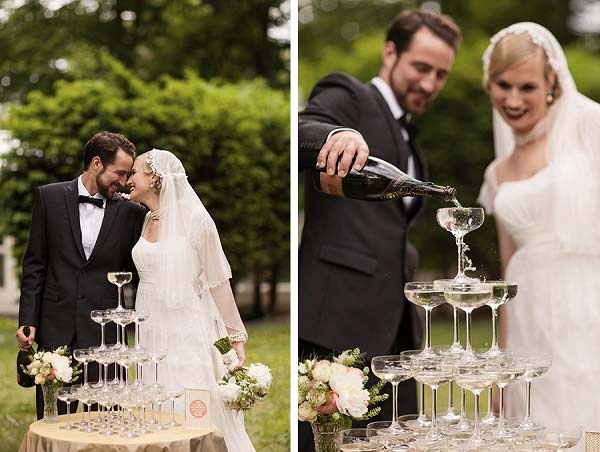 Or go all out with a sweet DIY set up like this, and let guests grab their own until it's gone!