Weddings are expensive.
You already know this, so we assume you're reading Wedding for $1000 for awesome ideas on how to spend your money wisely. You might just be dying to know the best ways to host a delicious and inexpensive DIY bar at your next party. And if that's the case, we don't blame you!
We're here to help you find creative and fun ways to have the wedding you want on the budget you can afford. Those of us here at Wedding for $1000 want to help you achieve this in every possible aspect of wedding planning, even if sometimes we get a little ultra-frugal in the pursuit of budget-friendly suggestions.
You'll recognize that it's not always realistic to keep the costs low with some of the more well-known budget ideas. For instance, if you're part of a giant, close-knit family then you can't "Cut the guest list down" like some other people can. Suggestions like these are well-meant, of course, but aren't applicable to every situation.
If you've read any of our other articles, you'll know that we advocate keeping costs low above almost anything else, and we really don't recommend spending more than you currently have available (see our wedding budget calculator here). But that isn't always how it works out. We'd like to introduce you to Emily and Justin:
Real Wedding on a Real Budget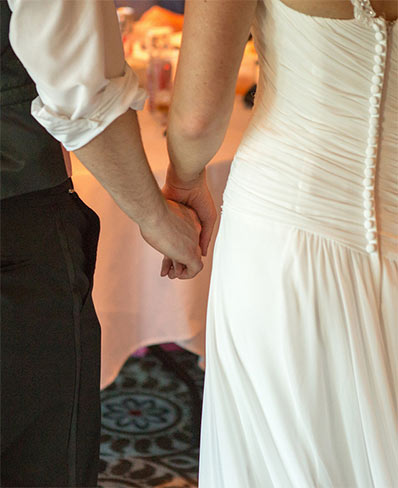 Emily and her fiancé, Justin, decided after a lot of consideration that the best time to get married would be a short three months after they got engaged. "We knew it was going to be a little crazy," she says, "but we figured we could do it. I'm a really organized person and I love planning things, so this was a challenge I felt I was up to."
Emily and Justin hadn't been setting money aside with anticipation of a wedding, something they wish they had talked about well before the engagement happened. "If we had been on a more typical timeline, we could have set aside between three hundred and four hundred dollars a month. But life doesn't happen on a schedule, so we just rolled with it."
The two took a gamble that nothing bad would happen in the next few months and cleared out their Emergency Fund. "It might not have been the best idea we had, but there weren't a lot of other options.  We had $5,000 in cash to get married and three months to plan it. No big deal, right? That seemed like a good enough chunk of money to spend."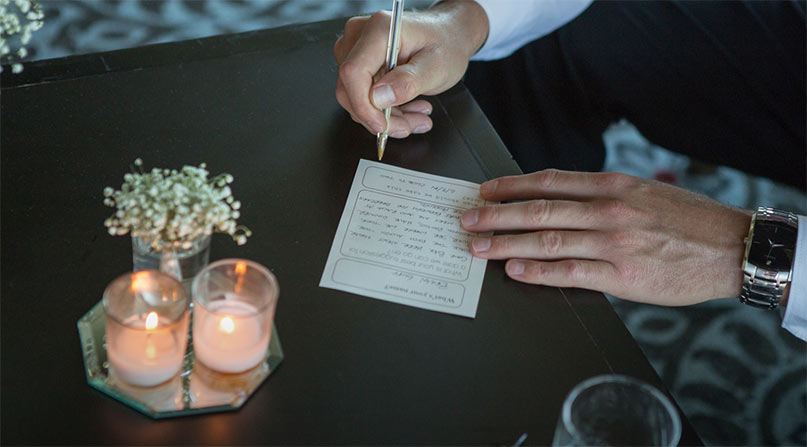 Wedding Planning On a Budget
Well, as you know, weddings are expensive. Even with a guest list of only 60 people, there were considerations that required the two of them to really streamline their expenses. Emily spent only $300 on a dress, the ceremony venue was also just $300, and they opted to have an early afternoon wedding and a (mostly) alcohol-free reception. "I couldn't imagine a wedding reception without sparkling wine!" Emily chose a reception venue that had a low corkage fee and supplied bottles of prosecco from Trader Joe's.
Overall, I think we spent as little as we could on most things, and I do have some regrets because of it.
"In retrospect, I would have liked to have a slightly later reception and a DJ. We had an iPod playlist, but it didn't do much to set the mood. Without music and an emcee, the atmosphere was friendly but overall just less fun than I would have wished. I would also have gone with a more experienced photographer.  Ours was the photographer's first wedding, and while we got some great shots, I ended up doing the post-production myself and there weren't a huge amount of really good ones. Quite a few shots were ruined due to direct overhead sunlight, and others were backlit and blown out."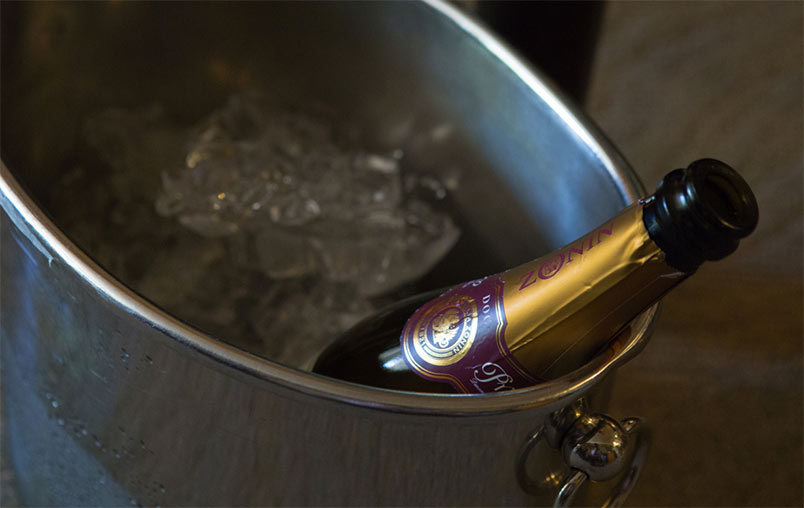 What Might Have Been
When asked what she would have done differently, Emily shrugged. "It was three months or three years, and nothing in between because of our schedules and our families. Had we waited, we could have set aside almost $15,000 and not dipped into the Emergency Fund. But we wanted to start the rest of our lives together already, so we made do with what we had."
One of Emily's major regrets was not having her grandparents and brother there to be part of her big day. Only her dad was able to be there to give her away. "We never had much money growing up, so being frugal isn't anything new. It did make me quite sad that my brother and grandparents weren't able to be there." Her eyes light up as she exclaims "I found out about Promise Financial wedding loans from a friend the other day, and I would have taken a small loan for our wedding in a heartbeat! It would have saved us so much stress in the long run – and the loan payments would have been the same amount I could set aside every month! The timeline wouldn't have mattered anymore. I would have been able to pay for the plane tickets, a proper DJ and a great photographer."
Emily looks down at her wedding ring and smiles. "I'm happy to be married to Justin, regardless of the wedding day woes. It's all just lovely memories in a book we add to every day."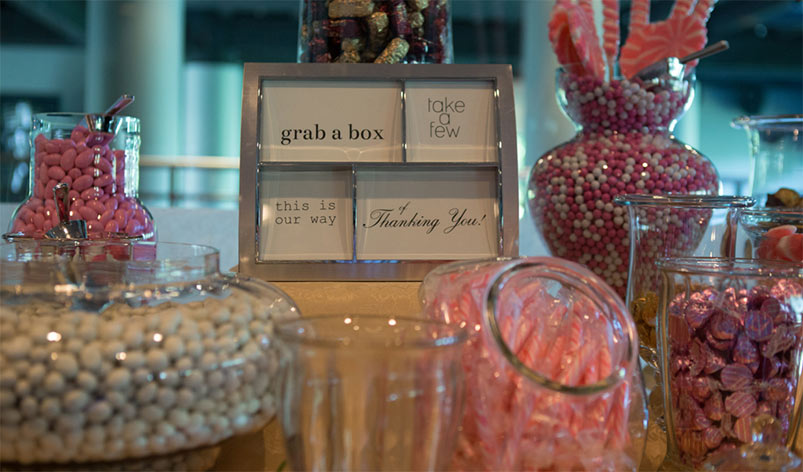 How the Budget Was Spent
Here's the budget breakdown for Emily and Justin's wedding:
Ceremony Venue: $300 donation, no fee for officiant.
Reception Venue: waived room fee because they spent $2400 on catering (including all non-alcoholic drinks), along with all set-up and break-down of the site.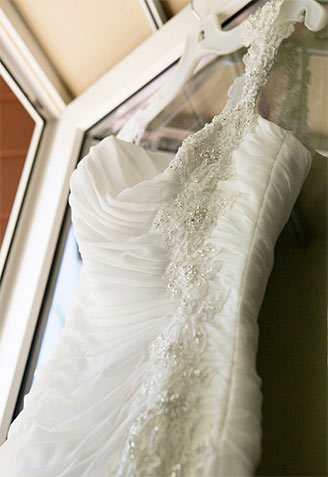 Bride's Dress: $300 from a local bridal consignment shop.
Bride's Accessories: $64 for shoes and earrings.
Groom's Attire: $80 rental for suit and shoes.
Photography: $500 for all shots, but no post-production work.
Bar: $7.99 per bottle of prosecco plus $15 corking fee = $200 (for 11 bottles used).
Cupcakes and Cutting Cake from local baker: $265 "Much more affordable than all the tastings we did at wedding-specific bakeries and was far more delicious, too!"
Flowers: $359 total.  $259 with local event florist for bouquets (1 Bridal, 3 bridesmaids and 1 tossing), boutonnieres (7) and single flowers for candlestick centerpieces. $100 for 10 bunches of mail-order baby's breath from FiftyFlowers.com.
Candy Buffet: $371 for "a LOT more candy than we needed and all the to-go boxes. We borrowed display containers from Justin's mom, which worked out perfectly!"
Ceremony Backdrop: $37 for two bolts of ivory tulle from Save on Crafts to make a custom backdrop. "It required a lot of patience, packing tape and some borrowed Christmas lights, but it was absolutely beautiful!"
Makeup and Hair: $125 "for a truly amazing local makeup artist who made me feel like the most beautiful version of me I've ever known!"
Overall, we were really happy we got to have such a wonderful wedding for a low budget.  We're happy to be married at the end of the day!
*The couple provided images for the post that they were comfortable sharing.